Trains would feed growing, but much smaller, terminals in B.C.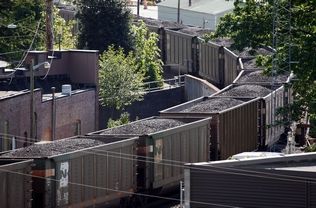 Bill Sheets, The Daily Herald
If coal export terminals proposed for the Pacific Northwest are never built, the number of trains rumbling through Washington state filled with coal would still increase.
Coal is already shipped from British Columbia, and terminals there are expanding.
Based on projected numbers, however, those increases would not come close to equaling the combined capacity of the terminals proposed for Cherry Point near Bellingham and two others in the Northwest.
Opponents of building coal export terminals in Washington say they would bring traffic congestion from the number of trains, and generate coal dust and greenhouse gases.
Supporters say Cherry Point will create jobs — 4,400 temporary, construction-related jobs and 1,200 long-term positions, according to SSA Marine, the Seattle company that wants it built.
If Washington says no to the terminal, coal trains will still come through Western Washington, but the jobs will go north to Canada, SSA Marine spokesman Craig Cole said.
"We do know there's demand (for coal in Asia) and port operators will seek to service that demand, whether they're in the United States or British Columbia," he said.
The proposed $650 million Gateway Pacific terminal at Cherry Point would add an average of 18 trips per day — nine full trains going north and nine empty trains traveling southbound — between Seattle and Bellingham. Marysville, which has 16 street crossings, and Edmonds, with a crossing at the ferry dock, would be the communities most affected in Snohomish County.
On average, about four coal trains per day pass through Snohomish County on their way to Canada, according to BNSF Railway.
The Cherry Point terminal could ship an estimated 60 million tons per year of coal, grain, potash and scrap wood for biofuels to Asia. Coal would make up the bulk of the shipments, according to the state Department of Ecology, which is handling the environmental review for the project. That review is expected to take at least a couple more years.
The Millennium terminal proposed for Longview, Wash., would have a coal capacity of about 48 million tons, according to the ecology department. Trains to this port would travel across the state but not north to Seattle and beyond.
Another smaller terminal targeted for Boardman, Ore., on the Columbia River could handle just under 9 million tons.
Together, these ports could ship 117 million tons per year.
Possible expansions at the five ports in British Columbia could add 55 million tons per year to their current capacity, according to numbers compiled by SSA Marine.
If all of the B.C. expansions come to pass, they would roughly equal the output of Gateway Pacific.
"There will be additional coal that will be going to British Columbia, and we will be working hard to increase the percentage," said Jim Orchard, senior vice president of marketing and government affairs for Cloud Peak Energy, a coal-mining company based in Denver.
At the same time, it won't equal what could be shipped through the U.S. terminals, he said.
Cloud Peak operates two mines in Wyoming and one in southeastern Montana, in the area known as the Powder River Basin, Orchard said.
The greater the shipping capacity, the faster the coal can be mined without piling up, he said.
Without the U.S. terminals, "the timing with which we get to new reserves, it just would take longer," Orchard said.
The largest potential British Columbia terminal expansion could occur at Ridley Terminals in Prince Rupert, B.C., 460 miles north of Vancouver by air.
This port gets ships to northern Asian ports one day faster than those sailing from Vancouver and three days faster than ships leaving from Long Beach, Calif., according to the Ridley website.
Right now, Ridley handles about 12 million tons per year. It has plans to double to 24 million tons, but has access to a vacant area nearby that could allow it to grow by 36 million tons or more on top of its current capacity, according to numbers compiled by SSA Marine.
It could potentially grow by even more than that.
Adjacent to Ridley's current terminal is a 110-acre wooded tract called "Area A" that could be used by the terminal for further expansion, according to quotes from Ridley president George Dorsey in Coal Age magazine in March 2012.
"All that's needed are the capital investments necessary," Ridley said in the story. "Area A gives us the capacity to double the facility, from 24 (million tons) to 50 (million tons) and beyond. There's so much space, it's infinitely expandable."
A Ridley official could not be reached for further comment.
"B.C. terminal operators are very competitive and capable and, like most businesses, will creatively endeavor to find a way to meet needs," said SSA Marine's Cole.
Still, Prince Rupert's distance from the U.S. mines would increase travel costs, said Dennis Horgan, vice president and general manager of the Westshore Terminal in Tsawwassen.
"It's a long way up there," he said.
Currently, BNSF trains carrying coal through Washington end their run at Tsawwassen, said Courtney Wallace, a spokeswoman for the railroad.
Westshore is increasing its capacity by 4 million tons per year, to 33 million, and will be maxed out, Horgan said.
Some trains do pass over the Canadian Rockies carrying coal from Wyoming mines to Prince Rupert, according to Horgan.
"It's still a long way," he said.
Most of the coal shipped from Prince Rupert comes from British Columbia, Horgan said.
Westshore and Ridley ship only coal, he said. Neptune Terminal and Fraser Surrey Docks in Vancouver handle a mix, and Pacific Coast Terminals, based in Port Moody, ships mostly sulfur but has plans to add coal, according to Horgan. These terminals put together are much smaller than the Tsawwassen and Prince Rupert facilities.
Other commodities could figure into the picture, Wallace of BNSF Railway said.
"It is important to keep in mind that freight rail traffic will increase with or without coal export," she said in an email. "Train volumes through any community ebb and flow based on several factors: market demand, customer needs, economic conditions, etc.
"Washington state's economy is built on trade and ports and demand is increasing domestically for all goods as the population grows," she said. "That's a good thing, especially for a state like Washington that is heavily dependent on trade."