A new $6 million tribal museum on the Kitsap Peninsula tells the story of the people and culture that produced a man named Seattle.
Originally published January 26, 2013 at 7:00 PM
Seattle Times travel writer
Anybody new to Seattle might wonder about the city's name. It's not like New York, named after a place in the "old country," or Madison, named for a dead president.
Seattle is named for a peace-loving Indian chief — a little classier than Chicago, derived from a native word for wild garlic.
When you've been here long enough to be settled in and have a favorite coffee order, it's time to learn more about your hometown's heritage. Make a ferry-ride pilgrimage to the Kitsap Peninsula, to the winter home and final resting place of the city's namesake, Chief Seattle.
And now's a good time to go, because the chief's tribe, the Suquamish, has opened a handsome new museum where you can learn all about Chief Seattle's people and their culture.
One surprise: The chief himself gets a conspicuously modest mention.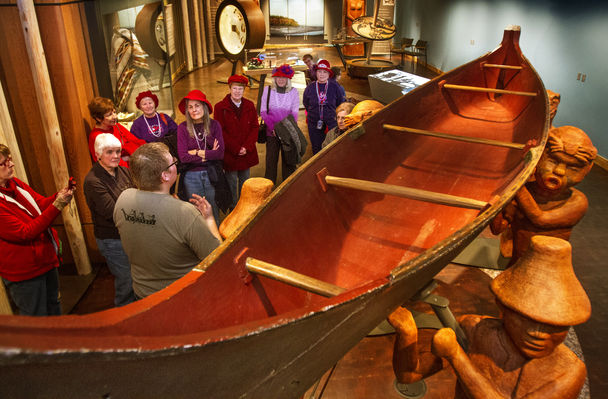 The 9,000-square-foot, $6 million tribal museum, which opened in September a few hundred feet from the chief's grave in the village of Suquamish, replaces a well-respected museum dating to the 1980s.
In part with newfound wealth from its Clearwater Casino, the tribe hired Storyline Studio of Seattle to design new exhibits, and Mithun Architects created a stained-wood building surrounded by native plantings of sword fern, wild currant and cedar.
Inside, it's a gleaming example of modern museum concepts with a topical "less is more" orientation that doesn't overwhelm. A single, compact hall showcases artifacts from tribal archives, or even from contemporary tribal members' attics or family rooms (giving the sense that this is truly "living history").
In the permanent exhibit, "Ancient Shores — Changing Tides," simple island-like displays communicate large themes:
• "Teachings of Ancestors" includes a bone sewing needle and a cedar-root basket from the site of Old Man House, the longhouse on a nearby beach where Chief Seattle spent much of his life.
• "Spirit and Vision" has a mystical Tamanowas Stick, a personal-spirit symbol usually buried with a person, and a cedar mask with wild eyebrows and blushing cheeks.
• "Gifts from Land and Water" includes, among other things, a utilitarian clam-digging stick and a mean-looking wooden club used to kill salmon.
• "Shelter, Clothing and Tools" displays old and new, such as a dress astoundingly made of shredded cedar alongside a championship jacket from the 1984 national Indian Slo-Pitch Tournament.
• "Opportunity and Enterprise" are represented by 21 baskets of cedar bark, historically used for gathering clams and berries. (The modern representation of enterprise might be the tribal casino, which collects many "clams" from its patrons.)
• "Wisdom and Understanding" gives a puzzlingly brief nod to Chief Seattle. Context comes from this narrative: "(He) is perhaps the most famous of tribal leaders from the Salish Sea. But for the Suquamish people he was just one of many admired leaders throughout our history, each celebrated for their own unique skills."
Six other leaders from across the years get the spotlight, with artifacts such as the gavel of Grace Duggan, the tribe's first judge.
Why not dedicate more space to the leader for whom the big city is named?
"I think that the tribe is consciously trying to move away from (Chief Seattle) being the beginning, middle and end of the tribe," explained museum director Janet Smoak. "It's in no way a reflection of less esteem or less respect."
Exhibits briefly reference Chief Seattle's famous 1854 speech when he played a key role in treaty negotiations as his people were moved to reservations (see the speech's full text on the tribe's website at www.suquamish.nsn.us; search for "speech"). A peaceable man in tune with the Earth, he noted with melancholy that "my people are ebbing away like a fast receding tide that will never flow again." Yet he also delivered a burning message that his people's spirits will forever inhabit this land.
Something the museum does well: a historical multimedia production, creatively projected from above onto three child-level platforms, showing happy times — old-time salmon roasts — and less happy, when tribal children forcibly attended military-type schools after Teddy Roosevelt declared America "would make good citizens of all the Indians."
The museum's trumping centerpiece is a carved canoe, more than 300 years old, used in the 1989 Paddle to Seattle, the first of a now-annual series of intertribal-canoe journeys around the Salish Sea. Hoisting it are six sculpted figures representing the Suquamish from ancient times to present, including two sea otters "from before the great changer came and made people into people and animals into animals," Smoak explained, citing the kind of beliefs that defined the tribe.
Closer to the man
If you want to feel closer to the man Seattle, head a short ways down South Street to the cemetery adjacent to St. Peter's Catholic Mission, circa 1904.
Reflecting varying spellings of both his name and that of his tribe, based on changing interpretations of the native language, a white marble marker is inscribed "Seattle, Chief of the Suguampsh and Allied tribes, died June 7, 1866, The firm friend of the whites, and for him the City of Seattle was named by its founders." Below that, the other name by which he was commonly known: "Sealth."
Here you'll see more plainly how the tribe honors him, in the form of significant improvements made to the gravesite in 2009 with $200,000 plus in grants split between the tribe and the city of Seattle. Flanking the stone are beautifully carved 12-foot cedar "story posts" that highlight moments from the chief's life, such as his childhood sighting of Capt. George Vancouver's exploration ships in1792.
Also added was a retaining wall etched in the native Lushootseed language and in English with messages such as "The soil is rich with the life of our kindred." A wheelchair-friendly path connects to the parking lot, and visitors may rest on benches shaped like Suquamish canoes.
Ending your journey
Walk through the village to see more changes new money has brought to Suquamish, such as the charmingly named House of Awakened Culture, a waterfront community center devoted to such activities as classes in language, weaving and carving.
Browse native art at Rain Bear Studio or grab lunch at Bella Luna Pizzeria, a rub-elbows nine-table eatery perched on pilings over the waterfront.
Better yet, on a sunny day, pack a lunch to Old Man House Park, historic site of the chief's longhouse, five minutes away. Sit on a log and take in the view that Chief Seattle's people still love: narrow and scenic Agate Passage on one side, and on the other a panorama of snowy mountains across diamond-glinting waves of the salty sound.
In its day, this beach was where a native leader could take in all of his world, or all of it that mattered.
Brian J. Cantwell: 206-748-5724 or bcantwell@seattletimes.com
If you go
The land of Chief Seattle

Where
From Seattle, take Washington State Ferries from Pier 52 to Bainbridge Island. Follow Highway 305 north toward Poulsbo. After the Agate Passage bridge, take the first right to Suquamish Way. In 1.2 miles, turn left at Division Avenue and then immediately right on South Street to the Suquamish Museum, 6861 N.E. South St. ($3-$5, www.suquamishmuseum.org).
Go a short distance further east on South Street to Chief Seattle's gravesite. Continue downhill to the village center.
To reach Old Man House Park, from Suquamish Way take Division Avenue south and follow the arterial for .3 mile.
Special event
At 3 p.m. Feb. 23, the museum dedicates a new 40-foot-long wall-mounted timeline of tribal history with a lecture/presentation by Tribal Chairman Leonard Forsman and Tribal Archaeologist Dennis Lewarch.
Lodging
Stay at the tribe's 85-room waterfront hotel, part of Clearwater Casino Resort. Free daily breakfast in lobby with tribal art, fireplace and expansive views. Pool, hot tub, spa. Winter rates: $169 for a view room on a weekend. 15347 Suquamish Way N.E., www.clearwatercasino.com/hotel
Restaurants
The casino has a buffet, cafe and a steakhouse. On Wednesday and Thursday nights, 2-for-1 specials for club members can overcrowd the buffet (the Thursday I visited, there was a 90-minute wait for a buffet table at 6 p.m.). That steered me and my wife to an endearingly corny checkered-tablecloth bistro in old-town Poulsbo, That's-a-Some Italian Ristorante, 18881 Front St. N.E.; www.thatsasome.com.
For lunch, try the $2.50 slices at Bella Luna Pizzeria, 18408 Angeline Ave. N.E., Suquamish; www.bellalunapizza.com.
More information
Suquamish Tribe: www.suquamish.nsn.us
Kitsap Peninsula Visitor and Convention Bureau, www.visitkitsap.com