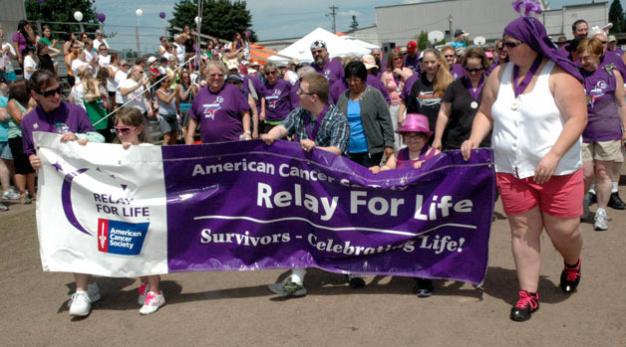 Kirk Boxleitner, The Marysville Globe
MARYSVILLE — The 2013 Marysville Tulalip/Relay For Life benefitted from warm weather and clear, sunny skies on June 29-30 to raise $119,037.35 from its 50 teams and 416 participants, who generated roughly $50,000 toward that total in the past month alone.
Kristin Banfield, event chair for this year's Marysville/Tulalip Relay, welcomed those teams of walkers to Asbery Field on Saturday, June 29, by noting how the overnight Relay is meant to reflect a day in the life of someone who is facing cancer, with the darkening of night eventually giving way to the dawn of a new day, and added that this year's Relay marked a pleasant change of pace from the cold and rain that's greeted local walkers and volunteers in previous years.
"I'm here not just as the Relay event chair, but also as a cancer survivor," said Banfield, who was diagnosed with breast cancer in 2008, and while she's since made a recovery, she's described herself as a direct beneficiary of the money raised by Relays not just in Marysville and Tulalip, but all around the world. "So I just want to say thank you to all the companies and sponsors who have provided for this event, whether through financial support or donating goods and services. We're so fortunate to have so many caring companies, in addition to our incredible elected officials."
While Banfield works as the assistant city administrator for Arlington, she introduced Marysville Mayor Jon Nehring, who asserted that cancer has touched the lives of everyone in some way, whether they've fought it themselves or known those who have been faced with that fight.
"To my mind, this is one of Marysville's most important events of the year," Nehring said. "I salute everyone who's battled cancer. Your stories are so heart-wrenching. The city of Marysville is glad to partner with the Marysville/Tulalip Relay to try and beat back this disease, and it's great that you all have come out as a community for this cause."
Teresa Stubrud is the mother of two cancer survivors, Austin and Kate, who are not only still children, but also diagnosed with Down Syndrome. Before Austin and Kate led the survivors' lap to kick off this year's Relay, Teresa compared her children's journeys, since Kate was diagnosed with cancer shortly after Austin was finally declared cancer-free in 2005, after his own series of treatments.
"Kate was two and a half years old at the time, and it took two years before her treatments ended in 2008," Teresa Stubrud said. "Six months later, it had returned."
Kate's only option was a bone marrow transplant, which is a painful and life-threatening procedure even for adult patients, never mind for a child with Down Syndrome, and Teresa recounted how she and her husband Jon had agonized over their decision, knowing how much Kate would suffer.
"The strength and courage and will to live that she's shown ever since has been amazing," Teresa Stubrud said. "She's taught me more in her 10 years than I'd learned in my entire life."
Stephani Earling, community relationship manager for the Great West Division of the American Cancer Society, took the time to pilot the wheelchair of her grandfather, Jim Perin, who had been diagnosed with Stage 4 kidney cancer only two weeks before, which has metastasized in his lungs.
"This has given my work for the American Cancer Society a whole new meaning," Earling said.
"This is just a great outfit," said Perin, 85, who was once the chief of police for Everett. "I mean, what else can you say about the work that they do? Their volunteers are unbelievable."