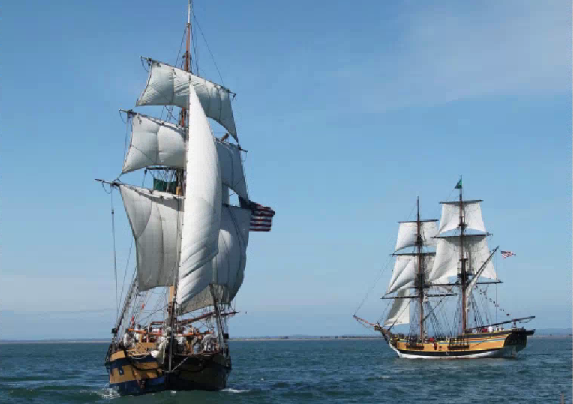 Richard Walker, Indian Country Today Media Network
The first tall ships that visited Quinault territory were harbingers of European and American empirical designs. And not all of those visits ended well.
The first European visitors were, presumably, Spanish explorers, arriving off what is now Point Grenville in the schooner Sonora on July 11, 1775 to claim the land for Spain. That visit ended with a bloody battle between Quinault men and the Spanish crew. (Quinault Nation treasurer Lawrence Ralston has a uniform emblem found on the Lower Quinault River confirmed by Spain to be of Spanish origin, circa the 1700s.)
Next came the Americans, in 1788, to trade; then the British, in 1792, to flex their claim on the area and assign British place names. The U.S. inherited Spain and Britain's claims in the Pacific Northwest through a series of treaties between 1819 and 1846—although nobody asked the Quinaults for their thoughts on the matter. Treaties with indigenous nations and attempts to force the assimilation of the first peoples followed.
The new landing site for cedar canoes hewn by a new generation of Native carvers (Northwest Indian Fisheries Commission)
Next month, during the annual Canoe Journey, history will come full circle when the tall ships Lady Washington and Hawaiian Chieftain escort up to 100 canoes—from First Nations in Washington and British Columbia—as they travel along the open coast from Neah Bay in Makah Nation territory to Taholah at the Quinault Indian Nation, which hosts the journey, August 1 to 6.
The Canoe Journey has "made a tremendous contribution to public education about the heritage of Native people and tribes and First Nations of the Pacific Northwest and British Columbia," Quinault Indian Nation President Fawn Sharp says. "The events have also contributed mightily to the cultural reinvigoration of Native people and the connection between Indian and non-Indian governments and communities.
"By inviting the Lady Washington and the Hawaiian Chieftain to participate in this event, protocols are being followed which were neglected by tall ships of the past. This could thus be viewed as an opportunity to help make some amends for some past transgressions. Moreover, the participation of these tall ships in this event also helps convey a message that tribal and nontribal communities choose to look forward to and work together on a collaborative basis toward common objectives."
The Quinault Nation invited the tall ships to escort the canoes this year because 2013 is the 225th anniversary of first contact between the U.S. and the Indigenous Peoples of the Pacific Northwest. "We are very excited to be able to participate in this important cultural event," says Les Bolton, executive director of the Grays Harbor Historical Seaport Authority, which owns the Lady Washington and the Hawaiian Chieftain.
"2013 marks the 225th anniversary of the first contact between the newly independent United States and the rich coastal cultures of the Pacific Northwest," says Bolton. "Since that first contact seven generations ago, our world has changed significantly. We want to encourage all people to consider where we began, where we are today, and give thought to the world we want our descendants, seven generations from now, to inherit."
Launched in 1989 as part of the Washington State Centennial, the Lady Washington is a wooden replica of one of the first U.S.-flagged ships to visit the West Coast of North America. In 1788, the original Lady Washington arrived off the coast of what would later become Oregon to trade with the area's Indigenous Peoples for furs, then sailed north past Quinault territory en route to Vancouver Island.
The modern Canoe Journey traces its roots to 1989, when educator Emmett Oliver of the Quinault Nation and Frank Brown of the Heiltsuk First Nation in British Columbia developed a canoe journey to be held in conjunction with the Washington State Centennial celebration. The resulting event—the Paddle to Seattle from indigenous lands in Washington and Canada—generated interest among other Northwest Coast Native peoples who wanted to revive the traditional form of travel on the ancestral marine highways. The Canoe Journey has been an annual event since 1993; the Quinault Nation last hosted in 2002.
During the journey, canoe families visit indigenous territories en route to the host destination and share their cultures. Each Canoe Journey is a logistical feat for host destinations, which provide meals and gifts to thousands of guests and host about 100 cultural presentations over a period of a week.
The journey is a feat of fitness for pullers. Pulling long distances in a canoe requires emotional, physical and spiritual fitness. Pledges to be alcohol-free, drug-free and, in many cases, smoke-free, are required. That's had a tremendous impact on younger pullers.
Spanish emblem (circa 1700s) found in Lower Quinault River (Courtesy Lawrence Ralston)
Indigenous languages are spoken on the journey, particularly at the canoe landings when skippers ask hosts for permission for pullers to come ashore, and at evening ceremonies when traditional dances and songs are shared.
The journey features beautiful cedar canoes carved by a new generation of Native carvers. And the participation of Indigenous Peoples from around the world has grown each year. Among the participants in recent journeys: Ainu (an indigenous people in Japan), Native Hawaiians, Maori, Tlingit and Yupik. "Cedar canoes are deeply significant to our people," Sharp explains. "Not only do they reflect a connection with the art and practicality of our past, they represent a statement of our commitment to sustain our values and legacies into the future. They are a living embodiment of Northwest tribal tradition, a powerful bond that strengthens our cultural, economic and environmental resolve. They are a reflection of our identity, as individuals and as nations."
The Canoe Journey is empowering to young pullers. Courage and perseverance are learned on the water and from stories shared by elders. At the Canoe Journey skippers meeting February 23, George Adams, Nooksack, told of his grandmother's residential school experience, how her mouth was taped shut because she refused to stop speaking her language. For his grandmother, the tape "was a badge of honor. She didn't give up speaking her language. There are people who have stories on the journey. Listen to the stories, listen to the songs."
The journey has done a lot to build bridges between Native and non-Native communities as well. Exposure to cultural activities associated with the journey has helped break down barriers and grow cultural understanding. "The Canoe Journey is an event that can help tell people throughout the country that the tribes are still here," said Sharp, a lawyer and administrative law judge who is also president of the Affiliated Tribes of Northwest Indians. "We're not going anywhere. We're alive and well and we will be heard."
There are other significant aspects of this Canoe Journey:
Restoring a Sacred Gathering Place
The landing will be at Point Grenville, Washington, where the Spanish landed in 1775 and which the British visited and named in 1792. "We want to acknowledge the historical significance of Point Grenville," Sharp said. "Our Creator blessed our ancestors with ancient knowledge, a sacred and beautiful gathering place, a rich culture, economy, and heritage that were actively practiced at Point Grenville. After centuries of Quinault occupation, Spanish and foreign greed and a desire to lay claim to our lands led to bloodshed and war."
In the 1930s, Quinault created a scenic park at Point Grenville. The site later became home to a U.S. Coast Guard LORAN Station. For the past three decades, Point Grenville has been vacant. For the Canoe Journey, Quinault has developed or is developing on Point Grenville beach access trails, lawns, a flag pavilion, and viewing areas. The nation is installing three carved-story poles that symbolize Quinault spirituality, sovereignty, and restoration. "This year, our generation [is] restoring the spiritual, cultural and economic significance of our sacred gathering places, starting at the most westerly point of our tribal homelands," Sharp said. "This year, the entire world will celebrate this restoration and the beauty of our people, lands and ancestral inheritance."
Monitoring Marine Health
Several canoes will again be outfitted with probes that collect information about water conditions: dissolved oxygen, pH levels, salinity, temperature, and turbidity. Data collected in each Canoe Journey since 2008 are being processed and mapped by the U.S. Geological Survey to help identify signs of climate change, impacts from development, and changes in the levels and types of nutrients and pollutants washing into the ocean.
It's the melding of one of the oldest technologies on the sea—the carved cedar canoe—with some of the newest technology. Each stainless-steel probe is two feet long and two-and-a-half inches in diameter, and trails the canoe at a depth of six feet, according to the survey. On the trailing edge of the probe are sensors that collect water-quality data every 10 seconds. The data are transmitted to a data logger on board the canoe, and the latitude and longitude is automatically recorded via global positioning system. "When we are able to so capably use traditional tools to achieve such contemporary objectives, a special connection is made that underscores the significance of knowing and understanding tribal history," Sharp says.
"That is a lesson I hope people will learn from the journey—that there are solutions to the challenges we face today in the annals of our history. Challenges, such as climate change, ocean acidification, water pollution and even social and economic challenges can all be far more easily resolved if we choose to learn from history. Even with today's computer technology, so many answers to the challenges we all face today are in the wisdom of the ages."
Honoring Those in Uniform
The theme of this year's journey is Honoring Our Warriors, a tribute to Native men and women in uniform. "We feel it is important for people everywhere to know that tribal members have been first to serve in the U.S. Armed Forces," Sharp said, and at a greater number per capita than any other ethnic group. "They deserve every honor we can bestow on them."
For further information on the 2013 Canoe Journey, visit PaddleToQuinault.org.
Read more at
https://indiancountrytodaymedianetwork.com/2013/07/03/history-sails-full-circle-tall-ships-escort-northwest-native-canoes-150250