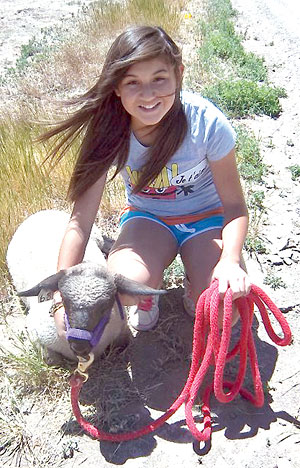 Alysa Landry, Navajo Times
Thirteen-year-old Fallon Blackbull has a busy schedule.
The incoming freshman at Rebohoth Christian School splits her time among varsity track, soccer and 4-H activities, including competitive archery and showing lambs in the county fair.
But Blackbull's daily routine also includes waking up at 2 a.m. and 5 a.m. to check her blood sugar.
Blackbull, of Hosta Butte, N.M., was 10 years old when she learned she had Type 1 diabetes and that she'd be pricking her finger a dozen times a day for the rest of her life.
"I hate living with diabetes," she said during a phone interview. "It's a lot of work, a lot of extra things put into my day."
Blackbull on Monday will join 150 other young people from across the country in Washington, D.C., where they will urge lawmakers on Capitol Hill to continue funding Type 1 diabetes research. It's part of the Juvenile Diabetes Research Foundation's Children's Congress, an event that happens every other year and allows children and teens with Type 1 diabetes to interface directly with senators and representatives.
This year's Children's Congress also includes young delegates from Australia, Canada, Denmark, Israel, the Netherlands and the United Kingdom, said Cindy Adams, executive director of the Juvenile Diabetes Research Foundation.
"We're asking Congress for support so we can find a cure," Adams said. "Our goal is to cure, treat and prevent Type 1 diabetes."
Type 1 diabetes, previously known as juvenile diabetes, usually is diagnosed in children and young adults. Only 5 percent of people with diabetes have this form, which occurs when the body does not produce insulin, or the hormone needed to convert sugar into energy.