Planes, kangaroos, music, theater, festivals and much more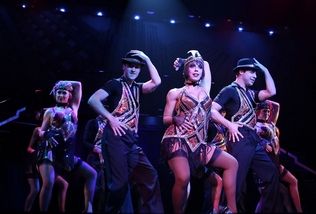 Source: The Herald
For dogs and their people: Poochapalooza is Saturday in Marysville. This party has music, flyball, exhibitions, contests and — new this year — wiener dog races. Read all about it here.
Live music: Everett Music Initiative has show tonight in Everett. Seattle's blues rock duo My Goodness will play on the outside patio at Sol Food Bar & Grill. Also playing are Portland's Tango Alpha Tango and Seattle's Prism Tats. Tickets are $12 at the door and this show is all ages. Doors open at 8 p.m. with music starting around 9 p.m. More info here.
Musical: Our reviewer has glowing things to say about Village Theatre's "Chicago." It shows all weekend and various other days until July 28. Read more here.
Local movie: Check out the locally made movie "Imagination Thief" at a screening on Friday and Saturday at Historic Everett Theatre. Read more in our story here.
Waves: Pro wakeboarders will show off their skills from 8 a.m. to 8 p.m. on Friday and Saturday at Lake Tye in Monroe.
Up in the sky: The Arlington Fly-In continues Friday and Saturday. There will be daily air shows, hot air balloons, vendors, bouncy house and exhibits. Get more info here.
Wine: Sunsets in Snohomish, a wine tasting event, is from 5 to 7 p.m. Saturday. There will also be shopping and dining specials. Click here to buy tickets or for more details.
Roo to you: Meet a real live joey and learn about kangaroos at the Monroe Library from 2 to 3 p.m. on Saturday. Cameras are welcome. Quiet is required. Click here for more details.
Improv: A family-friendly improv show is Saturday in Duvall. The Cascade Community Theatre will put on a show at 7 p.m. and 9 p.m. No two shows are the same because the audience helps direct the action. Get more information here.
A Shindig: The Sultan Shindig is Friday and Saturday in downtown Sultan. The event celebrates Sultan's logging history and includes a carnival, food, crafts and live entertainment. A logging contest includes spar-pole climbing and ax throwing. There also is a parade. Click here for more info.
Music on the loop: The Mountain Loop Music Festival is noon to 4 p.m. on Saturday in Old School Park, 1026 Alvord St., Darrington. There will be local music, a barbecue and old-fashioned carnival games. For more information call 360-436-0308.
Ultimate flea market: Junk in Trunk is 10 a.m. to 3 p.m. on Saturday at 1015 State Ave., Marysville. Shoppers can buy garage sale items, tools, vintage, antiques, collectibles, crafts and more from more than 60 vendors. Details are here.
Pinks are running: Get information from experts about fishing for humpies on Saturday and Sunday at the Tulalip Cabela's. Learn more in Wayne Kruse's column here.
Meow: Find a new friend at a Meow in Mukilteo from noon to 3 p.m. on Saturday at the Rosehill Community Center, 304 Lincoln Avenue. Cats from many shelters and rescue groups will be at the event. Get more information here.
Festival: The Mill Creek Festival and Street Fair is Saturday and Sunday. You'll find live entertainment, Kids' Korner, arts and crafts; main stage and a beer garden. A free shuttle is available from Jackson High School. Learn more here.
Art: Art by the Bay is Saturday and Sunday at the Stanwood-Camano Community Fairgrounds, 6431 Pioneer Highway. There will be concerts, fine arts, garden art. Parking and admission are both free. Get more information here.
Outdoor tunes: Ryan McKasson and Dave Bartley, who play traditional Scottish music on fiddle and guitar, will perform at the West Beach amphitheater at Deception Pass State Park at 7 p.m. on Saturday. The concert is free but you'll need a Discover Pass to park. Get more info on this, and other park events, here.
Cannonball! A Cannonball and Belly Flop Contest is at 6 p.m. Friday at Yost Pool, 9535 Bowdoin Way, Edmonds; $5 entry fee. Learn more here.
Hoops: A 3-on-3 "Main Street Madness" Basketball Tournament is 8 a.m. to 6 p.m. Saturday at 15720 Main St., Mill Creek. Youth divisions third through eighth grades play in morning and adult divisions play in afternoon.