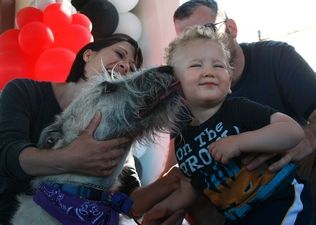 Source: The Herald
MARYSVILLE — The seventh annual Marysville Poochapalooza dog festival is planned from 10 a.m.-5 p.m. Saturday at Strawberry Fields Park, 6100 152nd St. NE in Marysville.
Snohomish County's largest dog event includes a fashion show for rescue dogs, canine flying disc tournament, flyball exhibitions, pie-eating and pet contests that give dogs their moment to shine.
"This year, we're adding our 'Running of the Wieners' wiener dog races to the schedule, and invite dachshund owners to bring out the champion in their dogs," said Leslie Buell, Poochapalooza founder and coordinator, in a news release. "See these energetic low-rider pups give it their all for trophies, prizes and glory."
Poochapalooza is free, but a suggested $5 per person donation provides goodie-filled "wag bags" to the first 400 visitors. All proceeds support Strawberry Fields for Rover Off-Leash Park, which is maintained year-round by Marysville Dog Owners Group volunteers.
The pie-eating contests and fashion show will be emceed and sponsored by Dining Dog Café and Bakery of Edmonds and owner Dorothy Moore.
Food and refreshments will be sold by the Marysville Kiwanis Club in support of youth programs, and by other vendors. Parking is free. Rare Birds and Rosemary will provide live music from 4-5 p.m.
Visit the Poochapalooza website at http://poochapalooza.org for forms and schedule. For more information, contact Leslie Buell at 360-651-0633, email labuell@frontier.com. The event[']s Facebook page is www.facebook.com/poochapalooza.