Begay Foundation unites kids with Lobo women
By Ken Sickenger / Journal Staff Writer on Jul. 23, 2013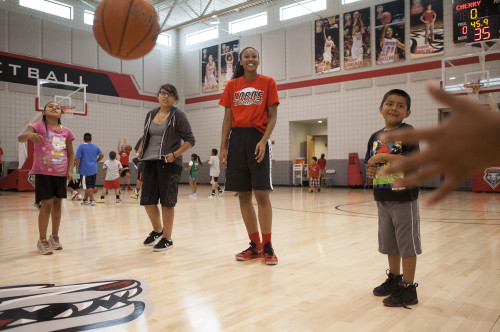 We're going to need another bus.
Notah Begay III Foundation personnel came to that realization early Monday as they prepared to travel from San Felipe Pueblo to the University of New Mexico.
NB3F had arranged to send a group of Native American youngsters to UNM for a two-hour clinic with the Lobo women's basketball team.
The turnout exceeded expectations.
"We expected around 30 kids and ended up with 90," said Stephanie Gabbert, the foundation's director of soccer. "We had to arrange an extra bus, but that's a good thing. The more kids we expose to something like this the better."
The clinic provided many of the youngsters a first look at UNM and its basketball facilities. They rotated through various basketball and nutrition stations operated by Lobo players.
Enthusiasm ran high on both sides.
"It's awesome," said 13-year-old Evan Valencia. "(UNM players) got us running and they've been really nice. We've never had anything like this before. It's fun."
Monday's clinic served to further the mission of NB3F. Established by Albuquerque golfer Notah Begay III, the foundation seeks to combat childhood obesity and type 2 diabetes among Native Americans by promoting education and active lifestyle choices.
The foundation's website, nb3foundation.org, cites numerous studies reporting that childhood obesity and diabetes are more common among Native Americans than any other ethnic group.
The Santa Ana Pueblo-based foundation operates golf and soccer programs for Native American youth. NB3F also coordinates a variety of summer camps to introduce youngsters to other sports and activities.
With that in mind, Gabbert reached out to Lobo women's basketball coach Yvonne Sanchez and men's soccer coach Jeremy Fishbein. Both quickly agreed to hold clinics.
Lobo men's soccer players and coaches visited NB3F's soccer facility at San Felipe last summer and will host a clinic Wednesday. Monday's women's basketball clinic was a first-time event and proved a big-hit with the 90 boys and girls who attended. The campers ranged in age from 7 to 13.
Begay, now a network golf commentator for NBC, was unable to attend Monday's clinic. His brother, Clint Begay, who helps operate NB3F, came away impressed.
"The foundation's main goal is to get kids active," he said. "When we can do that and get them outside the reservation, show them something new, that's a big plus. You can tell by their faces, these kids are happy to be here."
Lobo players clearly enjoyed the experience, too. Juniors Antiesha Brown and Ebony Walker operated a station emphasizing defense and lateral movement. They also made younsters elevate for high fives and celebrate imaginary three-point-play opportunities.
"Basketball is really good for younger kids," Brown said, "so you have to make it fun. Eb and I like to do follow-the-leader drills and just be ridiculous to keep the kids entertained. When they have fun, it's fun for us, too."
UNM players largely ran Monday's show because Sanchez and her assistant coaches were out of town recruiting. Women's basketball vidoegrapher and former player Amy Beggin oversaw the clinic.
"It's a cool opportunity for our players," Beggin said, "because they love working with kids. It's also nice because a lot of these kids have never been to UNM before. This gives them a chance to see it and maybe dream about coming here someday."
Thirteen-year-old Ilai Sandoval admitted he was nervous about coming to the Davalos Center. Sandoval has been participating in NB3F activities for a year and now serves as a youth assistant.
"Everyone was happy we got to come here," he said. "My cousin's been asking me, 'When's the camp? When's the camp?' A lot of kids couldn't wait.
"I was a little nervous because I've never been here before but it's nice. I bet everyone will want to come back (Wednesday) for soccer."