Whatcom County and its regulatory state and federal partners have announced they will conduct a sweeping review of Gateway Pacific Terminal's environmental impacts — an apparent victory for the coal terminal's opponents.
By JOHN STARK — THE BELLINGHAM HERALD
July 31, 2013
In a joint press release issued Wednesday, July 31, the three levels of government announced that they "will closely study their direct effects at the site and evaluate a broad range of indirect and cumulative impacts likely to occur within and beyond Washington."
Whatcom County, the Washington Department of Ecology, and the U.S. Army Corps of Engineers are producing a joint environmental impact statement for the proposed Gateway Pacific Terminal and BNSF Railway Custer Spur track expansion.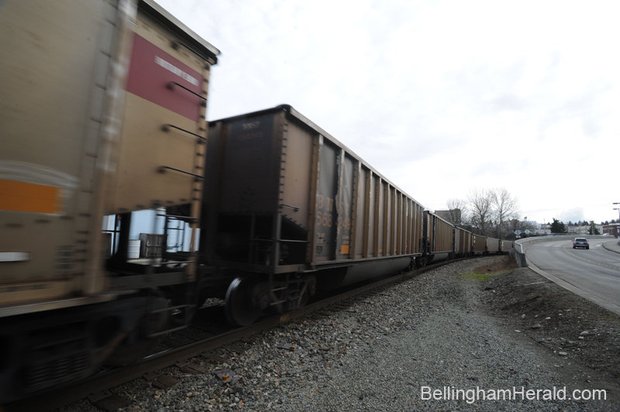 The Gateway Pacific Terminal – proposed by SSA Marine subsidiary Pacific International Terminals – could handle as much as 48 million tons of Asia-bound U.S. coal per year. Combined with smaller quantities of other bulk cargoes, the terminal could generate 18 train trips per day through Bellingham and other cities along the rail line. That includes northbound loaded trains and returning empty trains.
According to the press release, Whatcom County and the Department of Ecology have determined that the State Environmental Policy Act require examination of impacts on "earth, air, water, plants and animals, energy and natural resources, environmental health, land and shoreline use, transportation, and public services and utilities."
Among other things, that means "a detailed assessment of rail transportation impacts in Whatcom County near the project site, specifically including Bellingham and Ferndale."
The study also will include "an assessment of how the project would affect human health, including impacts from related rail and vessel transportation in Whatcom County."
The state and county also have agreed to take it one step farther, to require "an evaluation of greenhouse gas emissions from terminal operations, and rail and vessel traffic."
Gateway Pacific supporters had argued for a narrower focus, saying it was unfair to consider project impacts far from the site. Some business leaders said such broad environmental review requirements could have a chilling effect on other major industrial development projects in the state.
This story will be updated with more details and reaction throughout the day.
Reach John Stark at 360-715-2274 or john.stark@bellinghamherald.com. Read his Politics blog at
blogs.bellinghamherald.com/politics or follow him on Twitter at @bhamheraldpolitics.