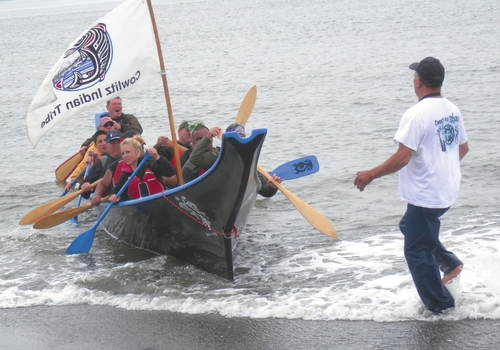 By Angelo Bruscas, North Coast News
The first landing locally for the Paddle to Quinault 2013 was blessed with calm seas and a light overcast at low tide on Damon Point when five tribal canoes from Southwest Washington and Oregon pulled in for the last leg of their journey to the shores of the Quinault Indian Nation.
Even though Monday's landing was in Ocean Shores, it technically is on Quinault land, too, with the Ocean Shores RV Park and Marina owned by the host tribe. The site will harbor campers and canoe teams connected to the intertribal journey of nearly 100 canoes that will end this weekend at Point Grenville, south of Taholah. The city of Ocean Shores issued a permit to the RV Park to allow spill-over camping on the other side of Marine View Drive, and many of the teams arrived with large groups of followers and supporters on Monday afternoon.
They were greeted by a Quinault contingent that included Tribal Council members, drummers, pageant royalty and dancers in traditional clothing, along with customary greetings and requests from the canoe teams for permission to come ashore.
"Thank you for sharing what you have, what you have been given by the Great Spirit," Quinault Tribal Council member Richard Underwood called out in greeting the arriving teams. "We look forward to hearing your songs and your dances and joining in the festivities. On behalf of our royalty here, our Miss Quinault and Miss Teen Quinault, we welcome you to come ashore and share with us your history. We are thankful you made it here safe. Welcome. Come ashore!"
Jeremiah Wallace, 32, skipper of the Cowlitz Tribe canoe, was thankful the team would have a chance to rest up before making the final 30-mile pull to the beach at Point Grenville. The Cowlitz team and canoes from Grand Ronde and Warm Springs had traveled down the Columbia River and up the coast, meeting the Chinook Tribe's canoes at the mouth of the Columbia, and actually arriving a day earlier than expected.
"We're pretty happy to be here," said a hoarse and exhausted Wallace, who now lives in Bellingham. The Cowlitz started at the Bonneville Dam on the Columbia and then met the Warm Springs, Grand Ronde and Chinook tribal canoes on the journey down the river into the open ocean, a place where Wallace had never been in the canoe. They also stopped at the Shoalwater Bay Tribe before crossing Grays Harbor on Monday.
The canoes averaged about 22-24 miles a day, and Wallace was sore on his side and his chest from the steering demands on his body. The biggest difficulty other than the normal hardship of pulling a paddle for a couple hundred miles was the fog, and Wallace said the canoes had to follow the lights of a Chinook crab boat and Grand Ronde Zodiac on Monday through the fog.
"This is my first time in the ocean. It was pretty calm out there, but it's hard when you don't have any relief pullers. You just have to keep pulling the whole time," Wallace said.
CULTURAL CELEBRATION
The Paddle to Quinault is not just a canoe journey. It is a cultural celebration with song and dance, a Potlach, a demonstration of the wealth and riches of the community.
"People come from far and near to partake in these festivities that we will be having," Underwood said as he described the event July 18 for over 400 people gathered at the Ocean Shores Convention Center.
As many as 15,000 people are expected to arrive this weekend as tribes throughout the Northwest journey by canoes up and down the coast, landing at Point Grenville, south of Taholah. There, they will be greeted with a feast and several days of hospitality by the Quinault Nation, which has been spending the past several months making gifts and stocking up on traditional foods, fish and game to feed and present to the incoming crowds.
"We want to show off our wealth, so to speak," Underwood said at the Canoe Journey 2013 Community Dinner. "And by doing so, we make gifts … and we give those to our friends and relatives and our visitors who have traveled here."
For those who venture out on the ocean or tribal members who make their way of life on the water, being part of the canoe journey can be a life-changing experience.
"Knowing not only you but 10 other people in that canoe have to work together in order for that canoe to stay true," Underwood said. "That's a life lesson."
The Quinaults helped train other tribes in two sessions in May and June, and their journey can be tracked in real time online at: www.tinyurl.com/K77zryw
As a younger man, Underwood was often told that being on the ocean was part of his heritage. Being part of a canoe team teaches not only how to be self-reliant, but also how to depend on others. It's a philosophy and way of life that applies to so many other facets of day-to-day living.
"That was something that my grandmother was trying to teach me, and I didn't get it until the day it was revealed to me that I needed to get into that canoe and learn these ways," he said.
CANOE JOURNEY
Called "pullers" rather than paddlers or rowers, the canoes are traveling together because of the rugged conditions posed by an ocean-going journey. In 2002, with fog and heavy surf, the Canoe Journey also came to Taholah, only it finished by entering the Quinault River, which proved treacherous for the 45 canoes that arrived. Grenville should be a much more calm landing.
The northern group includes several tribes making the journey down from British Columbia.
Ocean-going canoes from several Naut'sa mawt Tribal Council nations are traveling from Bella Coola, along the west coast of Vancouver Island and through the Salish Sea. Pullers from Sliammon, Snuneymuxw and Malahat will join the Journey as it heads south, meeting their relations from Puget Sound in the Strait of Juan de Fuca. The T'Sou-ke First Nation canoe crossed the strait, landing near Port Angeles for the last legs of the voyage, west to Makah and the open Pacific Ocean.
The B.C. connection goes back to 1989 when Quinault elder Emmett Oliver (now 100 years old) and Frank Brown of Bella Bella, B.C. first came up with the idea for the Paddle to Seattle. Nine traditional ocean-going cedar dugout canoes made the journey back then from coastal villages of Northwest Washington and B.C. to help celebrate the Washington Centennial. An added bonus to this year's Journey will be the tall ships Lady Washington and Hawaiian Chieftain. The ships were invited by the Quinault to escort canoes along the open coast from Neah Bay.
The theme is "Honoring our Warriors," and the veterans who have served others.
PADDLE SCHEDULE
Aug. 1: Canoes will leave Queets at about 7 a.m. They'll arrive at Point Grenville at between 2 p.m. and 5 p.m. Dinner will be served between 5 p.m. and 6 p.m.
Aug. 3: The totem pole will be put up at 12 p.m.
Aug. 4: Race canoe presentations will be given at high tide.