It started with a spark — an interest in green energy. This glimmer of curiosity led Lyle Wilson, an instructor at Oglala Lakota College in South Dakota and U.S. Army veteran, to start researching renewable energy technologies such as solar, wind and geothermal. Now sparked by Lyle's interest, members of the Oglala Sioux Tribe of the Pine Ridge Reservation are finding new possibilities in their clean energy capabilities.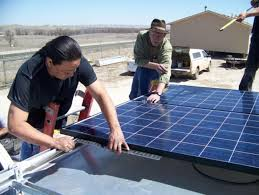 July 24, 2013
Energy.gov
Minh Le
Program Manager, Solar Program      
As part of his work at Oglala Lakota College, Lyle works with students in the applied sciences department to construct houses for members of the tribe. He envisioned taking the work a step further by integrating solar panels into new homes to help reduce power bills. To make it happen, Lyle reached out to Solar Energy International (SEI), which helps coordinate solar training courses for the Energy Department's Solar Instructor Training Network.
From there, a group of students and instructors at the college signed on for SEI's Photovoltaic (PV) 101: Solar Design and Installation course, in which they set up their first grid-tied photovoltaic system. This introduction served as fuel for their solar fire. Next, about 20 people took part in SEI's PV 203: Solar Electric Design (Battery-Based) class. This course allowed them to install two 250-watt solar panels on their construction trailer.
"Most kids don't want to sit in class — they want to get out and do things," said Lyle. "We did a short one-day lesson in the classroom then went down to the yard and designed, connected, and built the system over two days. Our students were actually sort of stunned to learn how easy it is to do something like this once they understand the fundamental concepts."
The mobile solar energy system built through the PV 203 course now provides enough power to run electric tools at construction sites, supports community service projects and serves as an educational resource for school-aged children.
Lyle sees these accomplishments as just the start. With more knowledge, more possibilities come into focus. Up next, the students hope to take another SITN course on setting up their own power grid. This would offer potential savings for the tribe, provide a degree of energy independence and empower students by bringing new job skills into the community.
"We could install 40 panels as a test to see how much money we could save by getting power from the sun," said Lyle. "Then we could pass that information on to the tribe."