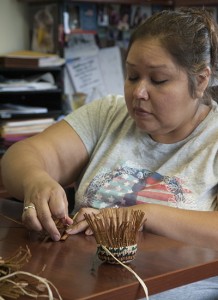 Source: Northwest Indian Fisheries Commission
If you aren't in the mood, don't weave. It shows up in the work." That's one of the many things Quileute tribal member Cathy Salazar has learned after 16 years of basket weaving.
"The weave will get too tight or sloppy if you aren't in the right frame of mind," said Salazar.
Despite years of weaving, Salazar didn't fully appreciate the traditional ways of preparing materials for some time because others provided the cedar and grasses ready to use in baskets. "It was all ready to go and Grandma Lillian Pullen or my other instructors would weave the basket bottoms for me to get the basket started," said Salazar. Lillian was her first teacher and everyone called her "grandma."
However, there came a time when the raw materials weren't as easily available, so Salazar went out with a group of tribal members to strip cedar bark and learned all the days of hard work behind preparing it for weaving. "When people look at a basket and grumble about the price, they usually don't' understand that the weaving is the fastest part for accomplished basket-makers. The preparation takes the most time," Salazar said.
Once the cedar bark is stripped from the tree, the outer bark must be separated from the inner bark. Then it is dried indoors to prevent mold. It is either stored or soaked in water if it will be used in the near future.
Salazar chuckles that her sister Anne Walker, who lives in Arizona, can have cedar harvested in May ready to use by July because of Arizona's hot and dry climate. In the rainforest, "I'm probably not able to use it until November," she said.
Properly preserved, the weaving materials can be stored for many years. "Some weavers have cedar that was their grandmother's that they use in baskets," Salazar said. "When folks are looking at baskets, they always comment they can smell the cedar when they are holding those old-growth baskets. The color is darker, too."
Salazar's sister, who is three years older, also pushed her to learn all the aspects of basket weaving. "She just wasn't going to let me keep having others start baskets for me or fix my problems when I got stuck," Salazar said, laughing.
Quileute Natural Resources now organizes collection of the cedar bark each year as part of a cooperative agreement with Rayonier. A unit is identified and natural resources employees mark the way to the grove for collection and provide transportation, if necessary. Cedar is also collected and distributed to those who aren't able to collect it themselves. "I think we had the most requests that I can remember for materials this year," Salazar said.
Salazar knows the value of the materials and gives prepared cedar to relatives and friends who weave as presents for birthdays and other holidays. "They appreciate it because they know how much work it takes to get it ready. For me, I would trade it ounce for ounce for gold."