Lillian Marie Williams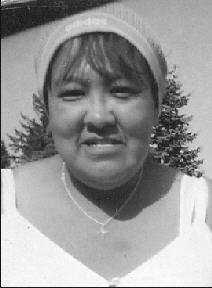 Lillian Marie Williams, 48, of Tulalip, Washington went to be with her Creator on August 8, 2013.
She was born April 16, 1965 in Bellingham, WA to Walter Williams Jr. and Loretta Tom.
Lillian worked as a Youth Advocate at the Los Angeles Indian Youth Center for five years. She traveled with Bobby Labonty and Dale Ernhart in NASCAR circuit. She was active in her native culture.
She is survived by her fiance, Charles Comenote; mother, Loretta Tom; father, Walter Williams Jr.; children, Frances George, Brandon George, and Irvin Jack, Alannah Thiefault; step-children, Tonya Comenote, Kealynn Comenote, Charles Comenote Jr; siblings, William Washington III, Crystal Bailey, Robert Williams, Esther John, Ernest John III, Leonard Lawrence, Jack Johnson; fourteen grandchildren; and numerous nieces, nephews, cousins and friends.
Visitation will be held Wednesday, August 14, 2013 at1:00 p.m. at Schaefer-Shipman Funeral Home with an Interfaith Service following at 6 p.m. at the Tulalip Gym. Funeral Services will be held Thursday, August 15, 2013 at 10 a.m. at the Tulalip Gym with burial following at Mission Beach Cemetery.
Arrangements entrusted to Schaefer-Shipman Funeral Home.