The highly anticipated "Paul Frank Presents" Limited Edition collection will be revealed this week during a special event at the IAIA Museum of Contemporary Native Arts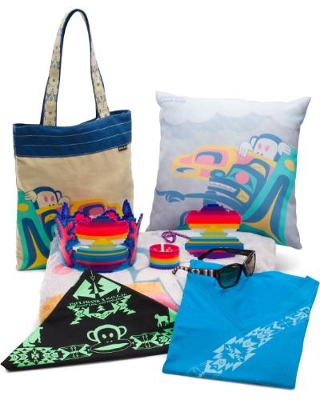 Source: Paul Frank
LOS ANGELES, Aug. 12, 2013 /PRNewswire/ — Paul Frank, in partnership with the Institute of American Indian Arts (IAIA) Museum of Contemporary Native Arts (MoCNA), is pleased to announce the debut of its first ever collaboration with four Native American designers during Santa Fe Indian Market this week. The fashion collection will be showcased during a panel and event held at the Museum of Contemporary Native Arts in Santa Fe, New Mexico, on Friday, August 16 from 5:00 p.m. to 7:30 p.m. The "Paul Frank Presents" collection will also be available for purchase at the IAIA MoCNA store.
To kick off the event, MoCNA Director Patsy Phillips will introduce a panel entitled, Beyond the "Tribal Trend": Developing Proactive Native American Collaboration in Fashion. The panel will feature Jessica Metcalfe of the Beyond Buckskin blog and Beyond Buckskin Boutique, Adrienne Keene of Native Appropriations and Tracy Bunkoczy, Paul Frank's VP of Design as they discuss the brand collaboration, the background story and creation of the collection and the development of proactive Native partnerships in the fashion world.
After the panel, each of the designers will present their products and talk about their personal inspiration for the collaboration. These Native American designers include Louie Gong of Eighth Generation, Autumn Dawn Gomez of The Soft Museum, Candace Halcro of Brownbeaded, and Dustin Martin of S.O.L.O. The "Paul Frank Presents" fashion collection includes a printed tote, pillow and throw blanket by Louie Gong, five collections of Hama bead jewelry by Autumn Dawn Gomez, authentic Paul Frank hand-beaded sunglasses by Candace Halcro and a variety of tees, tanks and bandanas by Dustin Martin.
"This collaboration has been an opportunity for us to help raise awareness about cultural misappropriations, which unfortunately happen too often in product, promotion and fashion," said Elie Dekel, President of Saban Brands. "Our partnership with these four talented Native American designers was the direct result of our own awakening to this issue from our Paul Frank Fashion's Night Out event back in September of 2012. We hope this 'Paul Frank Presents' collaboration will demonstrate more appropriate ways to engage and celebrate the Native American communities."
These products are now available for purchase at the IAIA MoCNA store, the websites of the contributing designers and also on shop.beyondbuckskin.com. For additional information about this collection, please visit www.paulfrank.com.
About Paul Frank
Acquired in 2010 by Saban Brands, Paul Frank began in 1997 as an independent accessories company in a Southern California beach town. The brand has steadily grown to become a globally recognized, iconic brand that features artistic and entertaining designs inspired by a love of avant-garde, modern influences and everyday objects. By creating relationships through exciting collaborations and strategic licensing partnerships, Paul Frank merchandise includes apparel and accessories for all ages, books, stationery, eyewear, home decor, bicycles and more. To see what's new and exciting at Paul Frank, visit www.paulfrank.com.
About Saban Brands
Formed in 2010 as an affiliate of Saban Capital Group, Saban Brands (SB) was established to acquire and develop a world-class portfolio of properties and capitalize on the company's experience, track record and capabilities in growing and monetizing consumer brands through content, media and marketing.  SB applies a global omni-channel management approach to enhancing and extending its brands in markets worldwide and to consumers of all ages.  The company provides full-service management, marketing, promotion and strategic business development for its intellectual properties including comprehensive strategies unique to each brand, trademark and copyright management and enforcement, creative design, retail development, direct-to-consumer initiatives and specialized property extensions.  SB is led by a superior management team with decades of experience in media, content creation, branding, licensing, marketing and finance. SB's portfolio of properties currently includes Power Rangers, Paul Frank, Vortexx, Zui.com, The Playforge, Julius Jr., Digimon Fusion and Popples. For more information, visit www.sabanbrands.com.
About the Museum of Contemporary Native Arts
The mission of the Museum of Contemporary Native Arts (MoCNA), a center of the Institute of American Indian Arts (IAIA), is to advance contemporary native art through exhibitions, collections, public programs and scholarship. MoCNA's outreach through local and national collaborations allows us to continue to present the most progressive Native art and public programming. MoCNA's exhibitions and programs continue the narrative of contemporary Native arts and cultures. MoCNA is located at 108 Cathedral Place, Santa Fe, NM 87501. For more information please contact: (505) 983-1666 or visit www.iaia.edu/museum. For the MoCNA store, please call (888) 922-4242 or email shop@iaia.edu.
About IAIA
For 50 years, the Institute of American Indian Arts has played a leading role in the direction and shape of Native expression. As it has grown and evolved into an internationally acclaimed college, museum and community and tribal support resource through the Center for Lifelong Education, IAIA's dedication to the study and advancement of Native arts and cultures is matched only by its commitment to student achievement and the preservation and progress of the communities they represent. Learn more about our achievements and mission at www.iaia.edu.