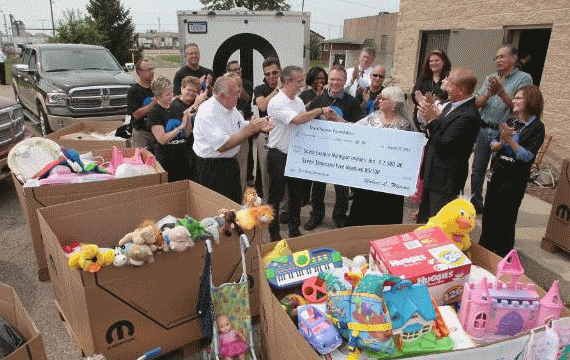 Source: Native News Network
CENTERLINE, MICHIGAN – It was like Christmas in the summer as hundreds of baby supplies were delivered to Southeastern Michigan Indians Inc. (SEMII).
The items, donated by Chrysler Group LLC employees, were collected and delivered by employees from Mopar, Chrysler Group's service parts and customer care brand. Donated supplies included baby clothes, books, toys, strollers, diapers, and bottles. The Chrysler Foundation, the charitable arm of Chrysler Group, also provided a $7,500 grant to assist SEMII with the purchase of additional items for infants.
"All of these items will be put to good use by families in our community,"
said Sue Franklin, Executive Director of SEMII.
"We are grateful to all of the people at Chrysler and Mopar for their time, effort and donations."
As part of a company wide effort with United Way, Mopar continues its work with SEMII, which is located two blocks from Mopar's main parts distribution facility in Center Line, Michigan. The organization provides social services to Native Americans and Macomb County, Michigan residents.
Last year, Mopar volunteers repainted the organization's cultural center and sponsored a "Dress for Success" clothing drive to provide professional attire to those in need.
"At Mopar, our mission is to fully support our customers and our brands,"
said Pietro Gorlier, President and CEO, Mopar.
"With that same passion, we want to support people in our community and make a difference."
"It's always very heartwarming to lend a hand to our neighbors, especially when they're young children with a world of possibilities ahead of them,"
said Jody Trapasso, President, The Chrysler Foundation.