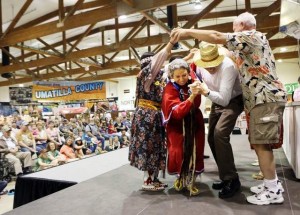 Sept 2, 2013 Statesman Journal
The Confederated Tribes of Umatilla Indian Reservation took center stage on the last day of the Oregon State Fair today.
Four members of the tribe, wearing traditional clothing such as eagle feathers, moccasins, shell earrings and braids, performed their native dances on the Americraft Cookware Stage.
Roberta Conner, director of the Tamastslikt Cultural Institute who led the dancers, described the dances before each demonstration.
Conner said the tribes have been in Oregon for 10,000 years and have always been welcoming to visitors. When visitors would reach the tribes they would be offered food and water along with a performance of the welcome dance.
Kirke Campbell, of Corvallis, said his daughter wanted to be at the fair today to see the Umatilla dancers.
Campbell was randomly selected from the audience to participate in the owl dance.
"I was honored to be picked," he said.
At the end of the performance, all of the audience members were asked to join in a circle dance. About 50 took advantage of the opportunity.
"(This) has been the best turn out for the three performances we have done," Conner said.