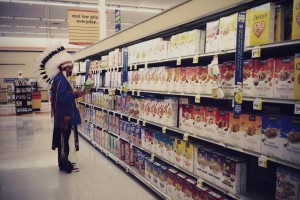 Imagine a man dressed in stereotypically "traditional" Native American garb, donning a massive white feathered headdress, an ornamental tunic, and face paint. Now imagine that man performing mundane tasks in Washington, DC, like grocery shopping, riding an escalator or having lunch at a local restaurant.
The Huffington Post  |  By Katherine Brooks   |  09/03/13
What is your reaction?
The bizarre quandary is put forth by performance artist Gregg Deal, a member of the Pyramid Lake Paiute Tribe originally based in northwestern Nevada. In a striking film project titled "The Last American Indian on Earth," Deal dresses himself in purposefully questionable attire and goes about his daily business, daring passersby to confront their own preexisting ideas about the modern Native American person.
"The purpose of this project is to raise questions about Native people, often viewed as a relic, and how they're perceived
in the modern age," Deal explains in a press statement about the work. "How will [people] react if they saw me, a Native dressed in buckskin and a headdress, doing something as mundane as shopping for cereal at the grocery store? How will they react if they saw me eating Chinese food in China Town or taking pictures of buffalo at the National Zoo?"
The project began filming last month and so far the reactions to Deal's out-of-place appearance have included a pedestrian shouting "How!" and holding up a hand in salute, as well as a teenage girl exclaiming outloud, "Look, a real live redskin." Another bystander chanted "hi-a-wat-ah-hi-a-wat-ah" upon seeing Deal in costume, prompting a videographer, Emmanuel Soltes, to follow him up for an explanation. As you can see in the clip above, the man proclaimed that he was not trying to be offensive, and if he had, he would have mentioned the Dallas Cowboys.
In other shots, Deal can be seen carrying signs that read "Thank the creator for Johnny Depp" or "White guilt release station, inquire with indian."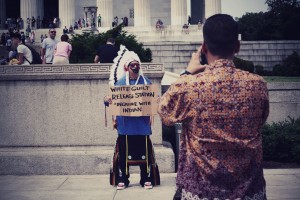 "The performances will include a number of things that are simple, mundane, funny, political, over the top, satirical, ironic, and even sad," Deal wrote on his Indiegogo campaign.
Deal plans to submit "The Last American Indian on Earth" for the 2014 Sundance Film Festival. In the meantime, you can scroll through images of Deal in action below. Let us know your thoughts on the concept in the comments.