Posted by Jennifer Sullivan
Seattle Times | September 5, 2013
Keep those slickers and umbrellas handy because this late summer rainstorm isn't going away anytime soon.
A flood watch has been issued in Western Washington from noon today until 6 p.m. tomorrow.
The showers and thunderstorms that have been rolling through the region over the last several hours will continue, bringing up to 4 inches of rain in some places, said Jay Albrecht, meteorologist with the National Weather Service. Heavy rains in September are so uncommon that it is possible that records could be broken.
Seattle-Tacoma International Airport, where the area's official readings are take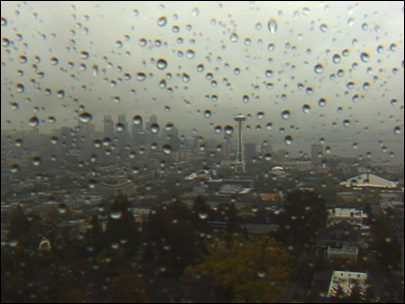 n, had just 2.65 inches of rain in the entire June-July-August period.
"If we get more than an inch and a third today, it will be at a record at Sea-Tac," said Albrecht.
Two storm fronts are to blame for the unseasonal weather. One is the drenching Pacific storm that is rolling in now. A second storm is forming in the Cascades today and is expected to hit the region tonight, Weather Service officials said.
With all the rain, temperatures are expected to take a slight dip with today only in the low 70s. Temperatures tomorrow are expected to be in the upper 60s.
The approaching storm has prompted Seattle city officials to warn construction crews to inspect and maintain storm drain "socks," temporary inserts often used to capture sediment from construction projects.
"The predicted weather system will not be huge by winter storm season standards, but for a time of the year that is normally dry it will be powerful," said Seattle Public Utilities meteorologist James Rufo-Hill.
For the latest forecast, go to the National Weather Service web site.