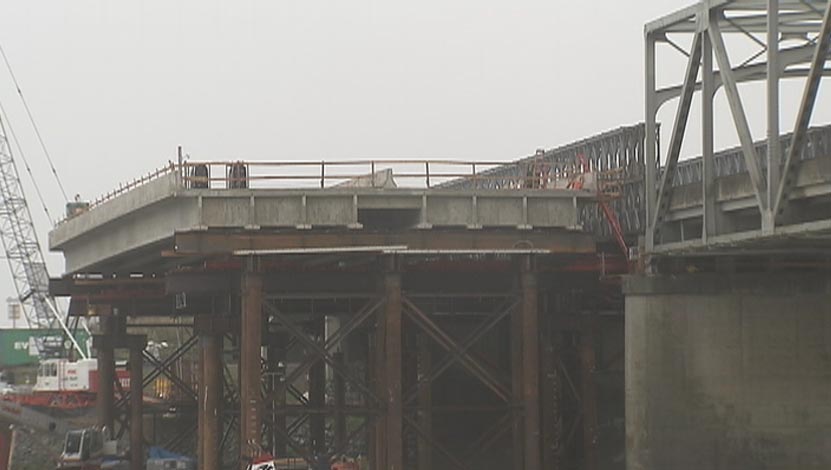 By Deborah Horne and KIRO 7 STAFF
BURLINGTON, Wash. — After nearly four long months, the Skagit River Bridge reopened to cheers.
It was a welcome sight for an area weary of the detours and congestion while I-5 was cut off.  And, says Burlington Mayor Steve Sexton, there was the feared collapse of the local economy.
"We made it through," said Sexton. "But it was a tough go."
The decades-old bridge and two vehicles tumbled on May 23into the Skagit River when an oversized truckload hit some overhead crossbeams. Everyone survived.
It took 27 days to put in a temporary bridge.
As today's appointed hour to open the new permanent bridge came and went, traffic on the surface streets kept building.
"Oh, it's crazy," Shannon Parrish of Burlington said of the traffic. "Not very fun. It takes about 45 minutes to get home just from here." It's a trip that she said normally takes seven minutes.
The bridge still hadn't opened even when the governor arrived.  The delay was blamed on the extra time needed to cut some big steel plates.  But Gov. Jay Inslee was in no mood to criticize.
"No one in the United States of America thought we could get this job done in three and a half months," he said, his voice rising. "This was a tremendous feat."
The mayor of Mount Vernon said she'll drink to that.
"I think I'll go home and maybe have a glass of wine tonight," said Jill Boudreau, laughing.  "Toast the DOT and the governor."
The traffic over the bridge will remain at 40 mph for the time being.
There will be more overnight closures. The crossbeams are being raised to try to prevent them from being hit again.  That work will last until mid-November.
Once the work is done, the bridge will be named for Washington State Trooper Sean O'Connell.  O'Connell was killed while helping detour traffic a week after the bridge collapsed.