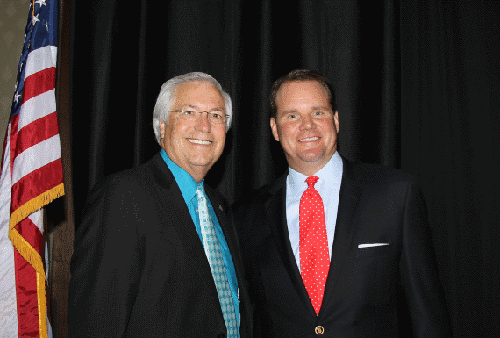 Source: Native News Network
TULSA, OKLAHOMA – Touting the phrase "A strong Cherokee Nation means a strong Oklahoma," the Cherokee Nation announced on Tuesday the Tribe provides a $1.3 billion economic impact to the state of Oklahoma's economy.
Tribal officials announced its impact Tuesday during a luncheon with several state, county and local officials at its entertainment flagship property, Hard Rock Hotel & Casino Tulsa.
The research study shows, with the $1.3 billion economic impact, the tribe's activities directly and indirectly support more than 14,000 jobs and provide more than $559 million in income payments.
"The Cherokee Nation is stronger than ever and, as a result, so is the state of Oklahoma,"
said Cherokee Nation Principal Chief Bill John Baker.
"What is good for the Cherokee Nation is good for everyone in our state. From the number of jobs we provide to the services we administer to the local vendors we put to work, the Cherokee Nation positively impacts the lives of so many Oklahomans. And we're not going anywhere. Essentially, the Cherokee Nation is a corporate headquarters that will never leave town."
Since 2010 study, the Tribe has increased its direct economic output to more than $1 billion, which is a 25 percent growth. Cherokee Nation's direct pay to employees has increased by more than $120 million, resulting in more than $375 million in income payments to its workers. During the same period, direct employment grew by nearly 250, reaching 9,244 employees, including contract workers.
"Cherokee Nation government and business operations continue to offer expanded economic opportunities in northeast Oklahoma,"
said Dr. Russell Evans, executive director of the Steven C. Agee Economic Research and Policy Institute, who authored the report assessing the Cherokee Nation's economic impact on northeast Oklahoma.
"The tribe's operations are a critical source of economic strength for the region."
With its capital in Tahlequah, Oklahoma, the Cherokee Nation provides an array of government services, spurs economic development and provides financial support to the entire region.
Cherokee Nation works alongside county, state and local governments to improve roads and bridges, provide much needed funding to rural schools, ensure communities have good, clean running water and improve access to health care.
Cherokee Nation's economic development engine, Cherokee Nation Businesses, reported record revenues of more than $715 million during fiscal year 2012. Along with supporting vital government services, the Cherokee Nation reinvests its business profits to create more Oklahoma jobs and further diversify its non-gaming businesses.
Beyond its direct investments, Cherokee Nation supports a number of local, diverse and growing industries that help drive private and public sector partnerships. The tribe assists with child care, career training and development, elder services and contract health. These services, as well as other services, are often met through the private sector and funded by the Cherokee Nation. This impact also comes in the form of goods or services purchased for Cherokee Nation economic activities.
For example, the tribe recently announced a $100 million investment in its tribal health care system, which supports more than a million patient visits each year. This type of activity spurs purchases and subcontracting to many privately owned small businesses throughout the tribe's jurisdiction.
"It's very eye opening to people when they begin to understand all the Cherokee Nation does for our state and, specifically, the northeast region,"
Baker said.
"We are extremely proud to support more than 14,000 employees and countless small businesses. As a lifelong small business owner myself, I know how important a strong local economy is and what it means to the people who live here."
The report was commissioned by the Cherokee Nation and produced by Evans. He and his research team at the Steven C. Agee Economic Research and Policy Institute in the Meinders School of Business at Oklahoma carefully collected and reviewed data to paint an accurate picture of the Cherokee Nation's impact on the state of Oklahoma.