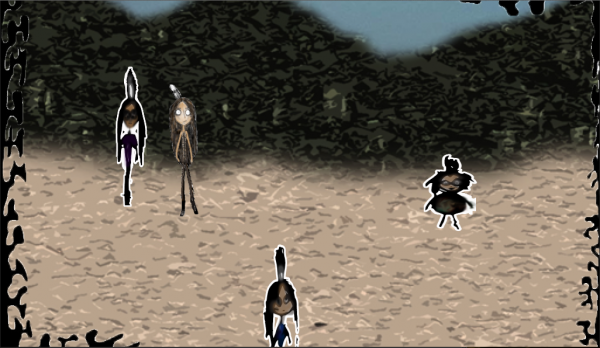 Source: Indian Country Today Media Network
When given an assignment to use modern technology to teach the Shoshone language and culture in an entertaining way, students from the Shoshone/Goshute Youth Language Apprenticeship Program, or SYLAP, at the University of Utah came up with a computer game called "Enee."
Enee in Shoshone means "scary, fearful, frightening, oh!" and it's a fitting title for the dark and edgy aesthetics of the game play, which according to a university press release were inspired by filmmaker Tim Burton.
The game is based on traditional Shoshone stories. The game's main character, Enee, lives in the past and is thrown into some of those stories.
"Working with Shoshone youth on this project has shown me that games can do more than just entertain," said Zeph Fagergren, master's student in the university's Entertainment Arts and Engineering program, in a release.  "'Enee' is more than a game, it is a tool to help people keep their culture alive and well. Using the video game format makes it possible for to anyone to learn the Shoshone culture and language."
Playing the game does require basic understanding of Shoshone because there is no English used in the game.
"I think it is great we can incorporate our traditional culture with modern technology," said Cora Burchett, a student in SYLAP and one of the three game developers.  "'Enee' carries on traditions that my grandparents taught me, and I believe that is very important to my future."
The development team wanted to bring some of the traditional Shoshone stories to the modern world because they aren't being shared like they used to be.
"'Enee' demonstrates that the Shoshone language and culture has a place in the modern world," said Marianna Di Paolo, director of the Shoshoni Language Project and associate professor of anthropology at the University of Utah. "Developing 'Enee' was a great example of the goals of the language project: to open the doors to higher education for young Shoshone people and also help them see they don't have to give up on their language and culture to do so. In fact, just the opposite is true."
To play the game, which continues to be tested and developed, visit TheEneeGame.com.
Read more at
http://indiancountrytodaymedianetwork.com//2013/10/10/created-students-play-first-shoshone-language-video-game-151567