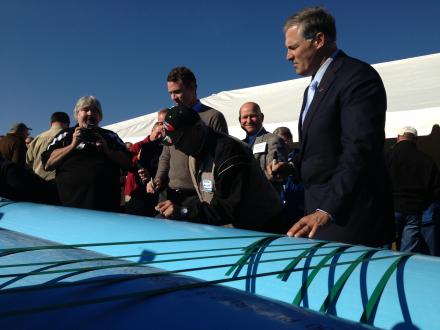 By Anna King, KPLU news
A dried-out 3-mile-stretch of creek in central Washington will soon swell again with water. It's part of a project near Ellensburg to pipe irrigation water from the Yakima River to keep water in the creek for salmon and steelhead.
In June, Gov. Jay Inslee signed a bill passed by the Legislature that sets aside $132 million to improve water usage and sensitive habitat in the Yakima Basin. Inslee traveled to Manastash Creek to celebrate the start of one part of that work—construction of a 13-mile pipeline that will replace an unlined canal system. With more water back in the creek, it will once again free salmon and steelhead to spawn on 25 miles of habitat upstream. Inslee says this project stems from lawsuits, bitter fights and earlier failures.
"You know sometimes water projects have not been shall we say perfect in the West, because they've ignored one aspect of our culture or our values," Inslee said. This combines all of them, it's jobs, it's farms, it's fish, it's forest."
The Manastash Creek restoration project is expected to be finished next spring.