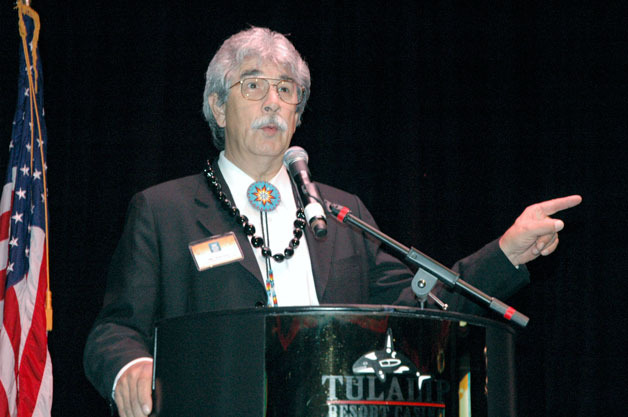 By Kirk Boxleitner, Marysville Globe
TULALIP — The Tulalip Tribes announced a record-setting $6.9 million in donations this year, to more than 280 Washington state nonprofits and community groups, during their 21st annual "Raising Hands" celebration, in the Orca Ballroom of the Tulalip Resort Hotel and Casino, on Saturday, Oct. 26.
"We're here to share stories of goodwill, and of how we came to journey together," Tulalip Tribal Board Chair Mel Sheldon Jr. said. "We look back on how much progress we've made, thanks to the leaders of the past, who built our foundations. We're so grateful to be able to follow their example, and to share in the goodwill and work that you do. Look around you," he told those seated in the Orca Ballroom that evening. "We're all doing the same work, which is bettering the community. It wasn't that long ago that Tulalip needed help, and we appreciated the helping hands we received, so now that we're in a position to do so, we're proud to help those who help others."
After a performance by Quil Ceda Elementary student singers, Tulalip Tribal Board member Glen Gobin noted that the Tribes' financial generosity is a sign of their growing fortunes.
"We've given more than $57 million to different charities over the years," Gobin said. "Fifty years ago, the Tribes' total budget was $200,000 for the whole year. We had 750 organizations request funds from us in the past year. There's a lot of good organizations out there, but we can't give to everybody."
Tulalip Tribal Board Vice Chair Deborah Parker told the representatives of those recipient organizations to take pride in being "hard workers who contribute to the community every day," just as she expressed pride in being able to "stand beside you and help celebrate your successes."
Tulalip Tribal Board member Theresa Sheldon thanked a number of organizations in attendance for helping to educate the public on the larger problems facing the world, "just as we've had to re-educate people, to correct them about our history as Native Americans, to let them know that Columbus Day isn't something that should be celebrated, and that dressing up as a Native American for Halloween is inappropriate. We have to do that re-education because so much of our history is not taught in books."
The Tribes support regional efforts to improve education, health and human services, cultural preservation, public safety, the environment and the economy. This year's local recipients included the Arlington Community Food Bank — which received a donation in an amount between $7,501 to $10,000, to help with their construction of a new food bank, providing emergency food assistance to 12,000 people of all ages — and to the Marysville School District, which received a donation of more than $10,000, to support educational programs at Quil Ceda Elementary and Totem Middle School. The Cascade Valley Hospital Foundation received a donation in an amount between $2,501 to $5,000, to help fund their purchase of an advanced medical simulation manikin, with which to train hospital staff in crucial emergency responses.
"And of course, our most importance resource is our youth," Mel Sheldon said. "It's the little ones of today who will lead us down the road to the future. We're all in this together."