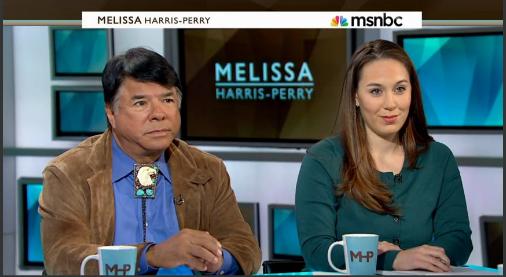 Source: Indian Country Today Media Network
MSNBC's Melissa Harris-Perry weekend program on December 1 featured a panel that discussed "the foundational myths perpetuated about America and the realities of inequality," according to MSNBC.com.
The two-hour program featured Ray Halbritter, Oneida Nation representative and CEO of Nation Enterprises, parent company of Indian Country Today Media Network, as one of the guest panelists.
Joining Halbritter as panelists were Chloe Angyal, editor at Feministing.com; Raul Reyes, NBC Latino contributor and New York Times columnist; and Jonathan Scott Holloway, professor of African American Studies, History and American Studies at Yale University and author of Jim Crow Wisdom: Memory and Identity in Black America since 1940.
Harris-Perry led the panelists through discussions on American traditions like Thanksgiving and how they relate to American values; along with the possible contradictions that exist between these traditions and our country's public policies, as they relate to issues like hunger, immigration, and the economy.
Following the program's introduction, Harris-Perry opened the discussion with the first question for Halbritter on how the country's founding myths continue to impact the country today.
"The Thanksgiving mythology, to some extent, papers over the often painful and tragic history of American Indians and the way they've been treated," Halbritter said. "Even though it was the shared celebration and tradition of Indian people to have this ceremonial of Thanksgiving and they gave to the first immigration group and shared with them in a way that allowed for their survival but it's a celebration that should be of mutual inclusion and respect and often that's not the case for American Indians in this country."
Keeping on the Thanksgiving leftovers, Harris-Perry engaged Halbritter to elaborate on the Oneida Nation float making its appearance for the fifth year in the Macy's Thanksgiving Day parade in New York City. Where Halbritter mentioned that one of the reasons for the float is to show that American Indians are real people and not relics or mascots.
The discussion shifted from a topic usually synonymous with abundance of food like Thanksgiving to one that has become bare bones in the SNAP program cuts, followed by poverty levels throughout the country. Holloway mentioned how it's currently easy for politicians to make scapegoats of those without power.
Harris-Perry elaborated on the scapegoat issue by mentioning an empathy deficit – a topic that President Barack Obama has talked about and wrote about. She discussed how the empathy deficit basically recognizes the country's "ability to potentially have sympathy for people" while it still has an "inability to see one another across differences."
Halbritter responded saying, "That's some of the challenges for American Indians because they are often not viewed except as relics or mascots and as a result the real issues they suffer from the lowest standard of living, the highest mortality rates in the country, highest unemployment. And 7 of the 10 poorest counties in the United States are Indian reservations.
"So they really struggle to have their real issues dealt with in a way that's real especially this time of the year. Especially because in some ways all this is connected, their self-image, their self-esteem and how they relate to themselves and the rest of society," Halbritter said.
View videos of the program here.
Read more at
http://indiancountrytodaymedianetwork.com/2013/12/02/msnbcs-melissa-harris-perry-tackles-broad-american-mythology-152509