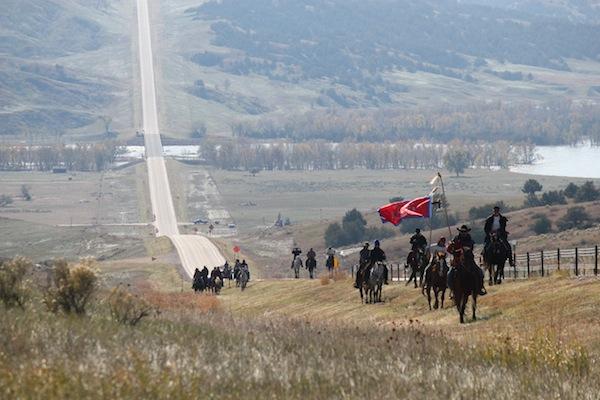 Winona LaDuke, Indian Country Today Media Network
There's a beauty in the breath of horses, fall mornings' breath seen in the air, and the smell and sound of horses. We rode horses from the Headwaters of the Mississippi along the proposed route of a new oil pipeline that would cross the reservation. It was the third of a series of rides on oil pipeline routes.
RELATED: Anishinaabe and Lakota Riders Protest Pipelines, on Horseback
The rides were sponsored by Honor the Earth, along with the Horse Spirit Society, Owe Aku and the White Earth Land Recovery Project. Those rides took us on the Alberta Clipper proposed expansion route (from Superior, Wisconsin, to the Red Lake Reservation), and to the proposed Keystone XL route in the Dakotas, where riders from White Earth Reservation joined with the Lakota to ride between Wanbli and Takini or Bridger on the Cheyenne River Reservation. Then we came home, to our own reservation, where a new pipeline is proposed to cut near our largest wild rice lake.
"We are not protesters, we're protectors," said Michael Dahl, leader of the third ride. That is true.
Michael Dahl, leader of the third ride. (Photo: Suze Leon)
We called this the triple crown of pipeline rides. What's at stake is a lot of water and a lot of risk. In the Dakotas it is a land without a single pipeline across it and one large aquifer, the Oglala.
"We can buy bottled water, and drink it, " Percy White Plume pointed out. "The buffalo and horses cannot."
This is a good point. So it was that 15 riders braved some harrowing terrain, a land littered with 100,000 dead cattle from a freak September blizzard, (frozen dead on the sides of roads, gullies and the like) and rode the proposed Keystone XL route.
RELATED: Entombed in Snow: Up to 100,000 Cattle Perished Where They Stood in Rogue South Dakota Blizzard
In Minnesota it is wild rice, water and oil. The Enbridge pipeline corporation is proposing to both expand a present oil sands pipeline, the Alberta Clipper, doubling its capacity and making it the largest tar sands pipeline in the U.S. That has its own risks—such as those of carrying dilbit, a highly corrosive substance, in a pipeline that is monitored remotely from Edmonton, Alberta. Enbridge also wants to construct a  610-mile pipeline from near Tioga , North Dakota, to Superior, Wisconsin. This is the same oil as the 800,000 gallons that devastated a Tioga farm field in North Dakota in early October. That pipeline was six inches in diameter; the proposed pipeline is 30. The proposed Sandpiper pipeline would carry 375,000 barrels of oil and cross through the White Earth reservation and the 1855 treaty area.
Enbridge is facing some obstacles.
"This is land that has been in my family for decades. It is prime Red River valley agriculture land. It was handed down to me by my mother and father when they passed away, and I'm intending to hand it down to my children when I pass away…. My wife and I have … told our children that we will pass this on. Of course, if 225,000 barrels of oil bursts through this thing, that certainly is the end of this family legacy. —James Botsford, North Dakota landowner and Winnebago Supreme Court Judge in Enbridge Sandpiper right of way
The Enbridge North Dakota company asked Botsford if they could survey his land.
"I told Enbridge … I am not going to give you permission," Botsford said. "You are going to have to take it."
So Enbridge filed a restraining order against Botsford, "denying me the private use of my own land," he said. In fact, Enbridge told the court, "Unless defendant is restrained and enjoined from preventing or interfering with access to the property … Enbridge will be irreparably harmed."
Enbridge told Botsford that the company's rights trumped his rights.  Enbridge seems pretty comfortable with that position, particularly ever since the Canadian corporation magically became a North Dakota utility. This metamorphosis allows the corporation to have eminent domain rights within the state. That occurred a decade ago and has served Enbridge well.
The company, however, has not been so lucky everywhere. In June 2013 the British Columbia government denied Enbridge permits for the Northern Gateway pipeline, citing environmental, safety and economic concerns about the corporation. That was in addition to massive opposition by First Nations. In Minnesota, Enbridge needs to get 2,000 rights of way for its pipeline proposal, and a certificate of need approved at the Public Utilities Commission. Those are all being challenged.
RELATED: British Columbia's Enbridge Pipeline Rejection Could Raise Keystone XL Questions
Spills
"Farmer Steven Jensen said the smell of sweet light crude oil wafted on his (rural Tioga) farm for four days before he discovered the leak, leading to questions about why the spill wasn't detected sooner." —Reuters on the 865,000-gallon spill in North Dakota in October 2013
Right now most of the oil moving in this country, from the Bakken fields, basically the Ft. Berthold reservation, goes by rail. That's up to 380,000 rail cars projected to move this year. That is perhaps why Warren Buffett purchased the Burlington Northern Railroad; because he saw that the money was in the landlocked oil. The problem is that the oil is moving faster than regulation, with safety especially lagging as companies seek to extract as quickly as possible, before rules are imposed.
This past summer, four square blocks of the town of Lac Megantic, Quebec, blew up as a train's braking systems failed. The train was carrying Bakken oil. Forty-three people were virtually vaporized in an explosion that baffled Canadian authorities. They had never seen anything like it.
RELATED: Exploded Quebec Oil Train Was Bringing Crude From North Dakota's Bakken to New Brunswick Refineries
Lac-Mégantic Rail Tragedy Resonates in Quinault Nation as Victims Are Memorialized
Bakken oil, the stuff they want to put in the Sandpiper line, seems to be very volatile, sort of like a bomb in a pipeline. Which seems a bit worrisome. It's even more worrisome given that the North Dakota accident (the 835,000-gallon spill) was attributed to lightning. Now, I'm not sure, but I think that lightning and an extremely volatile substance may be a very bad idea in a pipeline. That is the Sandpiper line.
The Sandpiper pipeline proposal.
The other Minnesota line—the Alberta Clipper—holds 440,000 barrels per day of tar sands oil. The Enbridge proposed expansion to 880,000 barrels per day would make that the largest tar sands pipeline.
Tar sands oil is both controversial for its origin and controversial for its transport and increased risk. Meanwhile the Keystone XL pipeline is facing huge opposition from farmers, ranchers, environmentalists and the Lakota Nation. In mid-November, Cheyenne River reservation leaders sent TransCanada's representatives off the reservation, in an abrupt meeting.
Enter the Pig
Enbridge's pipelines are largely monitored by the company. That is, if you don't count the 135 federal inspectors who are responsible for 2.5 million miles of pipeline. Those inspectors, working for the U.S. Transportation Department's Pipeline and Hazardous Materials Safety Administration (PHSMA), were on furlough when the 835,000-gallon Tioga spill happened, but it didn't matter because remediation was in company hands.
It turns out there's a piece of equipment called a "pig" (a pipeline inspection gauge actually), which goes through the lines to check them for structural problems. Sort of like a pipeline colonoscopy. This pig hasn't worked out too well, it seems.
According to Enbridge's company data, between 1999 and 2010, across all of the company's operations, there were 804 oil spills that released 161,475 barrels (approximately 6.8 million gallons) of hydrocarbons into the environment. This amounts to approximately half of the oil that spilled from the oil tanker Exxon Valdez after it struck a rock in Prince William Sound, Alaska, in 1988. The single largest pipeline oil spill in U.S. history was the Kalamazoo spill, which was an Enbridge line.
"Federal regulators are investigating the 2010 rupture of Line 6B, part of the Enbridge-operated Lakehead pipeline system," Michigan lawmakers testified. "The National Transportation Safety Board found Enbridge knew of a defect on the pipeline five years before it burst open and spilled around 20,000 barrels of oil into southern Michigan waters."
So maybe the pig was mute. I don't know. What I do know is that there are a lot of pipelines, and no one seems to be monitoring them.
In 2012 the PHSMA ordered Enbridge to submit plans to improve the safety of the entire Lakeland System. Meanwhile, Canada's National Energy Board has stated that Enbridge is not complying with safety standards at 117 of its pumping stations. The board is analyzing concerns and solutions.
New Project/New Plan
Enbridge's pipeline wish list, some of it granted.
Pipeline safety is increasingly under scrutiny, even as it becomes more mechanized. The pipeline safety system itself, however, is not local.
"This line—the Sandpiper line—the plan is that it will be operated from the control center in Estevan, Saskatchewan, … northwest of Minot, across the Canadian border," Greg Sheline of Enbridge explained. From there, "that information gets reported back to the control center, so that the operators can monitor the operation."
This of course does not sit well with those whose lives depend on the vigilance of this remote, robotic system.
"We don't know if any of those lines will hold, and Enbridge has not proven itself to be a safe part of our environment," said Dahl. "Our lakes and wild rice beds will be here forever, but if there's an oil spill they will be destroyed, and Enbridge will not be here. They are a 50-year-old Canadian corporation, and we are a people who have lived here for ten thousand years."
Enbridge's expansions are intended to feed into a set of pipelines in the Great Lakes region. The Minnesota lines are intended to snake through and around tribal reservations and wild rice beds to a refinery in Superior, Wisconsin. From there Enbridge hopes to ship forth that oil, through pipelines, to a proposed 17 refinery expansions.
Many of these pipelines are more than 50 years old, including a precarious link in the straights of Mackinac. That link in particular is making a lot of people nervous. An underwater spill in the straights would, according to scientists, spill a million gallons before it could be stopped.
The Certificate of Need, or Was It Greed?
The expansion is predicated on "need," or a certificate of need. In Enbridge's application before the Minnesota Public Utilities Commission, access to a stable supply of oil is the primary measure of need.
Need is subjective. It turns out that the world's largest oil reserves are in the western hemisphere, in Venezuela—followed by Saudi Arabia—and then the Alberta tar sands. Venezuela is a country that has demanded a fair price for oil and has used that oil to develop its infrastructure. If there were such thing as an example of "fair trade" oil, this would be it.
In fact, a good chunk of Venezuelan crude has historically come back to tribal reservations. More than 223 of them have benefited from Venezuelan petroleum company Citgo's largesse in communities that suffer from fuel poverty. As that country's exports to the U.S. decline, this will likely be affected. In turn American corporations, driven by some hostile historic foreign policy, do not, it seems, want to pay a fair price for oil from that country. Hugo Chavez should rest in peace.
According to the U.S. Department of Energy, in February 2013 Venezuelan crude oil and byproduct shipments to the U.S. dropped by 33 percent from 2012 levels. These sales had been paid in cash, so the loss deprives Venezuela of cash flow.
The interests of greed are large. The Koch brothers (two of the wealthiest Americans, worth $36 billion apiece) make much of their money on the oil market (a.k.a. derivatives) and have some very large interests in the Keystone XL pipeline. The brothers also own Minnesota's Flint Hills refinery, which processes 25 percent of Canada's tar sands oil in the U.S. They may profit considerably if a certificate of need is awarded for all these pipelines. Or as investigative reporter Greg Palast explains, "Koch brothers could save two billion dollars a year if they can replace Venezuelan heavy crude with Canadian tar sands—one of the dirtiest sources of carbon emissions on the planet."
This past fall Venezuela faced serious economic woes from a loss of oil exports. Instead of developing a country, it seems that Suncor, Exxon, Mobil, Tesoro and Enbridge are facilitating the long-term destruction of Native territories from the Upper Missouri to the Athabasca River. There is, in short, no shortage of western hemispheric oil. There is only the greed-driven destruction of territories and communities whose people will neither benefit, nor control the process.
I'm done riding pipelines for the winter, I think. And I, like my fellow Mississippi Band of Anishinaabe members, intend to stay here, in our homeland at the headwaters. I am pretty sure we aren't interested in sharing that with an oil company.
I'm off the horse, but I'm not done talking about pipelines. In the meantime, our horses are going to hope there's water to drink and that their hooves will touch land not tainted with oil.
RELATED: The Pipeline for the One Percent
Read more at
http://indiancountrytodaymedianetwork.com/2013/12/05/three-horseback-journeys-trace-paths-imminent-pipeline-destruction-152575