Seminole Tribe of Florida launches new product in its convenience stores, other venues
December 12th, 2013
Published in CSP Daily News
HOLLYWOOD, Fla. — Hard Rock Energy drinks are making their debut in South Florida. This test market is the first step in rolling out the new product by the Seminole Tribe of Florida Inc., the tribe's business development arm, which is jumping into the $20 billion-and-growing energy drink market. Three flavors of Hard Rock Energy drinks will soon be available for purchase on convenience store shelves and at select restaurants and bars.
The flavors are Original, Paradise Punch and Sugar Free.
The Seminole Tribe of Florida purchased Orlando, Fla.-based Hard Rock International Inc. in 2007 and has supported its strategic expansion to include more cafes, hotels, casinos and other new business ventures. The tribe's business development arm has obtained a license to use the brand on Hard Rock Energy drinks.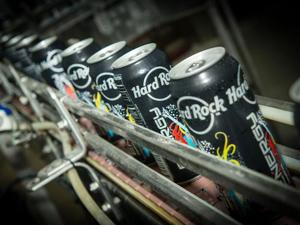 A new venture, Enterprise Beverage Group LLC, has been established to produce, distribute and market the Hard Rock Energy drinks. The Seminole Tribe of Florida Inc. is the majority owner of Enterprise Beverage Group, which is based in Hollywood, Fla.
Tony Sanchez Jr., president of the Seminole Tribe of Florida Inc., said Hard Rock Energy drinks present the perfect opportunity to make the Hard Rock brand part of the growth of the tribe's business development program.
"Hard Rock Energy drinks are a logical extension of our growing line of beverage products, including citrus juices sold under the Seminole Pride brand," said Sanchez.
Enterprise Beverage Group is headed by CEO David Drow, whose track record in the beverage industry includes launching Hair of the Dawg drink mixes. Drow's background is finance; he previously was a vice president at GMAC.
"The Hard Rock brand is perfect for a new energy drink," said Drow. "Hard Rock is about high energy music and entertainment. It's about fun."
John Galloway, chief marketing officer and vice president of marketing for Hard Rock International, said, "True to the Hard Rock brand, this energy drink has the power to help people rock harder. It's a great product and we couldn't be more excited to put our stamp on this market. It's an exciting new step for Hard Rock."
Hard Rock Energy drinks are sold in slim, 16-oz. aluminum cans of two servings per can. They contain 100 milligrams of caffeine per serving. Hard Rock Energy Original flavor is aqua blue in color and comes in a black can. The Sugar-Free version is clear and is packaged in a white can, while the Paradise Punch flavor is light red and comes in a red can. All of the cans are emblazoned with the Hard Rock brand and retro electric guitar graphics.
Hard Rock Energy drinks are on sale at all c-stores operated by the Seminole Tribe of Florida Inc., including the Hollywood Trading Post. Distribution is already underway to additional retailers, restaurants, bars, hotels and other food service operators. The test market will expand to the Chicago area in 2014, with a potential national rollout slated for 2015.
Marketing for Hard Rock Energy drinks will have a strong focus on social media and grassroots marketing tactics to reach the prime demographic of males between the ages of 18 to 24. Enterprise Beverage Co. will deploy an official Hard Rock Energy Street Team, which will be present at concerts and community events to offer free product samples. In addition, the company will look for local "CEOs" (chief energy officers) who want to engage in fun, social media activities and be eligible to win prizes. A strategic marketing partnership with Dean Guitars, represented on the Hard Rock Energy drink cans, will add to the marketing firepower, the company said.
The Seminole Tribe of Florida Inc. manages various businesses enterprises in agriculture, cattle ranching and beef production, citrus juices, spring water, c-stores and more. It is managed by an elected five-member board. Hard Rock International has a total of 174 venues in 55 countries, including 136 cafes, 19 hotels and seven casinos, It also owns, licenses or manages hotel and casino properties worldwide.