Dec 7, 2013.
BY JIM NOLAN Richmond Times-Dispatch
There have been so many great women in Virginia's 400-plus-year history that it would seem nearly impossible to settle on 12 to immortalize in bronze for a monument in Capitol Square.
That was the task for the Women of Virginia Commemorative Commission, which made its final selections last week — and not without some disagreement.
Some picked for the list — compiled at the commission's request by a panel of historians and narrowed by an executive committee to a dozen names — may be unknown to many Virginians, while others who did not make the cut are household names.
Martha Washington is in, but Dolley Madison is out.
Maggie Walker is in, but Ella Fitzgerald is out.
Cockacoeske is in, but Pocahontas is out.
Cockacoeske?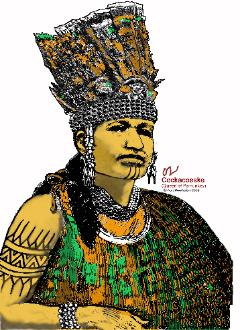 The niece of Powhatan, Cockacoeske is believed to be the first female chief of the Pamunkey Indian tribe, who joined a number of Virginia's tribes to sign the Treaty of Middle Plantation in 1677, establishing peace between the tribes and English settlers.
Pocahontas, of course, was credited with saving the life of Jamestown settler John Smith in 1607. She married tobacco planter John Rolfe in 1614, and the marriage was considered beneficial to peace between Native Americans and the settlers.
Her name also appears on a state park, a parkway and public schools throughout the commonwealth, not to mention numerous book titles and an animated Disney movie.
The omission of Pocahontas prompted one member of the commission, Mary Abel Smith, to take out a full-page ad in the Thanksgiving edition of the Richmond Times-Dispatch urging readers to appeal to board members for her inclusion in the monument.
"Pocahontas spent her life in support of the peaceful merging of cultures," the ad states. "She deserves a prominent place in the history of accomplished women in Virginia."
According to commission members familiar with the process, the 18-member panel was provided a list of about three dozen names to consider. An executive committee of roughly half of the commission narrowed the list to 12 names and decided that a Native American addition should be considered by the full commission.
At its full meeting Nov. 25, the commission agreed to add Cockacoeske to the list and remove one name. Two members present thought Pocahontas should be added, but they were the only two who voted to support her inclusion, so Cockacoeske was added.
Abel-Smith, who phoned in to the meeting and could not vote, hopes that people appeal to the commission to rethink their decision.
"I think (Pocahontas) is one of the most important persons in Virginia," she said. "She saved the first colony of settlers." Abel-Smith said she was "horrified" to learn at the meeting that Pocahontas would not be included.
"The tradition of Virginia has to be promoted, and Pocahontas is one of the great ones."
Lisa Hicks-Thomas, Gov. Bob McDonnell's secretary of administration and chairwoman of the commission, said that "there was no way we were going to be able to come up with a list that everybody was happy about."
She noted that famous entertainers from Virginia such as Fitzgerald, Pearl Bailey and Patsy Cline were among those who will not be cast in bronze, but said many, including Pocahontas, will be memorialized on a glass panel that will ring the monument space.
"We have a lot of people that should have been on there but we can only get 12," Hicks-Thomas said. "(Pocahontas) didn't make the vote. There is nothing we can do about that.
"One of the points of the monument is to educate the public about some of the contributions of the women of Virginia that people aren't aware of," she said. "It's not about who the most famous people are — it's about accomplishments, and Cockacoeske is very accomplished. I think it's going to be a teaching moment for all of us."
The commission has selected an artist and design for the monument. Now the panel must raise money for the monument, which is expected to cost $3 million and is targeted for completion in March 2015.
"I think Virginians will be very proud of this monument," said commission member Mary Margaret Whipple, a former state senator from Arlington County. She predicted young women in particular would be inspired by the monument, which will feature 12 female figures cast in bronze milling about an open circular space located northwest of the steps of the Capitol.
A separate monument honoring Virginia's Indian tribes is in the planning stages but will feature no specific individual.
Who's on the list
17th century
Ann Burras Laydon of Jamestown (circa 1595 to circa 1637) — first married female settler
Cockacoeske of James City County (died circa 1686) — chief of Pamunkey Tribe
18th century
Clementina Rind of Williamsburg (1740-1774) — publisher of the Virginia Gazette
Martha Washington of Fairfax County (1731-1802) — first lady
Mary Draper Ingles of Southwest Virginia (1729-1813) — frontierswoman who was abducted by Shawnee Indians, escaped and traveled 600 miles to get home
19th century
Sally Louisa Tompkins of Mathews County (1833-1916) — Confederate hospital administrator
Elizabeth Keckley of Dinwiddie County (1818-1907) — former slave, seamstress, confidante of Mary Todd Lincoln
Sarah G. Boyd Jones of Richmond (1867-1905) — African-American physician who earned a medical degree at Howard University, returned to Richmond and became the first Virginia woman to pass the state's medical board examinations
20th century
Virginia Estelle Randolph of Henrico County (1875-1958) — educator
Laura Lu Copenhaver of Smyth County (1868-1940) — entrepreneur
Maggie L. Walker of Richmond (1867-1934) — first black woman to charter a bank in the United States
Adele Goodman Clark of Richmond (1882-1983) — suffragist
Cockacoeske is in, Pocahontas is out
(804) 649-6061
Twitter: @RTDNolan