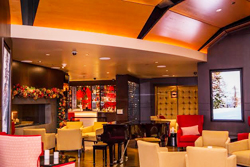 Source: Pro Sound Web
Tulalip Casino Resort (Tulalip, WA) recently upgraded its Destinations Lounge audio system with components from the new Yamaha Commercial Installation Solutions (CIS) product line.
Specifically, the system includes one MTX3 processor, two XMV4280 amplifiers, six VXS8 loudspeakers, 16 VSC8W loudspeakers, and two VXS10SW subwoofers, all purchased on the recommendation of Clarity Media Group (CMG), Lake Oswego, OR.
"We decided to use the Yamaha CIS products primarily based on the sound quality of the demo units we listened to," states Travis Cibolski, co-owner and system designer, CMG. "We also appreciated the system's ability to integrate with the existing infrastructure to offer simple operation for our customer."
Cibolski notes that CMG wanted to create a relaxing and high-end environment in the Destination Lounge. The audio is accompanied by a 4K Atmosphere video system displaying music being played by the artists, a mix of music videos, "mood" music which contains pictures of nature, cityscapes, etc. with music, and "digital karaoke" style scene with a live band covering songs.
Each band member is played on a different TV appearing on four HD screens, with stereo coverage provided at every seat. "The wide dispersion of the Yamaha CIS speakers allowed us to do this without cluttering the ceiling with lots of speakers," explains Cibolski. "Surface mounted speakers are used for the entry and placed between suspended ceiling panels. The Yamaha speakers are compact enough to be completely hidden, offering pleasing sound with a low visual impact."
Aaron Jackson, audio visual technical engineer at Tulalip Casino, adds, "We knew that this system needed to be high end and sound crystal clear at all listening levels, while maintaining the aesthetics of the space.I fell in love with Yamaha products after CMG installed a head-to-toe Yamaha/NEXO system in the Canoes Cabaret, our live music venue.
"Our Destinations Lounge system sounds amazing through the entire spectrum and has beautifully uniform coverage in every seat. We have come to expect that when we buy a Yamaha product; it's going to work, it's going to look great, and it's going to sound amazing. Bottom line for us is, Yamaha has struck the perfect balance of price and quality."
The Yamaha CIS product offerings have been created specifically for installed sound market applications where there may not be an experienced audio operator running the system such as restaurants, retail outlets, public address systems within the transportation industry, convention centers and hotel ballrooms.