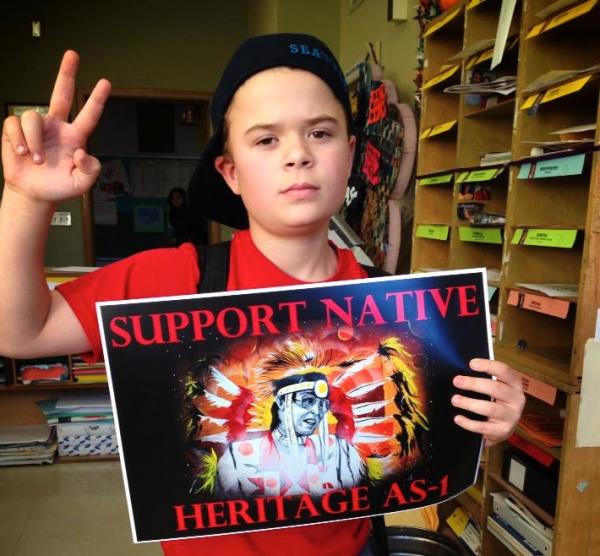 By Richard Walker, ICTMN
A few months ago, all seemed lost for two Seattle school communities.
Wilson-Pacific School was slated for demolition to make way for a new K-8 school, sounding the death knell for a 40-year-old program for Native American students in grades 6-12. The program, with a culturally competent curriculum and teachers, once had a 100 percent graduation and college attendance rate.
Pinehurst School, formerly Alternative School No. 1, was slated for demolition for construction of a new K-8, threatening the end of a 42-year-old program of experiential, project-based learning with an emphasis on social justice.
In rallying to save their programs, parents and advocates from both schools discovered similarities in values and pedagogy and, at the urging of school board member Sharon Peaslee, came together to develop an idea: Merge the programs into a new K-8 program called Native Heritage AS-1, to be housed in the wing of an existing school until the new school is finished at the Wilson-Pacific site.
The merger was approved by the school district 5-2 on November 20. Students offered their voices at the board meeting, testifying for the need for Native Heritage AS-1.
A group of parents, advocates and students protested to save the program November 20, 2013. (Damien Conway)
"We made our voices heard in a constructive, positively influential [way]," said Sarah Sense-Wilson, Oglala, chairwoman of the Urban Native Education Alliance. "This was truly historic."
She added, "A lot of people have volunteered their time to create a real solution for supporting Native learners and [to] develop programs which serve the unique cultural and educational needs of Native kids and families."
She said Superintendent José Banda "has repeatedly stated he supports revitalizing the Indian Heritage school program." She said the Native Heritage AS-1 program will help the district comply with its own policy regarding educational and racial equity, and meet its Title VII obligations, for which it receives federal funding.
Students from Pinehurst and the former American Indian Heritage School program will attend Native Heritage AS-1 beginning September 2014, in a wing of the former Lincoln High School. That school no longer exists, but the buildings house other educational programs.
Native Heritage AS-1 will be housed at Lincoln until the end of the 2016-17 school year, when it will move to the new school at the Wilson-Pacific site. Meanwhile, parents and advocates are working to develop a high school Native Heritage program at Ingraham High School, which has the highest population of Native students, so that Native Heritage AS-1 is K-12 when it moves to Wilson-Pacific. They are also lobbying for the new school to be named after Robert Eaglestaff School, after the late principal of the Indian Heritage school program.
The Wilson-Pacific site is significant to Seattle's Native community. A spring, long ago diverted underground, flows under the property; the spring was important to the Duwamish people and the neighborhood's name—Licton Springs—is derived from the Duwamish name for the reddish mud of the spring. On several school walls are murals depicting Native heritage and leaders, including Chief Seattle, the city's namesake, by noted Haida/Apache artist Andrew Morrison. The school has long been a venue for powwows and other Native events. The Urban Native Education Alliance and the Clear Sky Native Youth Council regularly host events there.
The murals were threatened with being lost when the school is demolished, but parents and advocates rallied and the school district agreed to save them. The walls with the murals will be incorporated into the new school.
Courtesy Andrew Morrison
RELATED: Will Endangered Seattle School Murals Be Saved?
According to the proposal, the Native Heritage AS-1 program will focus on Native culture, history and worldview with culturally competent leadership. It will also collaborate with Native community-based organizations on instructional materials.
School district officials had cut back on support and resources for the Pinehurst and Indian Heritage programs because of declining enrollment over the last decade. But parents and advocates said enrollment declined because parents were uncertain about their schools' future.
Despite Indian Heritage's closure and the assimilation of its students into other schools, student participation in cultural activities presented at Wilson-Pacific remains high. Even though the school is closed, as many as 75 Native students participate twice a week in Clear Sky Native Youth Council activities there. Over the summer, dozens of students participated in rallies to preserve the Indian Heritage program and the murals.
At Pinehurst, despite cutbacks in resources and district support, the school's commitment to social justice remains high.
Supporters of the creation of Native Heritage AS-1 rally at the Seattle Public Schools offices on November 20, 2013. (Alex Garland)
Pinehurst has an Equity Committee committed to "undoing institutional racism." On the school walls are photos of students participating in rallies to save their school. A poster by Tahltan artist Alano Edzerza features the Raven-Frog crest Ga,ahaba, flying out of the reach of despair, with a quote from Dr. Martin Luther King Jr.'s Letter from a Birmingham Jail: "Injustice anywhere is a threat to justice everywhere."
As part of their science curriculum, students learned about the role of salmon in local Native culture, and the release of salmon fry they raised included a traditional blessing by Glen Pinkham, Yakama. Students collaborated with Tlingit carver Saaduuts Peele on a traditional Northwest canoe that was gifted at a potlatch in Hydaburg, Alaska.
Parents and advocates expect enrollment will climb once Native Heritage AS-1 opens at Lincoln. Because of low enrollment, the district estimates it spends $6,500 per student. Projected enrollment increases, and merging two programs under one administration, are expected to drop that cost to $5,500 per student.
John Chapman, a Pinehurst parent and member of the school's site committee, helped write the 12-page merger proposal. Next they will work on staff training.
He's enthusiastic about the next school year. "We're eager to get it going," he said.
Read more at
http://indiancountrytodaymedianetwork.com/2014/01/02/parents-advocates-team-save-native-education-program-152947