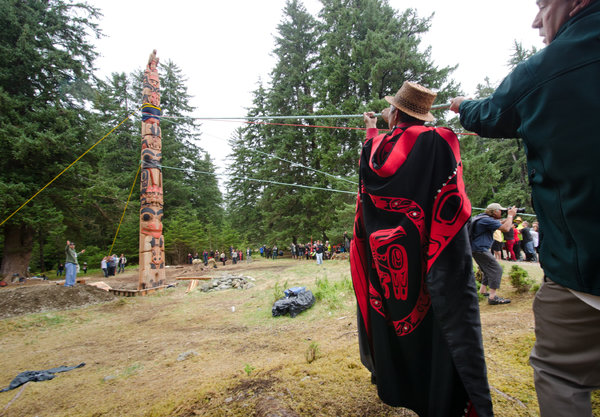 By Bruce Kirkby, New York Times
The ocean grew choppy and storm clouds darkened the southern sky as we paddled the final miles toward an abandoned Haida village site at the heart of a wedge-shaped archipelago 175 miles in length, 70 miles off the northwest coast of British Columbia. Until recently, this remote chain of islands was known as the Queen Charlotte Islands, but three years ago, the Haida Nation returned that colonial name to the provincial government, in a ceremony using the same style of bentwood box that once housed the remains of the dead. The place is now Haida Gwaii (pronounced HI-duh GWY) — Islands of the People — both officially and, unquestionably, in spirit.
The hillsides soaring above our kayaks, scraped bare by clearcutting three decades earlier, were an emerald-hued crew cut, a fuzz of young alder and spruce interspersed with occasional landslides. On a distant ridge beyond stood the silhouettes of giants, stark evidence of where logging had ground to a halt.
There is an even older Haida name for this archipelago, which roughly translates to "Islands Emerging From (Supernatural) Concealment." It is an apt moniker. On these craggy islets — perched on the edge of the continental shelf and pressed against the howling eternity of the Pacific — life exists on such a ferociously lavish scale that myth and dreams routinely mingle with reality.
For three days, Dave Quinn and I — neighbors, friends and longtime sea kayak guides — had rejoiced amid a world of windswept islets, breaching humpbacks, raucous seabirds, natural hot springs and solitude. While it was glorious to return to waters we knew so well, there was a deeper purpose to our journey: Paddling from dawn until dusk and then some, we'd been racing north toward Windy Bay.
Even as our kayaks crunched aground on its white shell beach, elsewhere bags were being packed, boats readied, float planes fueled. Two great war canoes — long and colorful — were plowing southward from the traditional Haida strongholds of Old Massett and Skidegate, crammed with youth. The next morning, we would all converge here, to witness the raising of a monumental pole (a term preferred by First Nation groups over "totem") in the southern archipelago, the first such event in over 130 years, since smallpox decimated the local population and left every village unoccupied. That fishermen, loggers, police and government officials would join alongside the Haida Nation in celebration, after decades of bitter land-use conflict, marked a once unimaginable reconciliation — and a way forward extending far beyond these remote shores.
After setting up our tent and brewing cowboy coffee, we set off on foot toward the village site — Hlk'yaah in Haida — tucked in an adjacent cove. Just a few steps into the forest, we paused in awe. Arrow-straight trunks, the girth of minivans, rose like cathedral columns from a thick blanket of moss cloaking the forest floor. Drenched with an average of 250 days of rain annually, the conifers of Haida Gwaii — red cedar, Sitka spruce, western hemlock — attain storybook proportions. According to the West Coast writer John Valliant, "These forests support more living tissue — by weight — than any other ecosystem, including the equatorial jungle."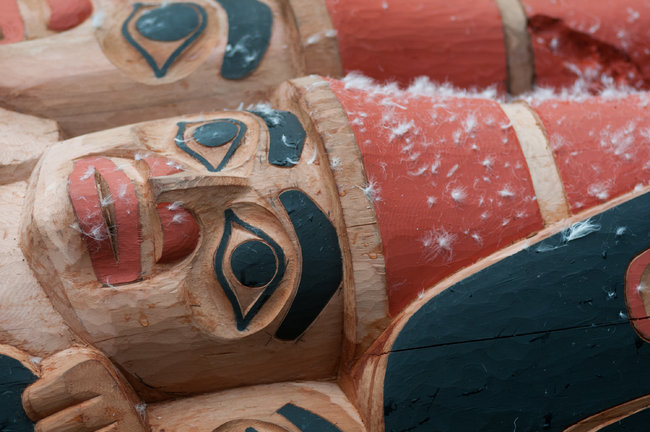 Forty years earlier, a logging company applied to move its clearcutting operations from northern Haida Gwaii — at that time ravaged by industrial-style logging — to this very soil. As John Broadhead, a local conservationist, wrote: "The company couldn't have been leaving behind an area of more ecological devastation, or moving to one more pristine." Having witnessed the frontier's rapacious appetite drive sea otter and whale populations to the brink, the Haida voiced immediate opposition, but it seemed unimaginable that anyone might deflect the logging juggernaut.
The '70s and '80s were a time of excess and frenzy on this coast, when tens of thousands of dollars' worth of salmon could be hauled from a single net, and the hewing of trees worth $20,000 each was not uncommon. While the Haida engaged in a decade of fruitless committee meetings, negotiations and court cases, clearcutting crept relentlessly southward.
By 1985, the small nation was fed up. Establishing a remote camp on Lyell Island, they settled in for the long haul, standing arm in arm, blockading a logging road and day after day turning back furious loggers who in many cases were neighbors, and even friends. Beyond lay Windy Bay, and some of the last remaining stands of "Avatar"-scale old growth on the coast. Tensions skyrocketed, and soon national news outlets descended.
Eight months later a showdown took place and as police officers moved in, a young Haida Royal Canadian Mounted Police officer was forced to arrest his own elders. Over the next two weeks, 72 protesters were shackled and led away. But the images that emerged changed the mood of a nation, and led to an unprecedented agreement between the Haida Nation and the government of Canada. Agreeing to manage cooperatively what, in 1993, would become Gwaii Haanas National Park Reserve, they created an accord now emulated around the world. And while roots of the Haida revival can be traced back to the '60s — when the lost arts of canoe building, mask making and pole carving began to re-emerge — it was the blockade and the resulting co-management of traditional territory that changed everything.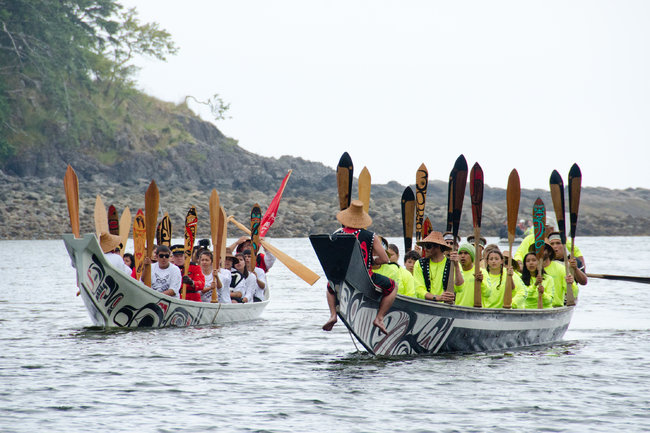 Dave and I arrived at the once-abandoned village site to find a hive of activity: electrical generators, an excavator and steaming vats of seafood chowder. At the center of everyone's attention — though still horizontal — the 40-foot Legacy Pole, celebrating the 20th anniversary of moving from conflict to reconciliation with the establishment of the park. Lying beside a recently constructed longhouse, and surrounded by carvers, its 17 deeply incised figures, all based on the traditional Haida ovoid form, sprang from luxuriant cinnamon-colored cedar.
Although the raising was just 24 hours away, plenty of work remained to be done. Penciled design lines were shaved away, even as traditional black and red paints were applied. (The red, interestingly, was "Navajo" from Benjamin Moore.) Jaalen Edenshaw, the lead carver, quietly shaped a raven's eyes as he told us of selecting a living tree from the forests. Alongside two apprentices, he had shaped the pole for an entire year. Among the many modern stories depicted in his design was the blockade, symbolized by five protesters with interlocked arms. With an eagle at the peak and a sculpin fish at the foot, the pole also tells of Gwaii Haanas becoming the first area on the planet to be protected from mountaintop to ocean floor when a National Marine Conservation Area was added to surrounding waters in 2010.
Amid the crowd was Guujaaw (pronounced GOO-jow), Mr. Edenshaw's father and the widely recognized former president of the Haida Nation, who had stared down decades of negotiators and became emblematic of the Haida's dignified, nonviolent resistance.
Suddenly, above the hubbub, came a cry: "Guuj! How about a birthday song?" The war canoes had arrived, and one of the young paddlers was celebrating a birthday. Guujaaw raised a skin drum, its rhythmic beat echoing through the forest like a heart. As he launched into a forceful chant — "Hey hi yo, ha wee ah" — everyone joined in. The young birthday boy rushed forward, dancing a traditional Haida stomp, knees deeply bent, arms in the air. Then, as quickly as it began, the song ended, and the carvers returned to their work.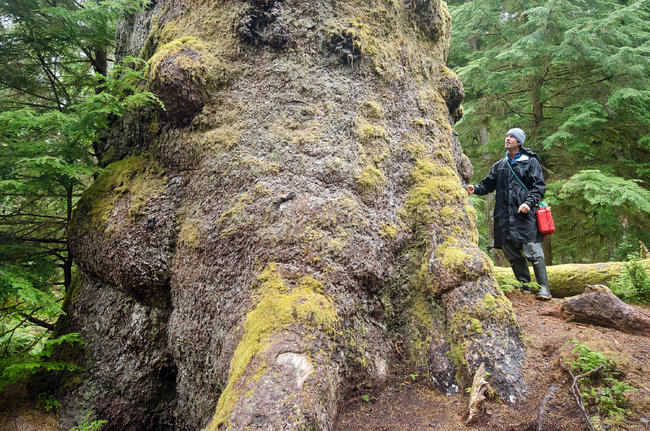 The next morning we woke from our tent to find an immense Coast Guard cutter anchored offshore, surrounded by an armada of smaller fishing vessels. Zodiacs began shuttling dignitaries, elders, children and curious visitors ashore. By noon, more than 400 people had gathered — unquestionably the most to stand on these shores since the village was abandoned 150 years previously.
By early afternoon the skies had cleared. Chiefs gathered in ceremonial headdresses adorned with ermine skins and sea lion whiskers. Blessings were given, speeches made. A bare-chested man in a nightmarish mask danced to clear away malevolent spirits, and afterward, a matriarch splashed water over the pole, purifying it. Children followed, tossing handfuls of fluffy eagle down that floated on a soft breeze.
Six immense ropes — two inches in diameter — had been lashed to the top of the pole, and at last the assembled crowd was directed to find places on each. Weighing 7,000 pounds, the pole was relatively light, but a weathered Haida fisherman explained that any pole raising can be dangerous. The countdown began. Boots bit into mud, backs heaved, and the great pole floated skyward. In a blink it was up. A few more hoarsely shouted instructions — "Pull on the yellow rope! Ease off on blue" — and it stood vertical. Cheers erupted. Boulders were rolled into the deep hole at its base, pounded in place with long wooden beams. Shovel after shovel of gravel followed.
Two days later, Parks Canada and the Haida Nation hosted a potlatch, or celebratory feast, and in Haida tradition, every person on the islands was invited. The Canadian government outlawed potlatching from 1884 to 1951, making the event a poignant symbol of progress. In a community hall packed to the rafters, I found myself sitting near Allan Wilson, a hereditary chief from Old Massett and the junior Mountie officer forced to arrest his own elders at the blockade, decades ago. He is a squat, powerful man, and his crew cut was peppered with white. A tangle of necklaces hung from his neck. "To this day I remember every step I took," he said. "My legs felt like they weighed 300 pounds each." He paused, then laughed. "I was happy it was raining, so no one could see my tears."
I asked about the pole. "It feels as if we've had a big pot here on Haida Gwaii with a hole in it," he said. "Now that missing piece has been put back in. The leak has been plugged. And all our stories, from before and those still to come, can stay in there."
Later, 14 elders who stood on the line were introduced. As drums beat and dancers danced, Miles Richardson — who led the resistance during the blockade — uttered once again the words heard on newscasts across Canada: "We are here to uphold the decision of people of the Haida Nation. There will be no logging in Gwaii Haanas anymore." The deafening applause was that of a nation whose history now lies newly ahead.