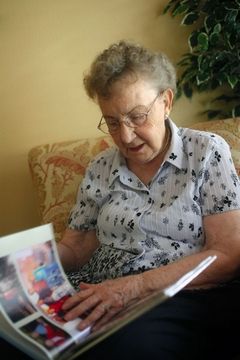 By Julie Muhlstein, The Herald
In 1945, a pro baseball relief pitcher who also played first base earned $29 a month — if that player was a woman.
"I made money to go to college," Dorothy Roth said. "I was the youngest one on the team."
At 86, Roth now lives at Grandview Village, a Marysville retirement community. On Wednesday, she shared long-ago memories of her one season with the National Girls Baseball League. She also has a fun new memory.
On a whirlwind trip to Olympia Tuesday, Roth met Gov. Jay Inslee, and even sat in the governor's chair. During a surprise presentation, she was awarded the Washington Health Care Association's first-ever Silver Spotlight Award. The agency is an advocacy group for the state's assisted-living facilities.
She was Dorothy Wright, fresh out of high school, when in 1945 she joined a team called the Bloomer Girls. Emery Parichy, co-founder of the National Girls Baseball League, bought the Boston Bloomer Girls in the 1930s and built Parichy Stadium in the Chicago suburb of Forest Park, Ill. That's where Roth played.
"We wore big satin bloomers, and satin shirts," she said Wednesday. "It was hot, standing out in that field."
Presenting the award, Inslee noted Roth's "outstanding contributions as an athlete and as an educator for 30 years in public schools."
"You look to me like you've still got game," Inslee told Roth, a retired schoolteacher. After Roth autographed a bat Inslee had once used in a congressional baseball game, the governor quipped that "the value of this bat just went up 100 times."
Inslee proclaimed Jan. 7, 2014, to be "Dorothy Roth Day."
"The award was a surprise. It was awesome," Roth said at Grandview Village, where on Wednesday state Sen. John McCoy, D-Tulalip, stopped by to congratulate her.
"It's great that the state is recognizing our elders," McCoy said. "I enjoyed the movie 'A League of Their Own.' When Dorothy came into baseball, those girls were ahead of their time. They began paving the way for Title IX.
It was Title IX, part of the Education Amendment of 1972, that opened doors for girls to have equal opportunities in school sports programs. "A League of Their Own," the 1992 movie about women's baseball teams during World War II, depicts the All-American Girls Professional Baseball League, a league similar to Roth's.
Herald readers were introduced to Roth in July. Andrea Brown's article in the Vitality section featured the former ballplayer. It told how Grandview Village residents, wearing "Team Dorothy" shirts, were going to see Roth throw out a ceremonial first pitch at a Seattle Mariners game.
Did she get it over the plate? "Close to it," Roth said Wednesday.
In her long life, baseball was just one season. Roth did spend her baseball earnings on college. She attended Cornell College, the University of Illinois at Urbana-Champaign, and Northern Illinois University. She earned a master's degree and met her future husband, Al Roth. He would go on to be a city manager in Crystal Lake, Ill., and North Bend, Ore. Roth, who was widowed about three years ago, has a daughter and a son.
Her daughter, Holly Leach, is superintendent of Northshore Christian Academy in south Everett. Leach joked Wednesday that her parents were the first reality TV stars. They were married Sept. 1, 1952, on a TV show in New York called "Bride and Groom." They applied out of financial need, and were amazed to be chosen, Roth said. Prizes included a free wedding and a honeymoon in the Pocono Mountains.
Brenda Orffer, the Washington Health Care Association's senior director of member services, said the organization will give Silver Spotlight awards monthly through 2014. The agency represents 450 assisted-living facilities around Washington.
The new award program is aimed at honoring seniors who have made contributions in many walks of life. It's also meant to highlight positive aspects of long-term care. "How many other elders are out there like Dorothy?" McCoy asked.
Is Roth still a baseball fan?
"I used to root for the Chicago Cubs," she said. "I'm into the Seahawks now."