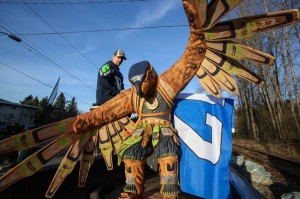 January 15, 2014 | By Joshua Trujillo
Jacob Lucas has always been an artist. He has painted, worked with clay, blown glass, drawn and went to college for graphic design. But it is the magic he creates with a much less elegant tool that has been buzzing on social media and captured the attention of Seahawks fans recently.
Lucas spent more than three weeks finessing a Western red cedar log with his collection of 22 chainsaws. The stunning result of his work —a 7-foot-tall tribute to the Seahawks, the 12th Man and Native American culture — has been shared and "liked" online countless times.
"I'd like to see it on display in the CLink," he said Wednesday after trucking the finely detailed creation to the Virginia Mason Athletic Center in Renton, where the Seahawks train.
The Bonney Lake artist first noticed chainsaw art at the Puyallup Fair when he was 13. He saved up money and purchased a saw. Unfortunately, it was stolen about two weeks later.
He mostly forgot about the unique art form until his grandmother paid for him to attend a class a decade later.
Since then his skill with a STIHL has led to a full-time career turning logs into masterpieces.
Lucas has 20 carvings lining the main drag in Bridgeport, Wash., near Omak. The award-winning carver has also been commissioned to create custom carvings.
Lucas hopes to have his Seahawks carving on display Friday at a rally for the team.
Click through the gallery above to see the detail work he put into the carving. You can see more of his work on his website.
Visit seattlepi.com's home page for more Seattle news. Contact Seattle photographer Joshua Trujillo at joshuatrujillo@seattlepi.com or on Twitter as @joshtrujillo.