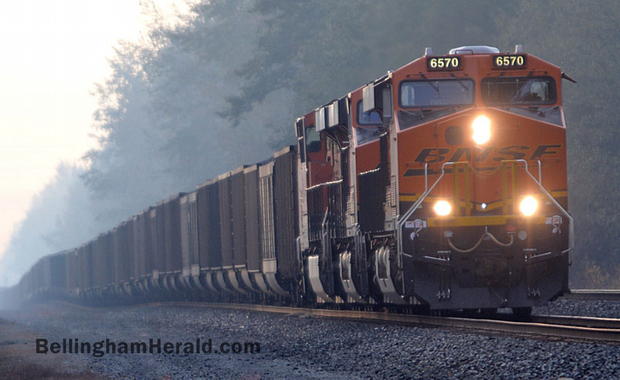 By Phuong Lee, Associated Press
SEATTLE — State and local regulators said Wednesday they'll consider a sweeping environmental review of the effects of a proposed terminal along the Columbia River in Washington that would export millions of tons of coal to Asia.
The review of the nearly $650 million Millennium Bulk Terminals project will consider impacts that extend well beyond the site, including global-warming effects from burning the exported coal in Asia and rail impacts as coal is shipped by train from the Rockies throughout the state.
The announcement represents a victory for project opponents, who said the decision ensures that concerns over coal dust, greenhouse gas emissions and rail traffic are addressed.
"It's appropriate for such a massive project," said Brett VandenHeuvel, executive director of the Columbia Riverkeeper. "It's encouraging to see the agencies take to heart the deep public interest in protecting our communities."
Some national and local business and labor groups criticized the broad scope, saying "cradle to grave" permitting isn't justified and would have a chilling effect on trade and economic development.
Ken Miller, president and CEO of Millennium Bulk Terminals-Longview, said in a statement Wednesday that the company had hoped to be hiring workers now, two years after submitting permits, but was pleased the agencies are moving forward. A spokesman for Miller said he would not be available for an interview.
The National Association of Manufacturers, the attorney generals of North Dakota and Montana and others had argued for a narrower focus, saying there's no precedent for such a far-reaching analysis.
"This decision sets an unnecessary precedent for manufacturers that could make it harder to obtain approvals for almost every product we export, from grains to airplanes," Ross Eisenberg with the National Association of Manufacturers said in a statement Wednesday.
State Department of Ecology officials challenged the notion that this review sets a precedent for others, saying that projects are evaluated on a case-by-case basis.
Ecology's Sally Toteff also noted that the state and county has just started the study and haven't reached any conclusions.
"How much of a concern are impacts from greenhouse gas emissions or vessel or rail transport? We don't know yet. How might this affect permitting decisions? We don't know yet. That is the point of the study," she said.
The project, planned by Ambre Energy Ltd. and Arch Coal Inc., would handle up to 44 million metric tons of coal from the Powder River Basin of Montana and Wyoming at a terminal near Longview.
It's one of three coal-export docks proposed in the Northwest. The other projects are near Bellingham, Wash., and Boardman, Ore.
On Tuesday, Oregon regulators issued three key permits for another Ambre Energy project in Boardman but threw up a new hurdle. The state Department of Environmental Quality said it would require the project to seek a water-quality certification sought by opponents.
The proposal, known as the Morrow Pacific project, would bring up to 8.8 million tons of coal a year by train from Montana or Wyoming. The coal would be loaded onto enclosed barges at the terminal and then shipped down the Columbia River, where it would be loaded onto Asia-bound ships in Port Westward in Clatskanie.
That project still needs permits from the U.S. Army Corps of Engineers and the Oregon Department of State Lands.
An Army Corps spokesman said a permitting decision is expected this spring.
The coal-export issue has been a hotly debated topic with people and groups weighing in from across the region, including Montana ranchers, Northwest tribes and local city officials and labor groups.
Washington state regulators said they received more than 215,000 comments on the proposed Longview terminal. A bulk of them submitted as part of massive public comment campaigns organized by various groups.
Toteff said the environmental review will look at the amount greenhouse gas emissions attributable to the project on-site and when coal is burned in Asia, but it won't look at impacts within any country that imports the coal.
The study could take years. It's required before many local, state and federal permits can be approved. The county and state are conducting one review, while the Army Corps of Engineers is doing a separate one.
Last July, Ecology and Whatcom County officials also said they would consider a broad scope when reviewing the Gateway Pacific terminal coal-export dock proposed near Bellingham. The corps decided to take a narrower review of that Cherry Point project.
Read more here: http://www.theolympian.com/2014/02/12/2980321/sweeping-review-for-sw-wash-coal.html#storylink=cpy