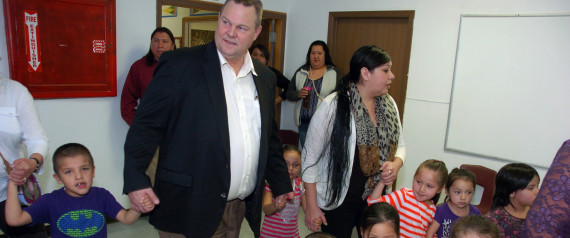 By Matthew Brown, Associated Press, 2/19/2014
CROW AGENCY, Mont. (AP) — The new chairman of the U.S. Senate Indian Affairs Committee said Wednesday he plans to use the post to target wasteful spending, improve educational opportunities for Native Americans and promote job development on reservations.
Montana Sen. Jon Tester outlined his agenda for the committee that oversees relations with the nation's 566 recognized tribes during a visit to the Crow Indian Reservation with fellow Democrat Sen. John Walsh.
After a breakfast meeting with tribal leaders, the pair toured a Head Start education center and later danced with preschoolers around a drum circle.
Crow leaders showed the lawmakers cracks in the ceiling at the preschool and took them to the furnace room where a boiler dating to the 1960s was held together with vise grips to keep it running.
Tester said he was determined to address decades of dysfunction in how the government deals with tribes. He said excessive administrative costs incurred by the Bureau of Indian Affairs, the Indian Health Service and other agencies have drained money from crucial programs including health care and education.
"This is about making sure those dollars that are allocated go to the intended purpose. If there's waste, eliminate it. And if it means eliminating jobs, then eliminate the jobs," he said.
Brian Cladoosby, president of the National Congress of American Indians, said problems with the government's treatment of tribes stem largely from outdated laws and regulations that make Native Americans subservient to federal agencies.
That started to change in recent years — with rules giving tribes more power over their land and property — but further improvements are needed, Cladoosby said.
Tester said too many bureaucratic roadblocks hinder tribes' attempts to become self-reliant, such as the Crow tribe's efforts to expand coal mining on the southeastern Montana reservation.
However, Tester added that he would tread carefully to avoid infringing on the sovereignty of West Coast tribes opposed to coal export terminals in Washington and Oregon.
The proposed terminals are key to the coal industry's aspirations to ship more of the fuel overseas from the Powder River Basin of Montana and Wyoming, in part to make up for flagging domestic demand. Tribes on the West Coast have raised concerns about potential environmental impacts of the shipping.
"I cannot go in and tell another tribe that we're going to respect the Crow's sovereignty but we're not going to respect your sovereignty," Tester said. "That's a very dangerous position to put yourself in."
Despite limits on what the senator can deliver for his home state, Crow leaders said they were pleased to have someone familiar with their concerns assume the influential post of committee chairman.
Crow Secretary A.J. Not Afraid said tribes in Montana and elsewhere on the Great Plains have different needs than tribes in other parts of the country that are closer to population centers and able to bring in significant revenue through gambling.
Those opportunities don't exist for the Crow, Not Afraid said.
Crow Chairman Darrin Old Coyote said Tester understands the differences.
"He gets it," Old Coyote said. "He understands our plight and what we're fighting fo