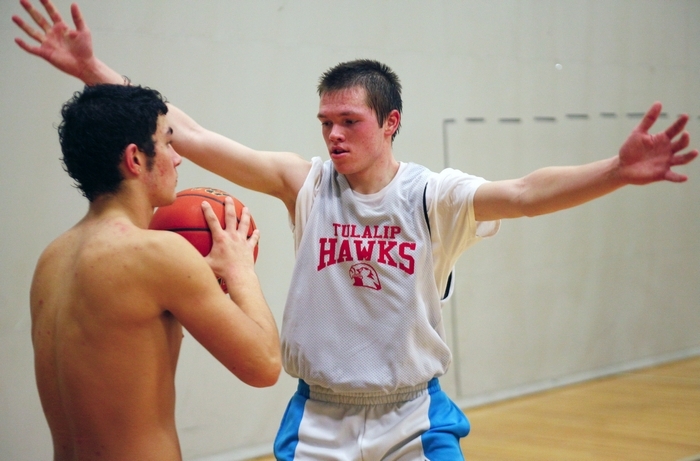 By Aaron Lommers, The Herald
MARYSVILLE — The Tulalip Heritage boys basketball team has won three championships this season — a league championship, a district championship and a tri-district championship.
At the Spokane Arena on Thursday, the Hawks begin their quest for a fourth — and make no mistake, this is the one they really want.
A state championship is just three victories away for the Hawks, who face Neah Bay at 10:30 a.m. Thursday in the Class 1B state quarterfinals.
A big reason for the success Tulalip Heritage (26-1) has enjoyed this season has been the play of senior Keanu Hamilton, who recently was named the Northwest 1B League's Most Valuable Player.
Not bad for a kid who hadn't played organized basketball until his sophomore year of high school.
For a preview of the local schools involved in the 1A/2A and 1B/2B state tournaments, click here.
Hamilton, a 6-foot-1 guard/forward, was primarily a baseball player before he turned out for basketball nearly 2½ years ago. A natural athlete, Hamilton was fast and could jump, but the rest of his game needed a lot of work.
Asked if Hamilton came in with basic basketball skills, Tulalip Heritage head coach Marlin Fryberg replied, "Yeah … well … not really."
Hamilton couldn't make a layin, couldn't dribble and couldn't shoot. It was a rough start to his basketball career.
"Every time they threw the ball to me, I wouldn't catch it," Hamilton said. "I don't know what (the problem) was, I just couldn't catch the ball. I couldn't even like walk and chew gum on the court. It was bad."
Skills Hamilton's teammates learned as children he was now trying to master as a teen-ager.
"People would stay stuff like, 'You need to pivot. You learn that in kindergarten,'" Hamilton said. "I didn't learn that in kindergarten. I learned that in my 10th-grade year."
Hamilton was a project, but one Fryberg saw potential in from the beginning. Hamilton played on the junior varsity as a sophomore and began putting in the work that would land him on the varsity as a junior. Fryberg even started Hamilton a few times last season.
"That was the best feeling in the world, getting to start, because usually I just get cut from teams because I was really bad," Hamilton said.
Hamilton doesn't have to worry about getting cut anymore. His hard work has turned him into one of the most multi-dimensional 1B players in the state.
"Some kids don't put in that work," Fryberg said. "He's definitely a different kid. To watch him over the past three years and see his progress is just phenomenal."
The Hawks got off to a good start this season, but the first of their three victories over Lummi kicked the season into high gear. A double-digit win evened the regular-season series between the two teams and gave Tulalip Heritage a chance to capture the league title with a win over the Blackhawks in the third and final regular-season meeting — which they did.
In the district-title game, the Hawks defeated Lummi for a third consecutive time.
Riding high, Hamilton and the Hawks didn't stop there.
In the tri-district championship game, Hamilton scored the game-winner in the final 10 seconds and the Hawks knocked off No. 1-ranked Neah Bay.
Tulalip Heritage senior point guard Bradley Fryberg, a senior transfer from O'Dea, beat his defender off the dribble and found Hamilton underneath the basket. With two defenders closing in, Hamilton put up the shot that gave his team a 68-66 win.
Fryberg-to-Hamilton is a one-two combination that has been working for much of the season.
"It's gotten to that point to where it's just instinct now," Fryberg said of his connection with Hamilton. "You just know where he's at."
In just two years, Hamilton has gone from a player who could barely dribble to one of the most difficult players to defend at the 1B level, averaging about 18 points per game.
"He's a coach's nightmare," Fryberg said. "If you try to guard this guy, you've got to put at least two guys on him because he just doesn't quit."
But for all Hamilton has accomplished, there is still one goal left on his list.
"I just want to win state," he said.
After an 81-64 victory over Wilbur-Creston in Friday's regional game, the Hawks are just three wins away.
It won't be easy — three of the top five 1B teams in the state are in the top half of the bracket (No. 1 Neah Bay, No. 3 Tulalip Heritage and No. 4 Pomeroy).
"I told my boys, 'What is a better way than to win it than by playing all the best teams in the state?'" Marlin Fryberg said.
While Neah Bay might have revenge on its mind stemming from the loss to Tulalip Heritage in the tri-district championship, the main focus for the Hawks is doing whatever it takes to get to the semifinals.
"It's just a basketball game to us," Marlin Fryberg said. "We're going to go and put our work in and the best team is going to win — and I'm pretty confident it's going to be us."