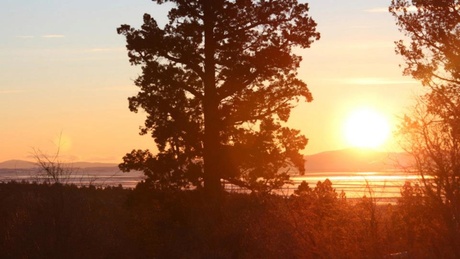 Devan Schwartz, March 5, 2014 OPB
An agreement announced Wednesday between ranchers and Native American tribes seeks to resolve contentious water rights issues in the Klamath Basin, a drought-ridden region spanning southern Oregon and northern California.
Amidst a deep drought last summer, the Klamath Tribes and the federal government called on their senior water rights –- meaning they received access to limited water supplies.
As a result, irrigation water was cut off to thousands of acres of Klamath Basin ranchland. This created millions of dollars in losses.
The new agreement seeks reduced water demand by ranchers, along with increased river restoration and economic development for the Klamath Tribes.
Tribal chairman Don Gentry said it wasn't easy getting all the stakeholders in the Klamath Basin to reach common cause on such a contentious issue.
"It's nothing short of remarkable that we've come to this point," he said.
Last summer, Larry Nicholson saw irrigation water shut off to his family's cattle ranch. He hopes that won't happen again.
"Everybody can have water, where most people couldn't before," Nicholson said.
Proponents of the new agreement say it will bring stability to the region and represents an important step forward in a generations-long struggle.
But some conservation groups disagree.
Jim McCarthy of Oregon WaterWatch said the agreement doesn't go far enough in limiting the amount of water that people will want to withdraw — water that others want to remain in streams to help fish and wildlife . "It's just not enough water to solve those problems," he said.
Drought conditions could be worse next summer and fall than they were in 2013. The Klamath Basin currently has a snowpack about 40 percent below what it was last year at this time, according to Natural Resources Conservation Services data.
The new agreement calls for an additional 30,000 acre-feet of water to help fill Upper Klamath Lake –- the source for both the Klamath River and the Klamath Project, one of the largest federal agricultural projects in the country.
This would be accomplished through a combination of reduced ranching through a land retirement program and increased management of streamside areas along Upper Klamath Lake tributaries.
As far as economic development, an additional $40 million would be appropriated for the Klamath Tribes.
Tribal Chairman Don Gentry said this agreement is historic and paves the way for a better economic situation for the Klamath Tribes, in addition to better protecting the natural resources of historic tribal lands.
The new agreement still faces votes by the ranching and tribal communities, and would be folded into federal legislation that is likely to reach opposition in a divided congress.
The legislation would combine the Klamath Basin Restoration Agreement and the Klamath Hydroelectric Settlement Agreement, which stipulates the removal of four hydroelectric dams from the Klamath River.
But Gov. Kitzhaber's natural resources advisor Richard Whitman expressed confidence that the continued leadership of Sen. Ron Wyden could get the bill approved in Congress by the end of the year -– and help solve the water crises in the Klamath Basin.