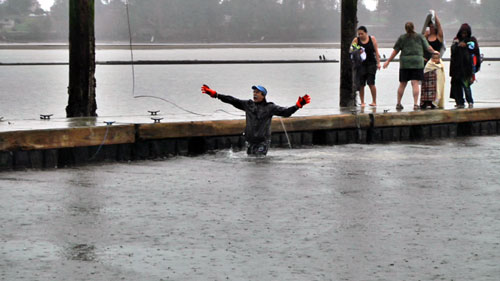 Winter challenge takes on Coast Salish life in Tulalip
By Brandi N. Montreuil, Tulalip News

TULALIP – If you are like millions of users who checked their Facebook newsfeed obsessively this past week, then you may have noticed a few of your friends posting videos of themselves dunking in frigid waters, yelling something about 24 hours. If you haven't, then you may not know about the latest craze, the 2014 Winter Challenge.
It was started by a Vancouver Island, B.C. teen as a way to get her video-loving, outside-resistant brothers to separate from their beloved couch. "At first I wanted to go sledding, and nobody wanted to go sledding, and I thought that was so crazy," said Kira Jacks to ChekTV News about the origins of the challenge, which requires the challenged or nominee to make a snow angel in a bathing suit. "We posted it to Facebook and then nominated some of our cousins to do it, and it just went from there."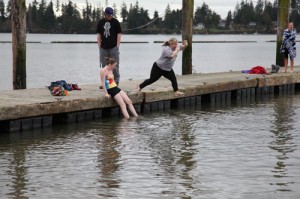 True to Internet's viral nature, the challenge exploded to astronomical numbers spreading into the United States and making quite a pit stop in Washington State.
Anyone familiar with Coast Salish people know they like to represent their culture in everything that they do. This characteristic morphed the challenge into a Coast Salish style, requiring the challenged to take a plunge into bodies of water, usually an inlet, river, or if you were in Tulalip, into the bay. All with a 24-hour deadline.
There was even a Facebook page dedicated to Lummi 2014 Winter Challenge videos.  If you were anywhere near Tulalip during the height of the challenge, then seeing people of all ages jump, run, or dunk themselves in the bay was common sight; you even grew nervous to check your Facebook notifications, afraid of multiple nominations.
"When you get called out in front of everyone you don't want to chicken out and show everyone you're scared," said Drew Enick, who was nominated four times.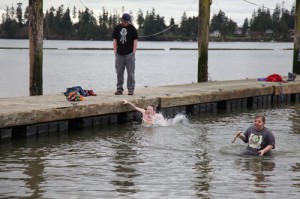 The rules were simple, video record yourself thanking the person who nominated you, challenge your friends and family to either a snow angel or a dip in the water (you needed to fully submerge yourself to make it count) then yell 'you have 24 hours!' Most nominees personalized their challenge to match their personality, some wearing favorite swimwear, compling elaborate stunts while entering the water, or in some cases going au naturale.
"I think it is cool that people are getting out and being interactive with each other," said Tulalip tribal member Kesha Fryberg.
"This is just a fun thing for us to do, and with our connection to the water it just makes it even better," said Tulalip tribal member Waynetta Iukes. 
Even Tulalip Chairman Mel Sheldon Jr. received his fair share of nominations, returning the favor on March 6, by nominating the staff at the Tulalip Tribes Administration Building.
"As you can see, I have tried to dress appropriately to jump in the water today," he said in his challenge video, before he leaped off the free dock at Tulalip Marina.
As the weeks go by and the Winter Challenge packs up zigzagging itself across Indian Country, Natives continue to represent themselves and their culture in the most modern of times. 'You have 24 hours!'
Brandi N. Montreuil: 360-913-5402; bmontreuil@tulaliptribes-nsn.gov