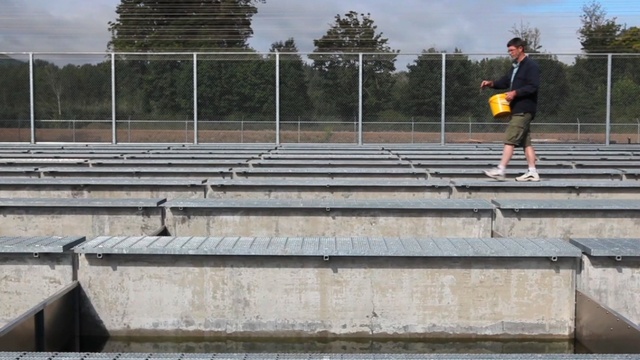 By Cassandra Profita, OPB
A judge has ordered federal agencies to reconsider the number of planned hatchery fish releases into the Elwha River on Washington's Olympic Peninsula
As crews finish the largest dam removal in history on the Elwha, managers are working to restore fish runs above the dam sites. Their plan includes releasing more than 7 million hatchery salmon and steelhead into the river.
That plan has been controversial. Some conservation groups want to see wild fish repopulate the river on their own. They're worried that releasing too many hatchery fish will reduce the chances of wild fish reproducing. They sued the agencies in charge of the plan as well as officials with Lower Elwha Klallam Tribe, which operates hatcheries on the river.
One of their arguments was that the agencies –- including the National Marine Fisheries Service and the National Park Service –- failed to consider options that would release fewer hatchery fish into the river.
"There was no range of alternatives," said Kurt Beardslee, executive director of the Wild Fish Conservancy. "It was either plant all of the hatchery fish or none."
Federal Judge Benjamin Settle agreed with that argument. He's ordered federal agencies to meet with conservation groups to consider an option that would reduce the number of spring coho salmon and steelhead released to just 50,000 apiece. Those are the numbers conservation groups proposed.
In his opinion, the judge wrote that "the court is concerned with the spring coho and steelhead releases," and as the agencies consider options for releasing fewer hatchery fish, those proposed numbers "would be a good starting point for an agreement."
The National Marine Fisheries Service released a statement in response to the decision noting that the judge upheld the overall hatchery plan for the Elwha River.
"Numerous reviews and a broad consensus of scientists have found that hatcheries are necessary during dam removal to prevent the wild Elwha salmon and steelhead populations from being extinguished by sediment as the dams come down," the statement reads. "The court upheld the Federal agencies' decisions and the hatchery plans of the Lower Elwha Klallam Tribe on all points except one."