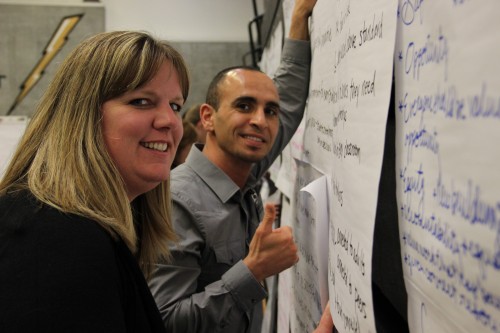 By Andrew Gobin, Tulalip News
The Marysville School District hosted an education summit on Saturday, March 29, at Getchell High School to secure success for Marysville schools and students. The summit is the culmination of months of planning and information gathering, bringing together educators, community members, students, families, and business leaders to map out possible futures for the Marysville School District. Speakers at the summit highlighted opportunities in the local economy as a key driver of education and success. Those opportunities should be had by all Marysville students, and the Marysville School District is working towards that reality.
"Snohomish County is first in the state in manufacturing. We are second in the technology field. There are many successful economies in the state, but what makes us different is, in Snohomish County, we build things," said Troy McClelland, president and CEO of the Economic Alliance of Snohomish County (EASC).
McClelland is a strong proponent of the STEM program in education. STEM, which stands for Science, Technology, Engineering, and Math, is a curriculum focused on developing critical skills that students need to succeed in modern economies.
"There is a place for every student to succeed, if they find their passion, and if we continue to provide the competitive economy," he added.
Marysville Mayor Jon Nehring said, "We need competitive students for a competitive economy. I want Marysville kids to have those jobs, I don't want to import and outsource. I want our kids to have those high paying jobs."
Mayor Nehring noted the importance of education, with reform taking center stage in the local political discussion.
"We cannot afford to opt out of supporting education. It is an investment well worth the principle," he said.
Throughout the day, groups consisting of educators, families, and business leaders discussed what they dream for the Marysville School District. Ideas ranged from helping students become passionate about education and developing a drive to pursue education beyond graduation, to changing the way education is structured. There was large discussion on the current education system, and the need to change the system for the modern age. Determining what that might look like includes an understanding of the local communities and economies.
"It takes all of us together, working for our students' future," said Mel Sheldon Jr., Chairman of the Tulalip Tribes.
As leaders in education, business, and industry come together with leaders in the community, the district hopes to bring balance between the learning needs of students and the skills they will need to succeed as they choose careers, which is a manifestation of the district's mission of 100% graduation, on time, and college or career ready.
Andrew Gobin is a reporter with the See-Yaht-Sub, a publication of the Tulalip Tribes Communications Department.
Email: agobin@tulaliptribes-nsn.gov
Phone: (360) 716.4188