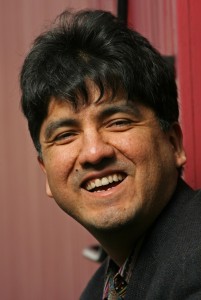 Source: Seattle P.I. Blog
Two young Washington state women are launching an effort to get copies of Sherman Alexie's young adult novel, "The Absolutely True Diary of a Part Time Indian," into the hands of teenagers in an Idaho school district that banned the book from its high school curriculum.
They are partnering with a teacher at Centennial High School in Meridian, Idaho; the school librarian; and a student who spoke up in defense of Alexie's novel.  The semi-autobiographical novel tells of a 14-year-old Native American boy's experience in an almost all-white high school.
The Meridian School Board voted 2-1 to exclude the book after parents objected to use of cuss words and references in the book to masturbation.
"The book is by a local author, it takes place partly in Idaho, deals with bullying and racial issues, it is fitting.  We were encouraged to see teachers speak out, and 350 students sign a petition, so . . . if they can't have the book in their curriculum, let students read it on their free time.  Let's give 'em the book," said Sara Baker, a University of Washington student.
She and friend Jennifer Lott of Spokane hope to pull off their book-buying plan in time for the Alexie books to be distributed on April 23, World Book Night.
"So far, between donated copies and donated dollars, we have about 25 books collected," said Baker.  "Our goal is 100 but, ideally, we would like to have a copy for each of the 350 students who signed the petition."
Baker and Lott are working with Stacy Lacy, a teacher who spoke out against the ban, and Brady Kissel, a student who presented 350 student signatures asking that "The Absolutely True Diary of a Part-Time Indian" stay in the curriculum.
"It doesn't seem like such a huge issue but censorship is something I'm very passionate about," Kissel said in an email.
Those who wish to bypass the ban can send copies of Alexie's book to Stacy Lacy, 12400 W. McMillan Road, Boise, ID 83713.
Or, if they wish to donate dollars to purchase the book, go to www.gofundme.com/89912g.
Alexie grew up on the Spokane Indian Reservation and later went to largely white schools.  The 14-year-old lead character in "Diary," a native boy named Arnold Spirit, shares many of Alexie's own experiences as a young boy.
The novel won a National Book Award for Young People's Literature, and also captured the American Library Association's 2009 Odyssey Award for the best new audio book for children and young adults.  It received glowing praise in The New York Times Book Review.
Alexie now lives in Seattle.  He has written fiction and non-fiction as well as screenplays.