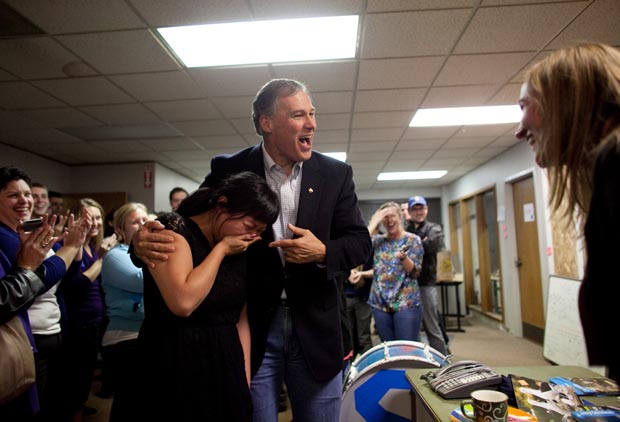 By Joel Connelly, Seattle PI
Gov. Jay Inslee has hired a coal lobbyist to direct his policy office, an eyebrow-raising selection for a governor who has insisted on sweeping scrutiny of coal export terminals proposed at Cherry Point, north of Bellingham, and along the Columbia River at Longview.
The new appointee is Matt Steuerwalt, who has been through the revolving door in recent years. He was a top energy/climate adviser to then-Gov. Chris Gregoire, then went to work for the Seattle-based Strategies 360 group.
At Strategies 360, he represented TransAlta, the Canadian-based owner of the Centralia Coal plant and the state's only coal plant and its largest greenhouse gas emitter.
The state, under Gregoire, and TransAlta reached a landmark agreement for a phased, decade-long phaseout of coal at the power plant. Steuerwalt also lobbied for a coal port proposal.
"In recent years, Steuerwalt has acted as a lead lobbyist for coal-fired power in Washington, as well as for a now-defunct coal port proposal," said Eric de Place, research director with the Sightline Institute.
De Place has delighted in giving footprints to Northwest public relations firms which have touted their "green" credentials and commitment to renewable energy, while lobbying on behalf of Big Coal, the railroad industry and "astroturf" front groups.
"Given that Steuerwalt has recently been a paid lobbyist in support of coal in Washington, the move raises questions about whether he will use his influence in the Inslee administration to advance an agenda more favorable to the coal industry," said de Place.
He won't, said Inslee spokeswoman Jaime Smith.
"The choice of a policy director will have no impact on the state's role in reviewing coal export projects," she added. "The governor has a longstanding and well-known position on coal pollution and climate change, and has directed the Department of Ecology to conduct a rigorous review of current coal projects to the full extent allowed under state law."
Inslee has touted his green credentials and been rewarded for same.
He coauthored a book, "Apollo's Fire," which calls for a U.S. commitment to develop new energy technologies that would rival, in intensity, the drive in the 1960′s to put Americans on the Moon. He will preach to the choir next month as keynote speaker at Climate Solutions' annual breakfast.
In turn, two years ago, the national League of Conservation Voters made Inslee the first gubernatorial candidate it had endorsed in 42 years. The conservation community, state and national, spent an estimated $750,000 to get him elected.
Strategies 360 has close ties to Democrats, but not always of the same mindset as Inslee.
It has hosted fundraisers for Montana Sen. Jon Tester, who supports coal development and export from the Big Sky State. It has represented Puget Sound Energy, which gets electricity from a Montana coal plant, in fighting back movements to create a public utility district in Island and Skagit counties.
Steuerwalt gave $250 to support then-U.S. Rep. Jay Inslee in 2009, and $950 to Inslee in 2011-12 as he transitioned and quit Congress to run for governor.
Steuerwalt begins his new job on May 1.