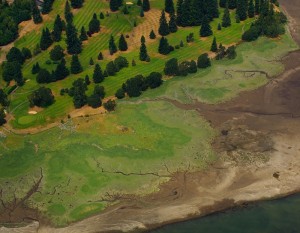 From the Squaxin Island Tribe's natural resources blog:
The Capital Land Trust and the Squaxin Island Tribe are working to bring back salmon habitat and protect an important shellfish growing area by restoring a former golf course on Oakland Bay. The land trust recently purchased the 74-acre Bayshore Golf Course, which includes the mouth of Johns Creek and over a thousand feet of Oakland Bay shoreline.
The tribe and the land trust will remove a 1,400 foot dike, restoring the Johns Creek estuary and important marine shoreline. "Taking the dike out will provide salmon with additional acres of saltwater marsh to use as they migrate out to the ocean," said Jeff Dickison, assistant natural resources director for the tribe..
Eventually, the golf course fairways will also be replanted with native vegetation, restoring a streamside forest that helps provide habitat to salmon.