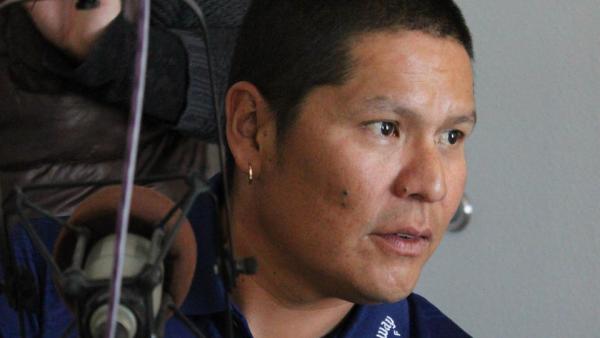 Indian Country Today Media Network
Notah Begay III is recovering from a heart attack he suffered on Thursday, April 24, in Dallas, Texas. He is resting comfortably at home with his family and is expected to make a full recovery, according to a statement released by the Notah Begay III Foundation.
Begay was treated at Methodist Hospital, where doctors successfully inserted a stent into a blocked coronary artery.
The four-time PGA Tour winner and Golf Channel analyst is in good spirits and has expressed gratitude to his doctors and many supporters.
"I'm humbled by the outpouring of support and well wishes and am thankful for the excellent medical care I received," Begay said. "I look forward to returning to my duties as a golf analyst and to continuing the important work of my Foundation. This experience has reinforced for me the need to urgently address health and wellness issues among Native America youth."
Begay (Navajo, San Felipe Pueblo and Isleta Pueblo), 41, launched the Notah Begay III Foundation (NB3F) in 2005 to help reduce incidences of type 2 diabetes and childhood obesity among Native American youth. The nonprofit has increased access to youth sport and health and wellness programs across Indian country.
"This is the first generation of Native American youth that may not outlive their parents due to childhood obesity and type 2 diabetes," Begay has said. "The epidemic of type 2 diabetes among our people is relative to the devastation that HIV/AIDS has caused in Africa. As Native peoples, we can't afford to risk our future. We have to invest in the health, well being and leadership development of our Native youth."
Fans and supporters of Begay and NB3F can send well wishes and prayers for Begay's speedy recovery via the NB3F Facebook page, facebook.com/notahbegayfoundation, or directly to the Foundation:
The Notah Begay III Foundation
290 Prairie Star Rd.
Santa Ana Pueblo, NM 87004
Email: info@nb3f.org
Read more at
http://indiancountrytodaymedianetwork.com/2014/04/29/notah-begay-iii-recovering-after-heart-attack-thanks-doctors-and-supporters-154661