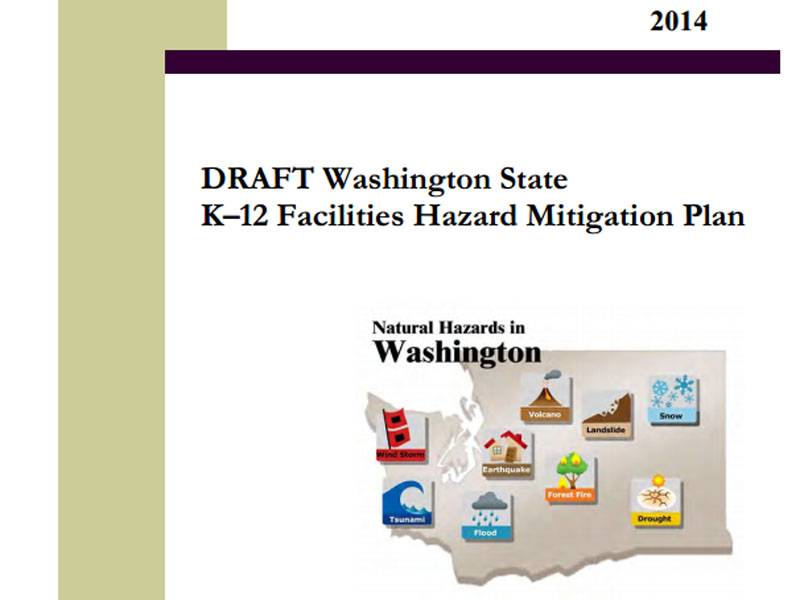 By Austin Jenkins, NW News Network
The Oso landslide, with 41 dead and two still missing, could be the the third-worst natural disaster in Washington history after the Stevens Pass Avalanche of 1910 and the eruption of Mount St. Helens in 1980.
But what if there had been a school in the path of the slide? The death toll could have been much higher.
A new draft report from Washington's Superintendent of Public Instruction finds that 15 public schools in Washington are within 500 feet of a mapped landslide zone. The good news is none of those nearby slopes are considered steep and the risk of a landslide in those areas ranks as "low."
However, the report finds another 28 Washington schools have a steep slope with a "high" risk of sliding in the immediate vicinity. And dozens more K-12 buildings are close to hills with a "low" or "moderate" risk of failing.
Six major natural hazards
It's not just landslides. The draft report finds that Washington schools face threats from nine different kinds of natural hazards. Six of those pose the greatest threat:
Earthquakes
Tsunamis
Floods
Wildfires
Volcanoes
Landslides
"It doesn't necessarily mean we need to start packing our bags and shutting down schools," says report co-author Robert Dengel with Washington's Office of the Superintendent of Public Instruction (OSPI). "But talking about risk in a real and practical way."
To that end, OSPI has partnered with 28 school districts in a pilot project to help them create their own hazard mitigation plans. Dengel gives the example of the Ocosta School District on the Washington coast where plans are underway to construct a tsunami safe haven.
In the case of landslides, Dengel says districts may want to have a geotechnical engineer do a formal on-site assessment of the slide risk. But it might not even take that to rule out a threat.
'I'm Pretty Shocked'
Take the example of Holmes Elementary School in Northwest Spokane. It shows up in the draft report as sitting near to a steep-slope hill with a preliminary landslide risk level of "high."
"I'm pretty shocked," says Holmes Elementary principal Steve Barnes.
Barnes says his school is about three blocks from the Spokane River and there is a steep slope there. But if the hillside were to give way, the debris field would flow north away from the school. So how did Holmes Elementary end up on the list? Because the list was created using Geographic Information Systems (GIS) mapping, not actual site visits.
The report emphasizes the list does not represent a "determination of landslide hazards nor the level of landslide risk."
Wake-Up Call
Still, the principal at Holmes Elementary sees a value in being reminded of the potential for natural hazards to affect his school. "Natural disasters are pretty low, if at all, on my radar," admits Barnes, whose school regularly drills for shootings and other human dangers. "We have lockdowns, we have shelter-in-place … so those are where we're spending our time."
Washington has 295 school districts with more than 2,400 campuses and more than 1 million students, according to the draft report. Dengel, the report's co-author, says in an average-sized school district with 30 school buildings, usually only one or two would be at high risk for some sort of natural disaster.
His bottom line: "The sky isn't falling, but there's definitely work to do to better protect our students."
The draft report is titled "Washington State K-12 Facilities Hazard Mitigation Plan." It's the first of its kind in the nation and was made possible by a 2012 grant from the Federal Emergency Management Agency (FEMA).
OSPI will accept public comments on the draft until July 25. A final report is due out this fall.