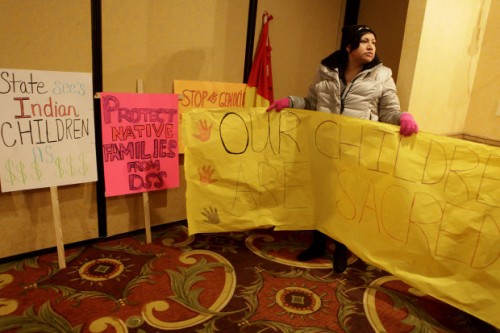 By Andrea J. Cook, Rapid City Journal

By the end of the month, attorneys representing Native American families and two tribes in a federal child welfare case will know more about what happened during hearings that gave the Department of Social Services temporary custody of children.The Oglala Sioux and Rosebud tribes took the lead for three parents in a class action lawsuit challenging the practices of the 7th Circuit Court, the Pennington County State's Attorney's office and the Department of Social Services during temporary custody hearings that must take place within 48 hours of removing a child from a home. The parents claim the Indian Child Welfare Act hearings are too brief, sometimes as short as two minutes, and violate parental rights guaranteed under the 14th Amendment.
In mid-March, U.S. Chief District Judge Jeffrey Viken granted the tribe's request for transcripts of more than 100 of the hearings, which are referred to as 48-hour hearings. He gave the judges who presided over the hearings two weeks to order transcripts of the hearings.
Those confidential hearings are at the heart of the plantiffs' case, which contends that children are frequently taken from their homes for 60 days after hearings that often last no more than two minutes.
Presiding 7th Circuit Judge Judge Jeff Davis ordered transcripts of his hearings. Judges Wally Eklund, Thomas Trimble, Craig Pfeifle and Robert Mandel did not order transcripts.
The judges claimed Viken's order threatens the distribution of authority between state and federal courts.
Transcripts were also not forthcoming from hearings held in front of former Judge Mary Thorstenson.
Last week, Viken chose to circumvent the judges' reluctance to order the transcripts by ordering the court reporters who recorded the hearings to produce the transcripts. They have until June 1 to produce the transcripts.
The plaintiffs will have to pay for the transcripts that will be treated as confidential.
"Production of the 48-hour ICWA hearing transcripts is critical to the resolution of the issues in this case," Viken said in his order.