Never Alone expected this fall for PS4 and XBox One
CBC News May 18, 2014
A video game that draws from Alaskan Inupiat culture is expected to be released this fall.
Never Alone is the first title from Upper One Games, a joint venture between the Cook Inlet Tribal Council and E-Line Media of New York.
"We call it an atmospheric puzzle platformer," says Sean Vesce of E-Line Media.
"The game stars two characters: an Inupiat girl named Nuna and her unlikely companion, an Arctic fox. The game provides an adventure in which the two characters must work together to overcome challenges."
Each of the characters has unique skills and abilities. The game can be played by a single player, who can switch between the two characters at any time, or by two players.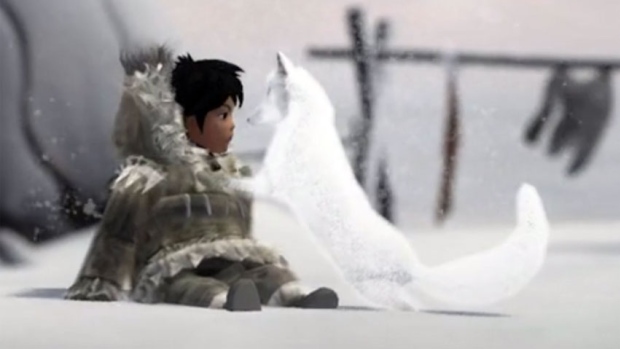 Vesce says it's styled as a 2-D side scroller, where players jump and run through perilous environments found in the North slope such as ice fields, ice floes and forests.
The over-arching storyline is told by an Inupiat storyteller.
Amy Fredeen, executive vice president of both the Cook Inlet Tribal Council and Upper One Games, says the game highlights the value Inupiat culture puts on interdependence.
She says the tribal council chose to found Upper One Games to connect with the growing population of Inupiat youth.
"What's been really phenomenal is seeing the video game come around as a new way of storytelling," she says.
"Indigenous people have always had an indigenous way of learning, and we have our Western models that we work within now, but we've always held on to our storytelling and our dancing as a way to pass wisdom and knowledge. And this is just another new way we're going to be able to share this with the younger generation."
She also says the game is an invitation to anyone to learn more about Inupiat culture.
The game is expected to be released this fall for PS4, Xbox One and PC.