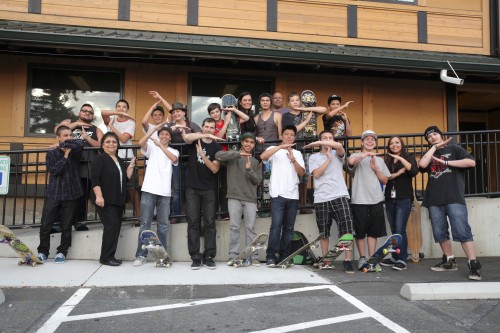 By Brandi N. Montreuil, Tulalip News
TULALIP – Skaters and longboarders had reason to celebrate on May 3, when the Tulalip Board of Directors made a motion to approve funding to build a skate park in Tulalip during a regular board meeting.
Tulalip Skate Park, the unofficial name the park is being called currently, will join a number of skateparks being built on reservations across Indian country, such as recently opened Port Gamble S'Klallam and Lummi Skatepark, opened in April.
A community meeting was held on May 15, at the Tulalip Don Hatch Youth Center, to discuss design ideas, site location, and park size. In attendance were nearly 20 Tulalip youth, including Tulalip Board of Directors, Marlin Fryberg Jr., Deborah Parker, Les Parks, Theresa Sheldon, Marie Zackuse and Tulalip Interim General Manager Misty Napeahi. Micah Shapiro, lead designer for Seattle concrete skatepark design and construction company, Grindline, was also in attendance.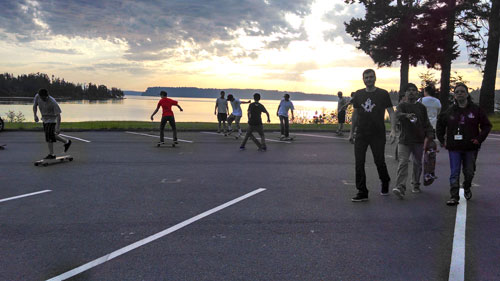 Grindline, who built the Port Gamble S'Klallam Skatepark, creates progressive and engaging skateparks with a design philosophy that each skatepark be tailored to its users and existing surroundings, and welcomes community engagement during the design process.
"I want to support the youth and this Board of Directors wants to support the youth," said Tulalip vice-chairman Les Parks, to the youth in attendance. "You've been asking for a skatepark. There has always been a reason why we can't make it happen, but this year it is going to happen. September 1 is our deadline that we are going to impose upon ourselves."
Two sites are being considered for the park's location, the grassy area in front of the youth center's council room parking area and across the street from the Greg Williams Court, by the Tribe's old finance building area. Youth favored the site across the street from the Greg Williams Court due to parking, length of skatepark use, elimination of possible beach erosion, and the incorporation of natural elements into final design ideas.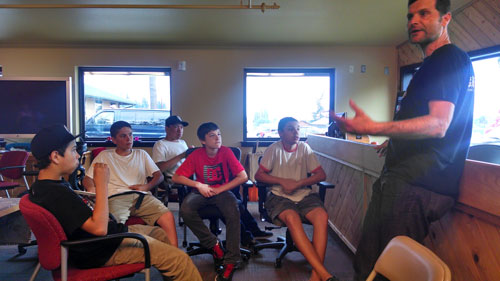 Youth presented conceptual ideas along with concerns about park use, amenities, size and safety. Youth advocated for onsite security to eliminate potential drug use or selling in the area by visitors.
Size of the park was another concern for youth, who toured local parks for ideas. The requested 10,000 to 12,000 square feet would allow for a variety of skating elements in one structure, and cost up to $400,000.
"There are a lot of possibilities that you can do with a skate park," said Shapiro, during his presentation of finished Grindline skateparks. "What we are doing is getting community input through community outreach. The things that need to be considered when you're designing a skatepark are flow and who the users will be. You have to look at how elements are related to each other; because you are looking at the environment you are designing in. Places to watch are parking lot access; utilities such as restrooms and lights, adjacent uses and impacts near the park. All that has to be considered."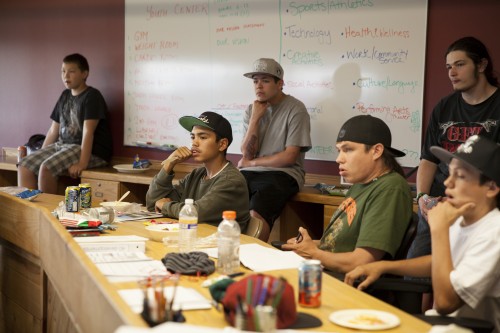 "It will come down to budget," said Tulalip Board Member Marlin Fryberg Jr., about park amenities, such as a request for a roof over the skatepark. "We will have to come up with different options and designs and then go from there. We are not ruling out roof, but that may have to be in phase two of the project.
A final design plan is still being drafted and will include size, location, budget, and skatepark amenities. A budget will be presented once the final design is complete.
For more information on the next community skatepark meeting please contact, Tulalip Youth Services at 360-716-4909.
Brandi N. Montreuil: 360-913-5402; bmontreuil@tulalipnews.com