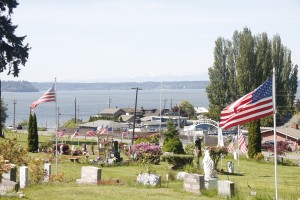 By Andrew Gobin, Tulalip News
Memorial Day will be observed on Monday, May 26 this year. The Tulalip Veterans Department has been working hard to prepare for the ceremonies, cleaning up the cemeteries and placing flags.
Mike Addie, Tony Gobin, and Richard Muir have been working at Priest Point and Mission Beach cemeteries, cleaning up gravesites and doing a bit of landscaping.
"We work on all of the graves, not just the veterans. We want all of the families to be well represented that way," said Richard Muir.
The three veterans have been working for a few weeks, and will be finished for this weekend's activities in observance of Memorial Day. Services will be Monday, May 26, 10:00 a.m. at the Priest Point cemetery and 11:00 a.m. at the Mission Beach cemetery.
Andrew Gobin is a reporter with the See-Yaht-Sub, a publication of the Tulalip Tribes Communications Department.
Email: agobin@tulaliptribes-nsn.gov
Phone: (360) 716.4188