By Andrew Gobin, Tulalip News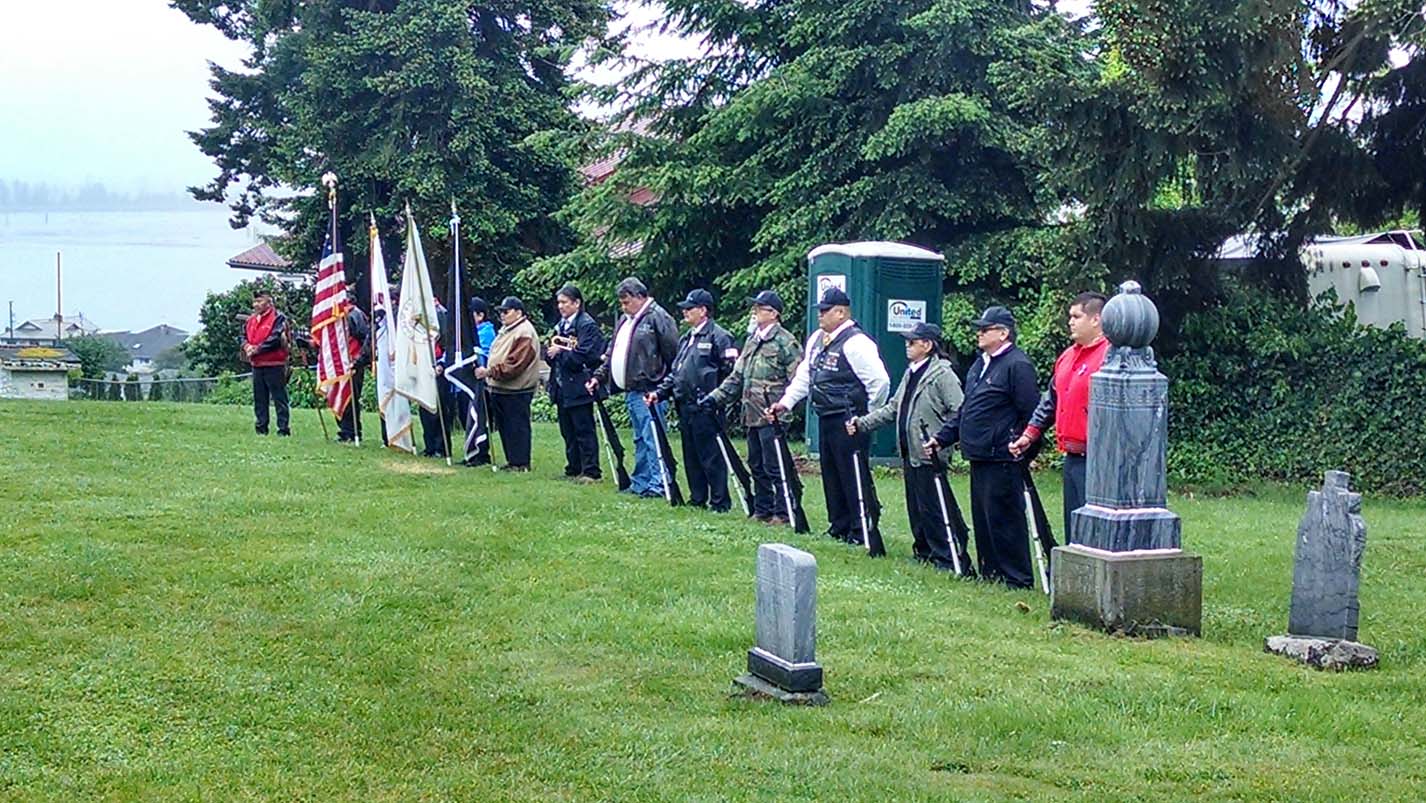 Tulalip veterans and their families, as well as the families of fallen soldiers, gathered at Priest Point and Mission Beach cemeteries Memorial Day, May 26, to remember the service men and women that gave their lives in the service of their country and to honor their sacrifice.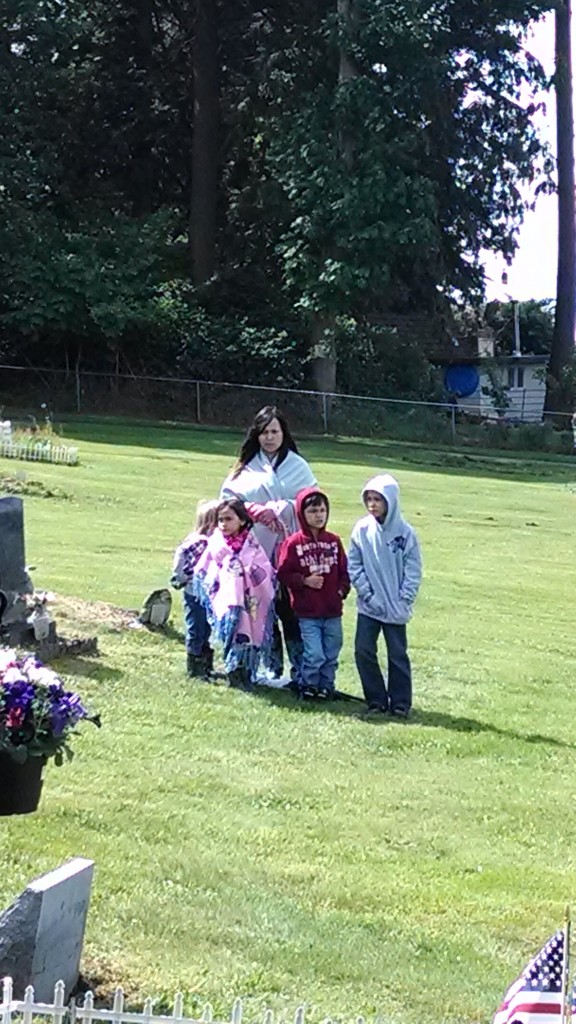 Tulalip Councilwoman Marie Zackuse said, "Today, we honor those that answered the call, when war came. Those that answered the call and made the ultimate sacrifice. We are grateful for what they did.
"We also are here to honor those ones that served and returned home," she added. "Teat-mus always talks about going to war with his brother, and how he was killed right beside him. How hard that was for him."
Veterans that spoke recalled their comrades and the loss of friends.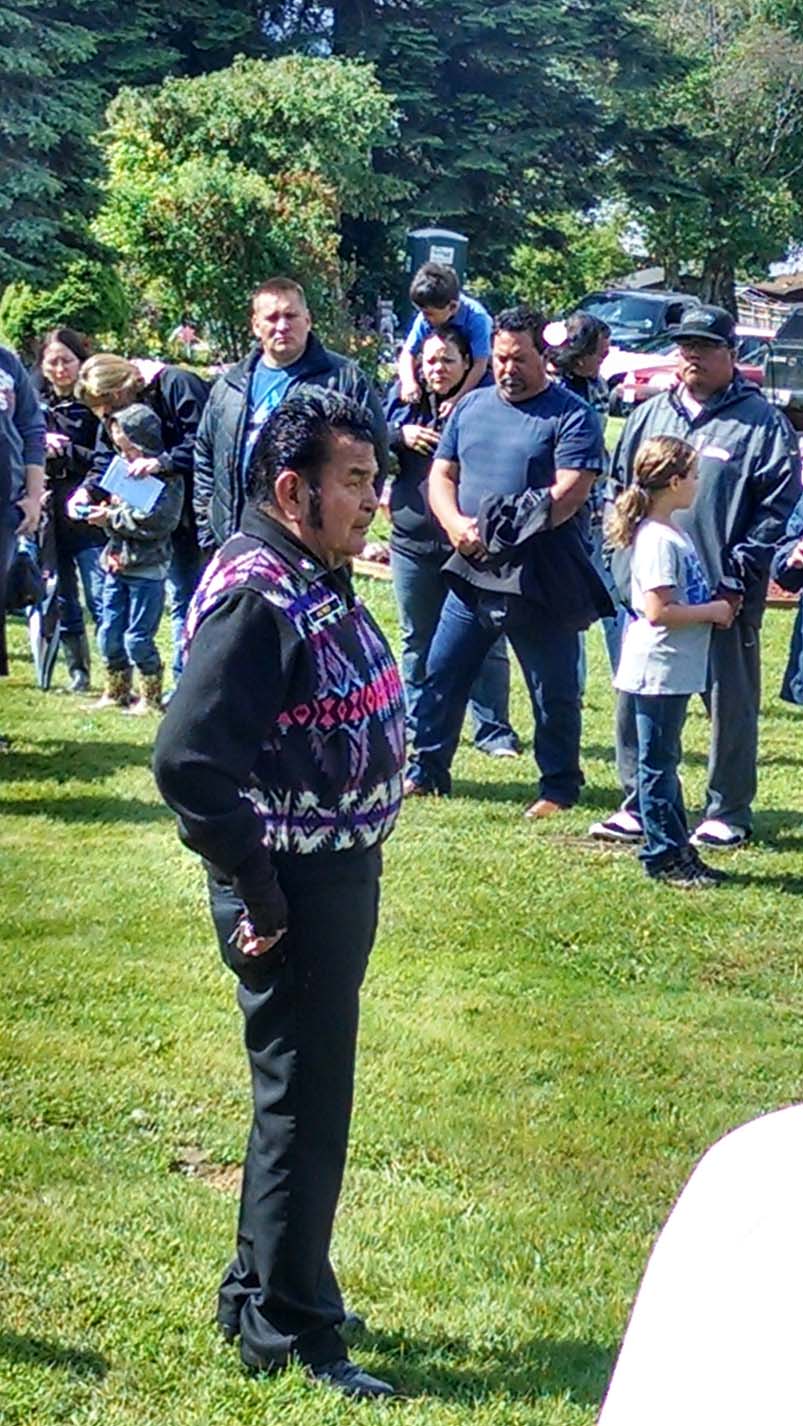 Tulalip veteran Cy Williams said, "Of the 150 men in my unit that went to Vietnam, 26 of us returned. I buried a lot of my friends."
Memorial Day is a day to honor and remember the sacrifice many families made for this country, as the mothers bore the sorrow of their child's sacrifice. The names of Tulalip Gold Star Mothers were called in the roll call.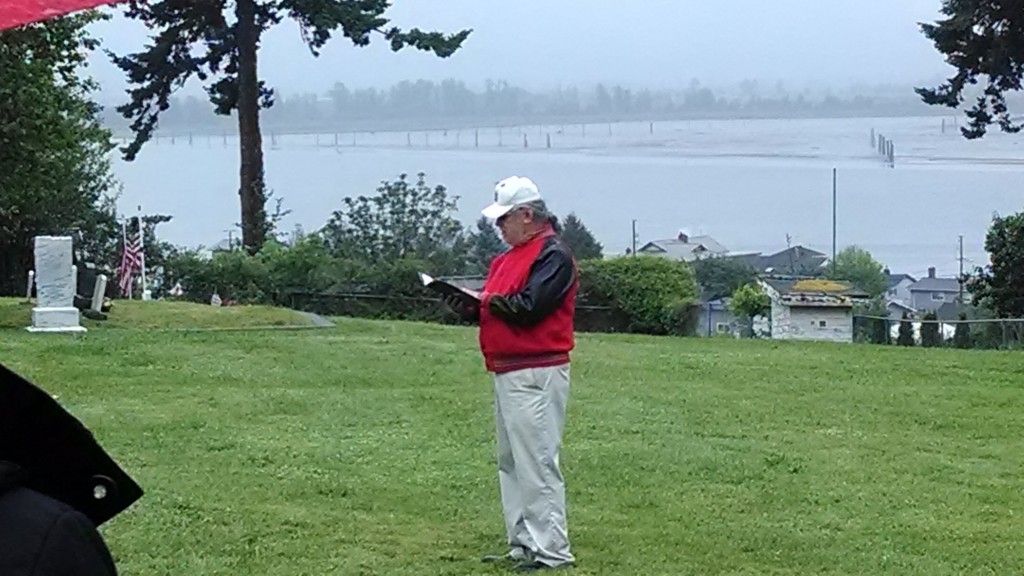 As Tulalip Veteran, Cy Hatch, read the roll call of fallen soldiers, he announced that, "This day is also dedicated to the Mothers who have made the supreme sacrifice.  They have suffered more than any of us can possibly imagine – our hands are raised up to these Gold Star Mothers."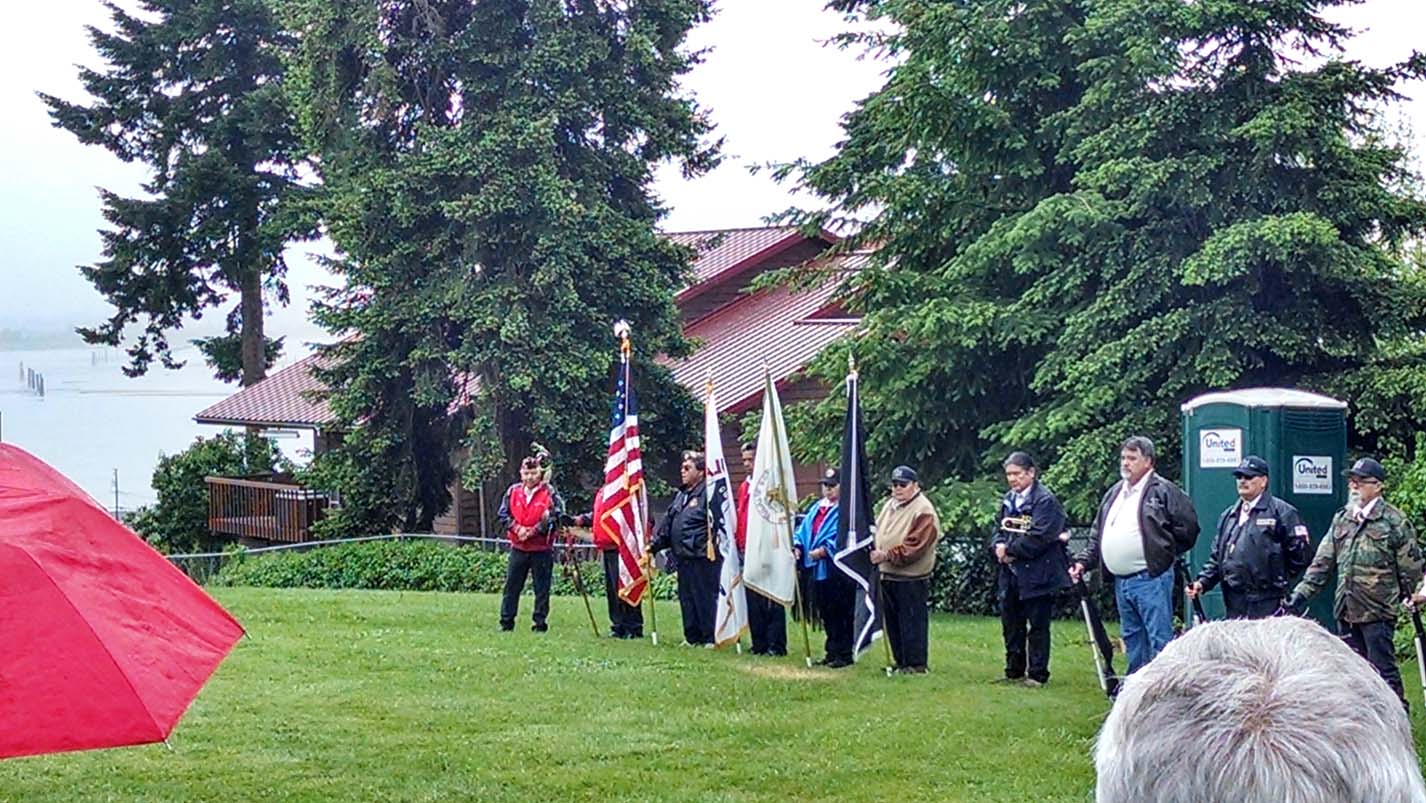 The 10:00 a.m. Memorial Day service at Priest Point Cemetery was carried out by the Tulalip Honor Guard, who stood steadfast through the pouring rain to honor the Tulalip warriors past and present. The weather cleared up for the 11:00 a.m. service at Mission Beach Cemetery, and the Tulalip Honor Guard, again, carried out their task impeccably.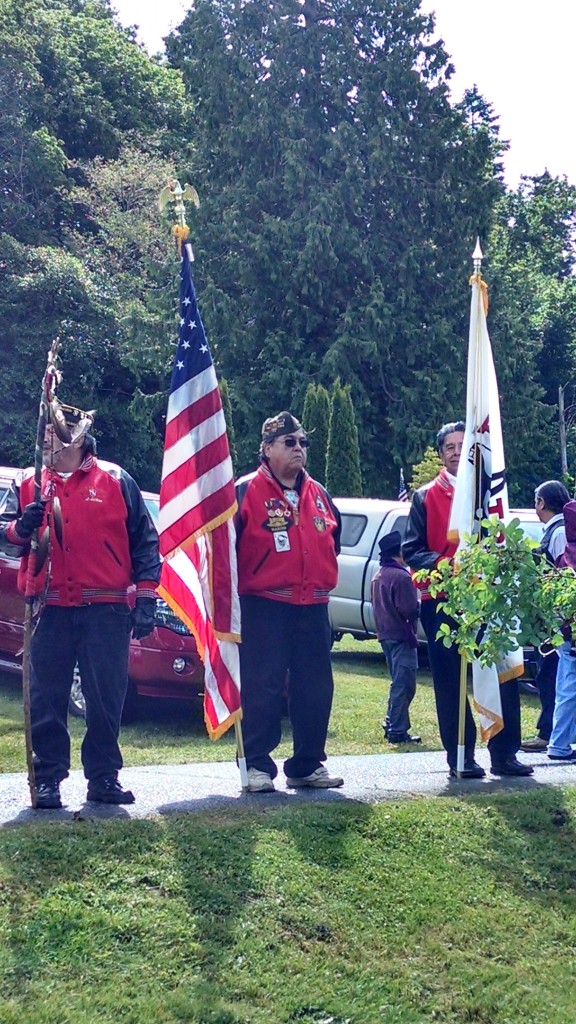 A special thanks was offered to four Veterans in particular. Mike Addie, Art Contraro, Tony Gobin, and Richard Muir Jr. cleaned up the two cemeteries over the three weeks prior, along with the Tulalip Maintenance staff, in preparation for the day's activities.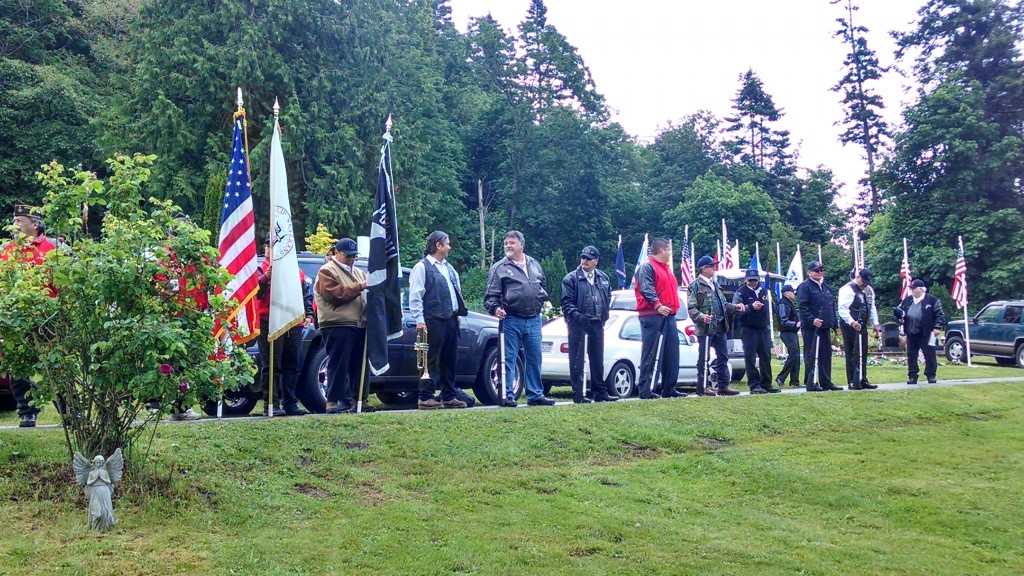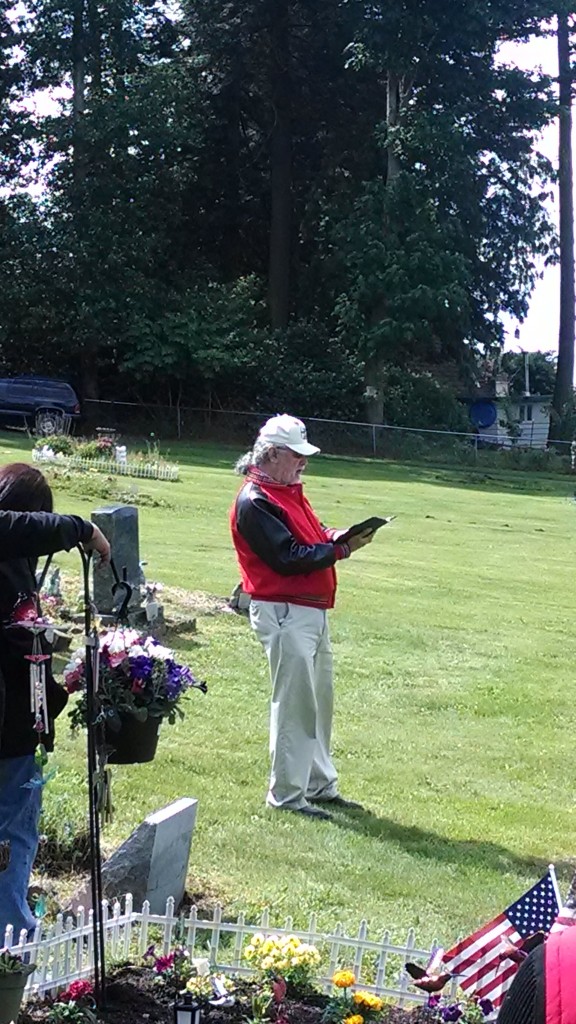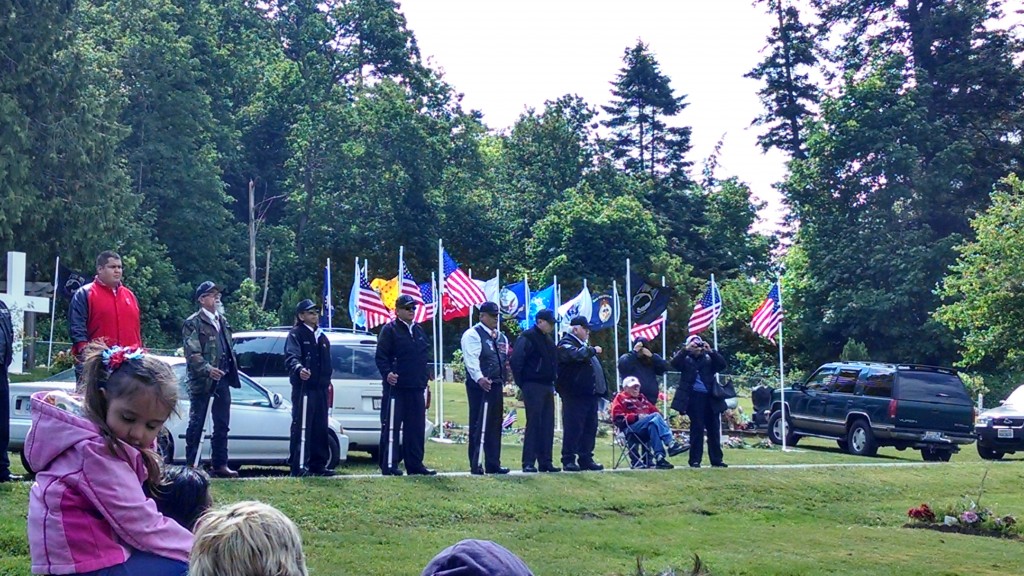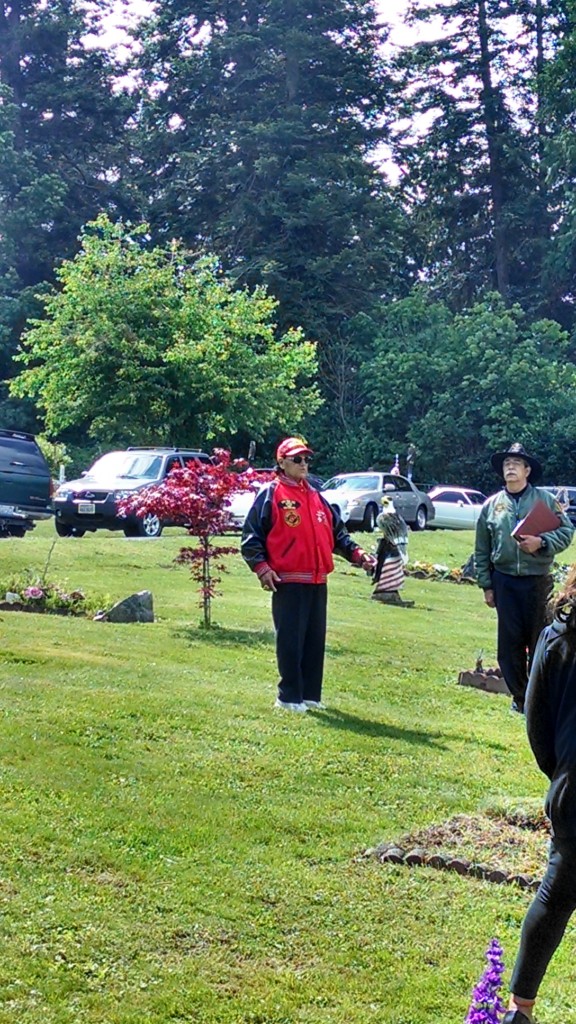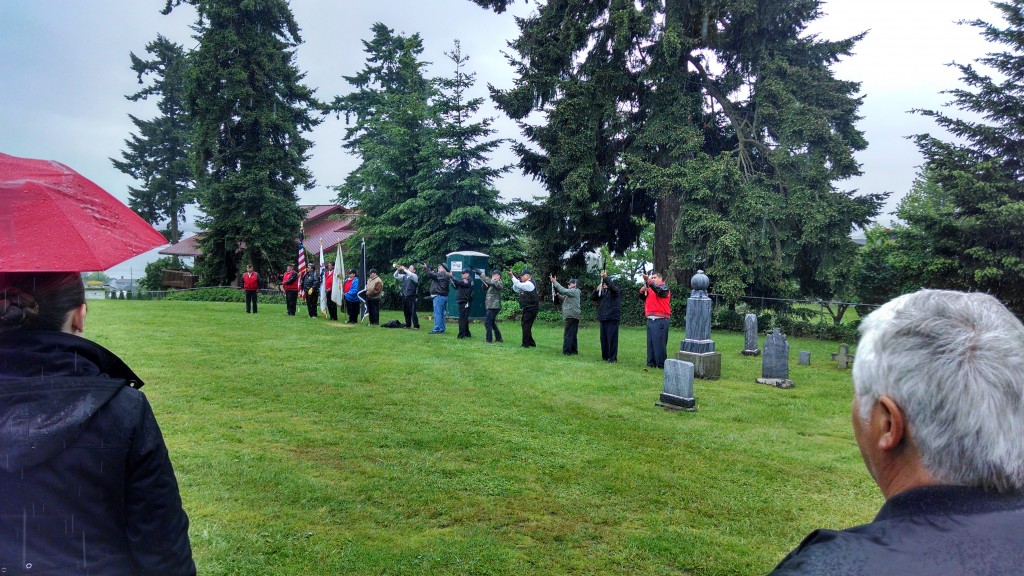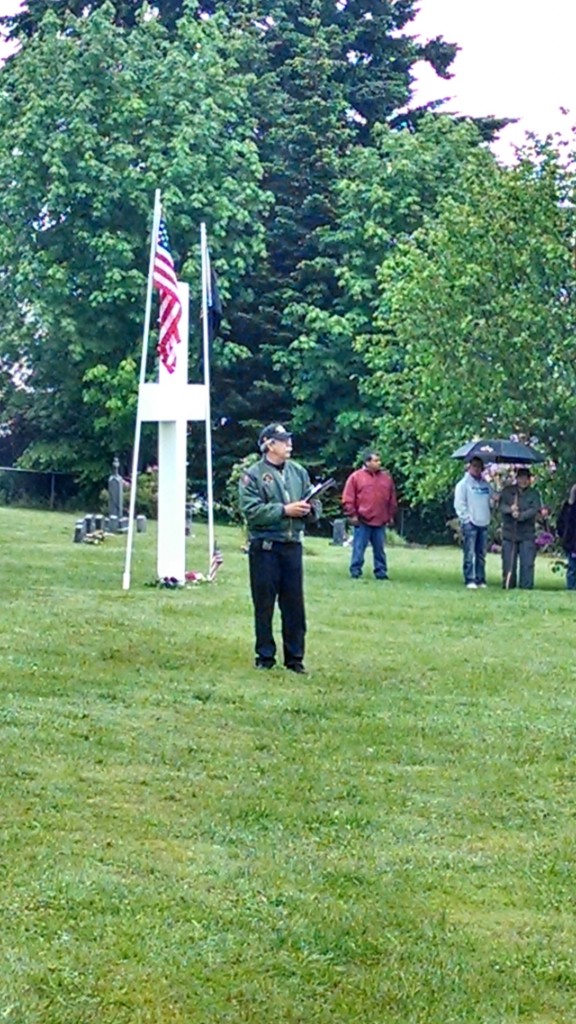 Gold Star Mothers (and fathers)
WWI 
Alphonsus Bob and Julianne Bob
Elison James and Katrina Bagley
Korea
Walter Moses and Marya Moses
Joseph Charles Jr. and Nora Charles
Vietnam
Donald Campbell and Katherine Campbell
Larry Price and Elsie Price
Gus Smith and Toddy Smith
Tulalip Tribes − Priest Point Cemetery
UNKNOWN SOLDIER
CHARLES JR, JOSEPH
DAVIS, WILLIAM D.
GRAVES, WALTER
HATCH SR, CHARLES
HATCH  SR, EZRA
JAMES  SR, ELSON
LEWIS, CECIL
MOSES, WALTER
WILLIAMS, JESSIE
Tulalip Tribes − Mission Beach Cemetery
UNKNOWN SOLDIER
ADAMS, TOMMY
ADAMS, WALTER
ALEXANDER, JOSEPH G.
ALEXANDER, JOSEPH J.
ALEXANDER SR.,  WARREN
ARCHIE, ROBERT
ASHMAN SR, CHESTER
BAGLEY, ELMER
BAGLEY, RAYMOND
BAGGARLEY, JAY
BAGGARLEY, JUNIOR
BARTO, ROBERT
BEATTY, EDWARD
BLACKBIRD, JOSEPH
BOB, ALPHONSUS
BROWN SR. ELLIOTT
BROWN, FLOYD
BROWN, LAWRENCE F.
BROWN, ROBERT
BROWN, RONALD
BRUDEVOLD, JOSEPH
BURNS, JAMES
CAMPBELL, DONALD
CHARLES, ALVIN
CHARLES, LEO
CHARLES, WESLEY
CHARLEY JR, LAWRENCE
CHARLEY SR, LAWRENCE
CHEER SR, ARNOLD
CEPA, MARTIN
CLADOOSBY JR, ERNEST
CLADOOSBY SR, ERNEST
CLEARY, ROBERT CLIFFORD
COMENOTE, GEORGE
CONTRARO, GEORGE
COLE, JAMES
COY, JOSEPH
CRAFT, SR., WILLIAM RAY
CRAIG, GEORGE
CULTEE, HARRY
DELOS SANTOS, ARTURO
DOVER, GEORGE
DOVER, WILLIAM
DUNBAR, ERNEST
DUNN, HARRY
DUNN, JAMES
ENICK SR, GERALD JOHN
EYLE, PETE
FRYBERG, BYRON
FRYBERG, MYRON JAMES
FRYBERG, RAYMOND
GATES, PATRICK
GEORGE, JACK
GOBIN, BERNARD WILLIAM
GOBIN, EMERY
GOBIN, THOMAS JOSEPH
GRANT, CLAUDE
GRENIER, RICHARD
GRENIER JR, WILLIAM
HARRISON, ORVILLE
HATCH JR, ARTHUR
HATCH SR, CLARENCE
HATCH JR, CYRUS
HATCH, EZRA (ZANE)
HATCH, LAWRENCE (LARRY)
HATCH JR, LLOYD
HATCH SR, LLOYD
HATCH, VERLE
HATCH, WAYNE
HAWK, GORDON
HEGNES, HELMER
HENRY ALEX
HILLAIRE, PHIL
HILL SR, CHARLES
HILL, THEODORE
HOOD, AL
HOPKINS, ALFORD M.
HORNE, ROMEY A.
HOWARD, SHERMAN
JAMES SR, CHARLES
JAMES, JOHNNY
JAMES MICHAEL
JAMES, WILLIAM
JIMICUM, JOSEPH
JIMICUM, LARRY
JOBEY, JAMES
JOE, LAWRENCE
JOHN, ALBERT
JOHNNY, MARTIN
JONES, BAYARD
JONES, CARL (POLY)
JONES, DARRYL
JONES, DENNIS (JERRY)
JONES JR, GEORGE
JONES, LEONARD (PENNY)
JONES JR, RALPH (BREEZER) DELNO
JONES SR., WILLIAM
JOSEPH, BERNARD
JOSEPH, HAROLD
KEOKUK, JOSEPH
KONA, ISSAC (IKE)
KONA SR, RONALD KEITH
LACY SR, CECIL D.
LAMONT JR, LEVI
LAMONT SR, LEVI
LECLAIRE, ROBERT
LECLAIRE, ALAN
LEDFORD SR, ALAN
LYLE, GALEN
LYLE, WILLIS
MADISON, FRANK
MATTA, ART
MCCOY, RICHARD R. (DICK)
MCDEVEITT, JAMES
MCKAY, JR. ARNOLD
MCLEAN, WILFORD
MCLEAN SR, WILLIAM
MILLER, JOE
MONGER, JAMES
MORRISON, DERYLE
MOSES JR, KENNETH
MOSES SR, KENNETH
MOSES, MORGAN
MOSES, RONALD EDWARD
MOSES SR, ROBERT
MYERS, ROBERT EARL
NAPEAHI, JR., WILLIAM
NAPOLEON, HENRY
NUCHOLS, JOHN
OLIVER, CHARLES (MANNY)
PABLO SR, LOUIE
PATRICK, DANIEL
PAUL, HAROLD
PERRY, WILFRED
PRICE, LARRY
PRICE, PAUL
PROUTY, WILL
PYOTT, KENNETH
REESE, WILLIE
REEVES SR, CONRAD
REEVES, GEORGE
REHDER, CARL
RENECKER SR, ROCKY
RETASKET, GARY
RICE, GEORGE
RIVERA, CARLOS
RIVERA, JOHN
ROSS, JOHN H.
RYNER, HOMER
SAM, ALFRED
SANDERS, REGINA
SCHEEHAGEN, EDWARD
SHELDON, FRANCIS
SHELDON JR., LAWRENCE
SHELDON SR., MELVIN
SHELDON, ROBERT (BOB)
SHELTON, ALOYSIUS
SHELTON, CLARENCE
SHELTON, REUBEN
SHELTON, WILLIAM "BILL"
SMITH JR, GUS
SMITH, RUSSELL
SNEATLUM SR, CHARLES
SPENCER JR, RICHARD
STEVE, WILFRED
TAYLOR, CURTIS
TAYLOR JR,   DALLAS
THOMAS, LOUIS
TOM, HARRY R.
TORY, JAMES
UPCHURCH, O. C.
VAN PELT, LEONARD
WALKER, GEORGE
WARBUS, JOSEPH
WELLS, WALTER
WILLIAMS, BENJAMIN
WILLIAMS SR, BERNARD
WILLIAMS JR, CHARLES
WILLIAMS SR, CHARLES
WILLIAMS, CHRIS
WILLIAMS JR, EDWARD
WILLIAMS SR, EDWARD
WILLIAMS SR, GEORGE
WILLIAMS, JOSEPH
WILLIAMS, KENNETH
WILLIAMS, LEONARD
WILLIAMS, MARVIN (SPUD)
WILLIAMS, RANDOLPH
WILLIAMS, RANDOLPH (RANDY)
WILLIAMS SR, RICHARD
WILLIAMS STEVE
WOLD, SEVERIN (SAM)
Andrew Gobin is a staff reporter with the Tulalip News See-Yaht-Sub, a publication of the Tulalip Tribes Communications Department.
Email: agobin@tulalipnews.com
Phone: (360) 716.4188