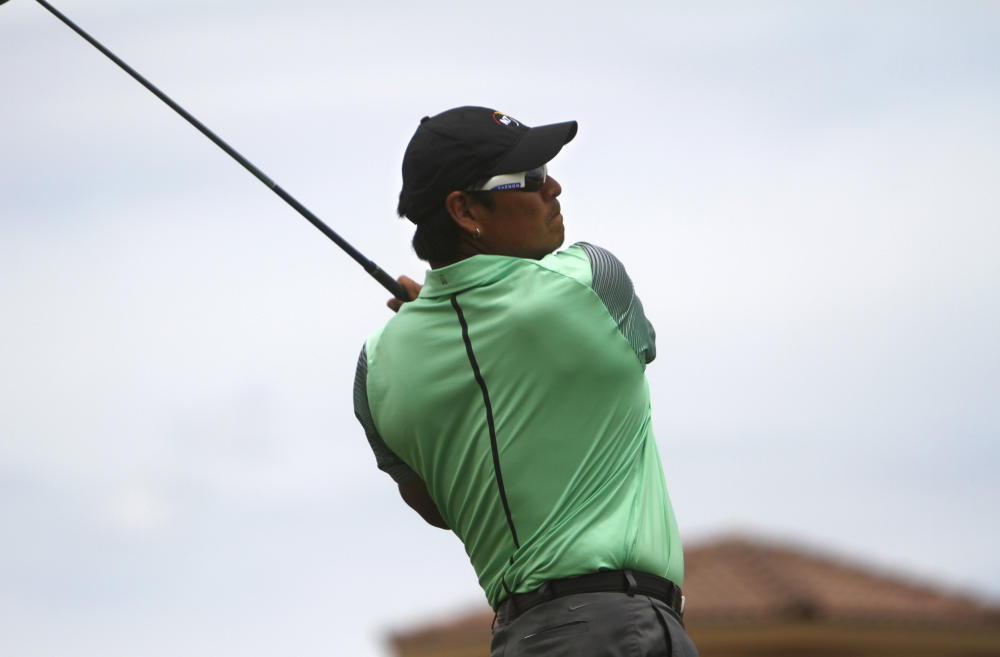 By Mark Smith /Journal Assistant Sports Editor
Albuquerque Journal
June 25, 2014
The greatest tip I ever received on a golf course happens to have come from the same guy who gave me the greatest quote I ever got while covering an event:
Notah Begay III.
As a senior at Albuquerque Academy during the 36-hole state golf championships in 1990, Begay had taken an ungodly lead after the opening round.
I knew there was no way he could lose, but I also knew – despite his remarkable skills – he was still just a high school kid.
So I tossed him a softball. Something like, "You're up by double-digits, but you still need to just focus on your game and not worry about anyone else, right? I guess anything can still happen, right?"
Wrong.
Begay said something along the lines of "the only thing that can happen is I'm going to win. The only thing in doubt is if I will break the scoring record."
Then came a quip for the ages:
"Today I waxed 'em – tomorrow I'm going to buff 'em."
I didn't want to bury the kid, so I called his dad, Notah Jr., and asked him what he thought.
"Print it," Begay Jr., said with a belly laugh. "Print it. I love it."
Sure enough, Begay III got the evil eye from just about every other kid, while they grumbled and stumbled through round 2. Begay III, meanwhile, went on to his second straight state title in record-setting fashion.
As for the tip, it came a few years later while playing a round of golf together. I hit an unlucky shot that bounced off a pole or sign or something, which started my usual whining about my bad luck.
Begay turned to me, held up his index finger and said "The game gives you what you deserve."
I thought, "How true."
If you're playing well, the score almost always reflects it – and vice versa. More importantly, there are as many fortunate bounces in golf as unfortunate ones. They truly do even out in the long run.
That was more than 20 years ago, and I haven't complained about a bad bounce since.
Home again
Begay, an Albuquerque native who now makes his home in Dallas, has been in town the past few weeks preparing for his inaugural Rio Grande Charity Slam. The event – with a junior golf clinic and banquet on Thursday and a celebrity golf tournament on Friday at Santa Ana Golf Club – is raising money for the Notah Begay III Foundation and the Jewish Community Center. His foundation raises thousands of dollars to launch, sustain and expand programming to combat health issues threatening Native children – more than 20,000 in 13 states of whom have benefited from the programs, and 75 percent of those in New Mexico.
Begay, a four-time PGA Tour winner and a full-blooded Native American, has been in the news a great deal the past year. He became an analyst for Golf Channel, has stayed very active with his foundation and made national headlines with a comment about Washington Redskins owner Dan Snyder.
And – despite being just 41 – he suffered a heart attack in April.
On Saturday, after the third round of the 72-hole San Juan Open in Farmington, Begay and I shared a few laughs and a lot of thoughts.
Mark Smith: First off, how is your health?
Notah Begay III: Good. I mean, you wouldn't be able to tell two months ago that I had a heart attack. I'm a little weak, I lost a little bit of distance in terms of my golf. But I got a lot back in terms of my health. I've gotten better, I've got more energy. I feel pretty lucky to have gone through it so well.
MS: Not to be too dramatic, but what was going through your mind when you were having the heart attack?
NB: Just shear shock. 'How did I end up here?' It was a complete surprise, in terms of, 'I'm 41-years-old, I exercise on a regular basis, I eat well – and I had a heart attack.' It wasn't really until about three or four days after that I really started to ascertain all of the possibilities and outcomes that could have been. There's been a lot of people in my situation that could have died, because they weren't close to a hospital, or had more arteries blocked. I'm really lucky that it worked out.
MS: Your father also has serious health issues. (He recently became visually impaired, and last month was hospitalized for a couple weeks after falling down some stairs at home.) How much tougher has that made things?
NB: One of the toughest things with dealing with the heart attack, was my dad took that spill and broke his ribs. It all makes me realize even more so, what we teach (in the NB3F) about eating better, staying healthy, getting exercise. It's been a tough time for sure. It opens your eyes even more so.
MS: This week you have your event at Santa Ana. Are you ready?
NB: I can't wait. It looks like (former Lobo and PGA Tour pro) Tim Herron's going to be here. We have a nice group of celebrities, and people who support what we're doing. That's all you can ask for.
MS: In April, you made news by telling USA Today you are against the Washington Redskins keeping their nickname, and you said owner Dan Snyder's Original Americans Foundation was "more of a gimmick." Did you have much controversy over your comments?
NB: No, not at all. I think most people would agree that the Washington football team needs to change its mascot name. Some would argue they should keep it. The simplest argument, which is not necessarily the right one, is it's not an issue of being politically correct. Being politically correct is vastly different than using a dictionary-defined racial slur as a representation of a national franchise. I'm not trying to nit-pick on the political correctness, I just think we're at a day and age that we should be demonstrating to the younger generations that we're willing to embrace all the cultures.
MS: You and your brother Clint were raised in a house (on the 14th fairway) at Ladera (Golf Course). Do you ever go look from the backyard and think about old times there?
"My dad (and his wife, Claire) lives on the sixth green now, and I go to that back patio and watch people play the sixth green. And I think of how many times I've played the sixth hole. All the skins games, all the calcuttas, all the high school tournaments, the city tournaments – ever since I was 9 years old. Going from a junior playing in the Sun Country, to Stanford, to the PGA Tour to an analyst on the Golf Channel now? You couldn't have written this script. Ever.
MS: You told me 20 years ago that you'd never forget your roots. This week shows you haven't.
NB: A lot of that comes from my respect for the culture and tradition I came from, my dad and mom and the Native American heritage. I've since transposed that to the respect and admiration for 71 years at the City (Amateur) tournament, or 50 years (at San Juan Open), and how much goes into these events; how much the community and sponsors put into these events. These things don't just happen by themselves. It's a reflection of our love for the game. And so much has been given to me through golf, it would be very unappreciative for me not to give back through the game.
MS: Speaking of the San Juan, they listed the (third-round) cut as being the top 26 and ties. Initially, you missed by a shot. But then they decided to let in 33 players, including you, causing some players to call it "The Notah Rule." But the sponsors enjoyed it.
NB: That's too funny (laugh). On the PGA Tour, they always talk about "The Tiger Rules." Now there's "The Notah Rules." I guess I've arrived.
MS: One last thing. We've talked about it before – the greatest quote in the history of sport. You remember it?
NB: (Belly laugh). I was a cocky senior at Albuquerque Academy (laugh). 'Today I'm going to wax 'em and tomorrow I'm going to 'buff em (laugh).' And I backed it up.
MS: And gave them a spit-shine, if I remember.
NB: Those were some good times.